TaxCalc Blog
News and events from TaxCalc

TaxCalc News January
Upcoming Legislation: Leaving the EU
The UK is leaving the European Union on 31 January 2020. Following the General Election on 12 December 2019, the UK Government is implementing the Prime Minister's Withdrawal Agreement meaning the UK can leave the European Union on 31 January 2020.
Our 'No Deal' provisions, including changes to Companies House forms and EC Sales list filing will not be implemented on 31 January 2020; however, they may at a later stage, once government has finalised details. In the meantime, we will continue to monitor the Government's negotiations with the EU and consider potential impacts at the end of the implementation period.
Money Laundering and Terrorist Financing (amendment) Regulations 2019
The money laundering and terrorist financing (amendment) regulations 2019 came into force on 10 January 2020, updating existing regulations.
See our recent blog that provides a summary of the changes and how TaxCalc can help you with meeting your obligations.
Not sure where or if a piece of data has been entered within a client tax return? Use the Data Entered summary (Summaries>Data Entered) for a quick scroll through of all the entries: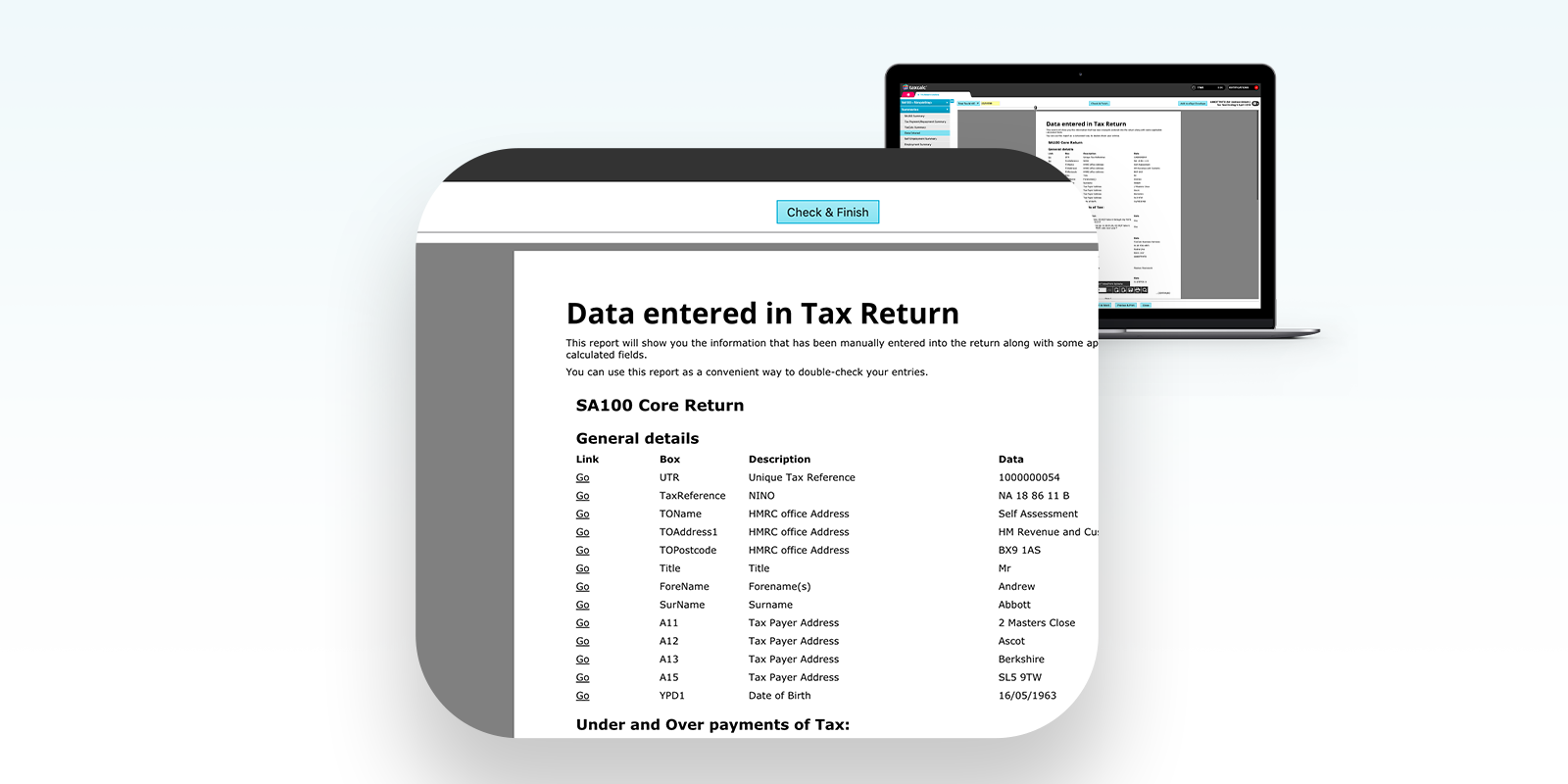 Following the independent review of the loan charge introduced in the Finance Act 2017, HMRC has released revised guidance for taxpayers who need to report their liability on their 2018/19 tax returns.
HMRC is allowing affected taxpayers more time to file 2018/19 tax returns and pay loan charge liabilities. Providing the tax return is submitted by 30th September 2020 and the tax is paid or a 'time to pay' arrangement has been agreed, there will be no late filing or late payment penalties charged. No interest will be charged if the payment is made by 30th September 2020.
The government will introduce legislation to implement the changes to the loan charge. Draft legislation and more detailed guidance will be published in early 2020, alongside a timetable for implementing the changes. If taxpayers have already paid for settlements which will now not fall within scope of the loan charge (loans taken before 9 December 2010), HMRC will issue refunds, but these will not be processed until the changes have become law, expected in summer 2020.
HMRC has upgraded its Agent Forum Service to include a new 'Knowledge Base' feature. This provides an enhanced search facility, access to time critical announcements and GOV.UK content across all tax categories.
There will also be support for 2018/19 filing, directed at small businesses and agents that will:
allow agents registered to the service to post widespread issues and technical queries related to 2018-19 SA filing
provide notices and announcements related to SA 2018-19 filing
link to relevant guidance content on GOV.UK
The Agent Forum service is currently available to registered members of Professional Bodies (PBs). If you're not registered, or belong to a PB and wish to join, you can do so here.
This information and other useful information for agents is part of the Agent Update service provided by HMRC. If you haven't already registered, you can do so here.
Print this article