Practice Management
The game has changed.

Flexible solutions for running your firm, your way
Want complete visibility of all work as it progresses through your practice? Need instant access to comprehensive client information? Want to reduce admin, maximise chargeable time and bill more accurately?

In other words, do you simply want to be more organised and more effective in everything you do?

Our powerful PM toolkit is scalable, highly affordable and puts you in control, freeing you up to spend more time growing your business.
Whether you're a start-up with ambitions or a larger firm looking for greater efficiency and productivity, there's only one name you need to trust to help you do more, for less.
Change the game. Choose TaxCalc practice management.
Gain complete control.
With advanced workflows, SimpleStep® checklists, statutory deadline management, super-useful dashboards, practice-wide reporting facilities and more - Practice Manager Plus offers all the advantages of sophisticated PM systems at an incredibly affordable price.
Perfect for growing firms. Essential for larger ones.
Practice Manager Plus
£44.00 / user per year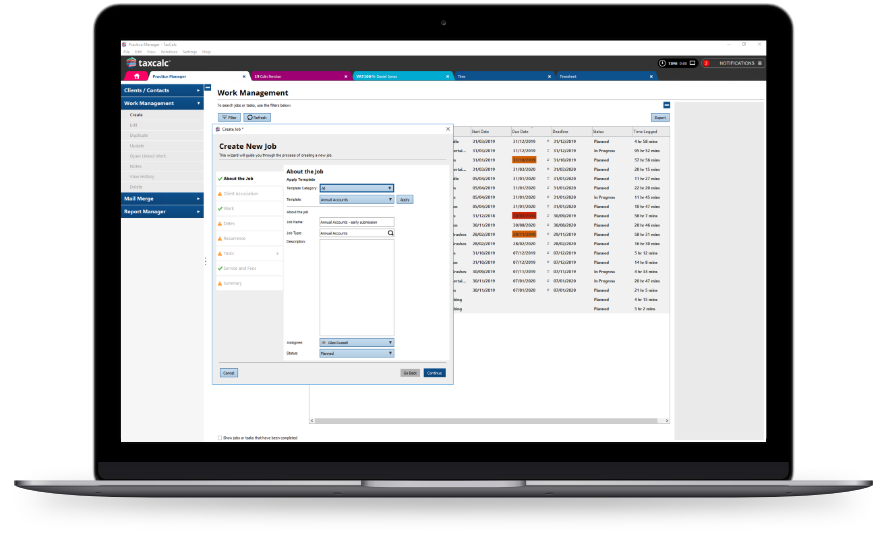 Power your Practice.
Practice Manager
Practice Manager, TaxCalc's administrative powerhouse, organises your clients, workload and staff.
Full of features including Client management with a customisable client list, Data Mining, Custom Fields, Report Manager, Mail Merge, Client Questionnaire and so much more.
Practice Manager
Included as standard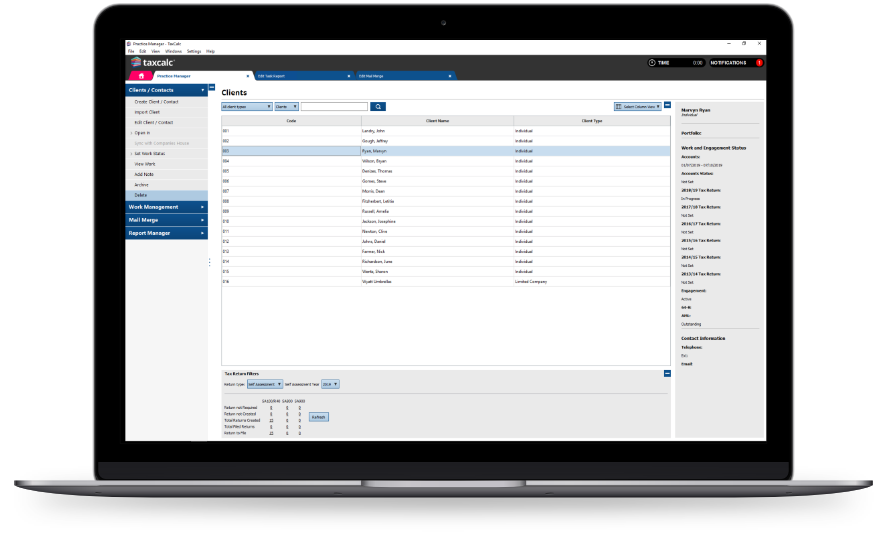 Practice Manager or Practice Manager Plus?
Startup or established practice, choose the version to fit you.
Practice Manager
Included as standard
Client management
Task management
Mail merge *
Tax questionnaire
Reports
Widgets
Dashboard
Multiple offices
* Accessible from within Communications Centre
Practice Manager Plus
£44.00 / user per year
Advanced workflows

Create jobs with sub tasks, customise your workflows and manage due dates and statutory deadlines along with who is working on a task at each stage of a job.

SimpleStep checklists
Statutory deadline management

Never miss a deadline - make sure jobs are started ahead of the statutory deadline.

Automation

Automatically progress job workflow based on triggers or events you define.

Client management
Task management
Mail merge *
Tax questionnaire
Reports
Widgets
Multiple dashboards

Create multiple dashboards, private or public with different sets of widgets to see a quick overview of different areas of your practice.

Enhanced multiple office control

Practice Manager Plus lets you use different filing credentials for each office and assign clients and colleagues to different offices.
* Accessible from within Communications Centre
See a full feature comparison of Practice Manager and Practice Manager Plus
Take control of your communications.
A powerful tool for any firm that needs to communicate efficiently and professionally. Communications Centre will transform your client communications and is packed with useful features:
Email clients from within TaxCalc
Pre-populate emails with client and tax data
Send bulk communications to targeted client lists
Automatically generate record requests and reminders
And much more
Communications Centre
£45.00 / user per year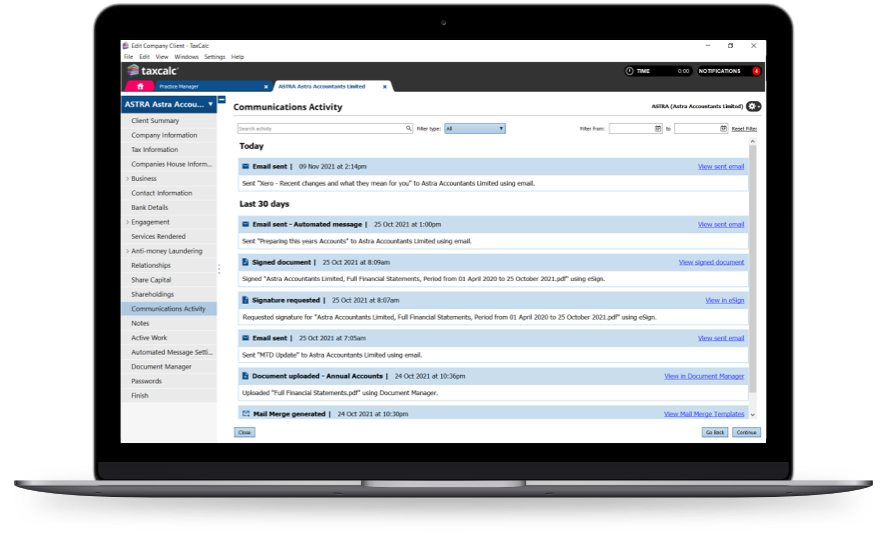 Document management and signing. Delivered.
Document Manager
Powered by SmartVault
£198.00 / user per year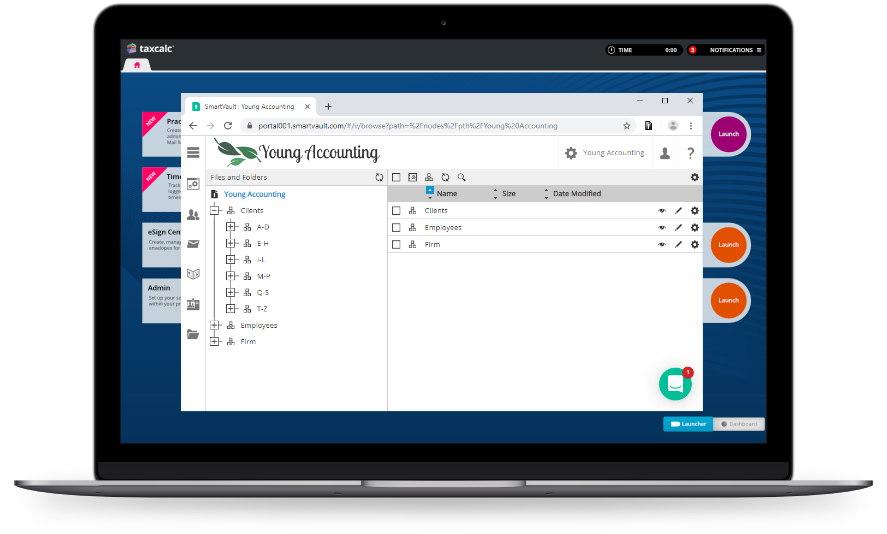 Store, share, manage and access all your client documentation remotely and securely, with one-easy-to-use solution.
Client approval
eSign Centre
From 90p per envelope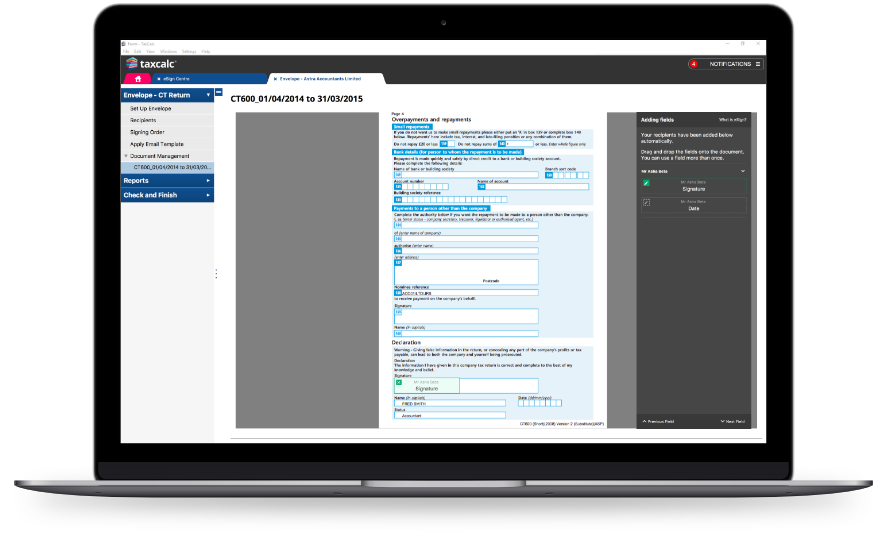 Dramatically reduce the time spent obtaining client approval for tax returns, VAT returns and
sets of accounts.
Bring further efficiency and order to your client comms and management with new Communications Centre.
Demonstrate your compliance.
Our compliance products help you adopt best practice and demonstrate
your compliance to supervisory and regulatory bodies.
Know your clients
AML Centre
From £88.00 / year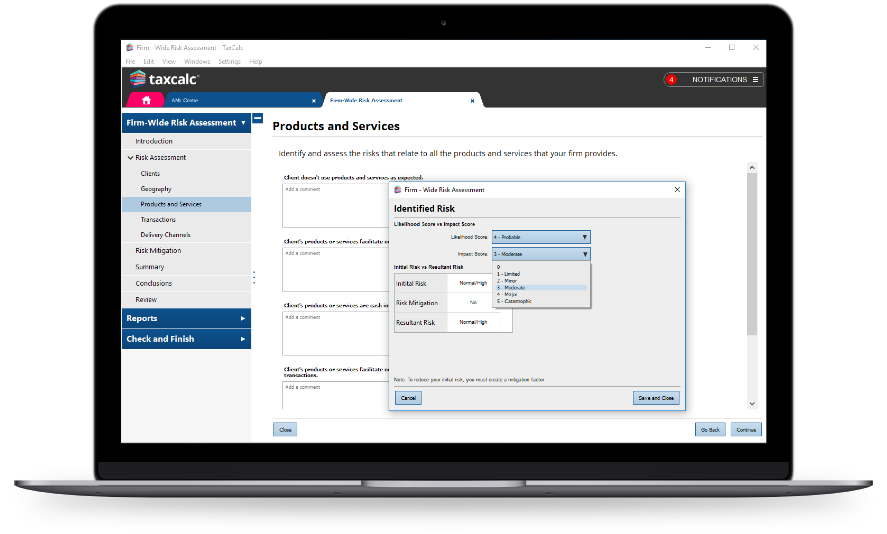 Protect your firm, assess the risks, maintain
records, perform client due diligence, monitor clients and report any fraudulent activity.
Data compliance
GDPR Centre
£137.55 / year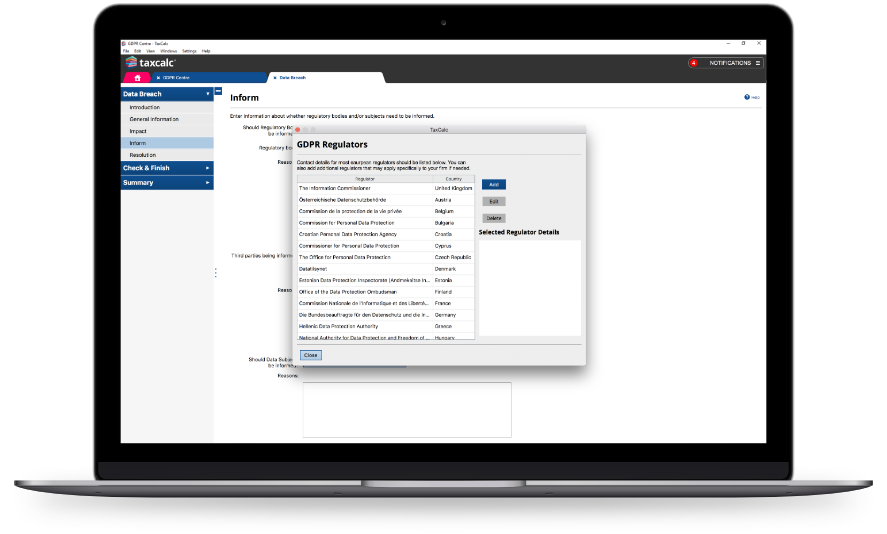 Manage and demonstrate your firm's
compliance under GDPR and stay in control,
now and always.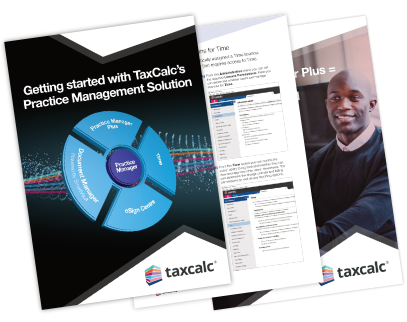 Getting started with Practice Management
All you need to do to get up and running with our
Practice Management toolkit in one easy to follow guide.
See TaxCalc in action
Find out how TaxCalc can switch on your digital practice.
Start a free 14-day trial and see for yourself.
Try everything! See for yourself how easy TaxCalc is to use.
Take a trial
No payment card required
Get a quote


Get a quote and see how much you could save.


Get a quote
Call us about your practice software needs.
Find out more about what TaxCalc can do for your practice.
Speak to our Sales Team
0345 5190 883