Client Hub
The ultimate practice organiser.
Take a Trial
Introducing our award-winning
Client Hub software
TaxCalc Hub is a suite of powerful, complementary practice management tools that are designed to ensure you get the very best out of your TaxCalc software.
It is built around four core functions: clients, tasks, mail merge and reports. Each has been designed with SimpleStep® workflows, to guide you and your staff through comprehensive processes, quickly and efficiently.
There is no additional charge for TaxCalc Client Hub. We believe that it is fundamental to the smooth running of a practice and every TaxCalc customer should benefit from this type of software.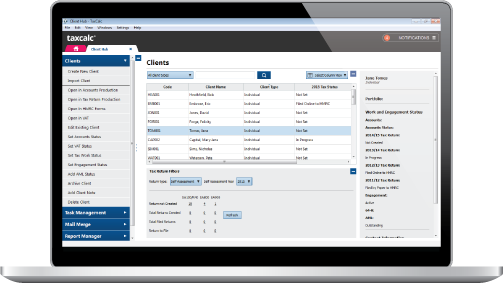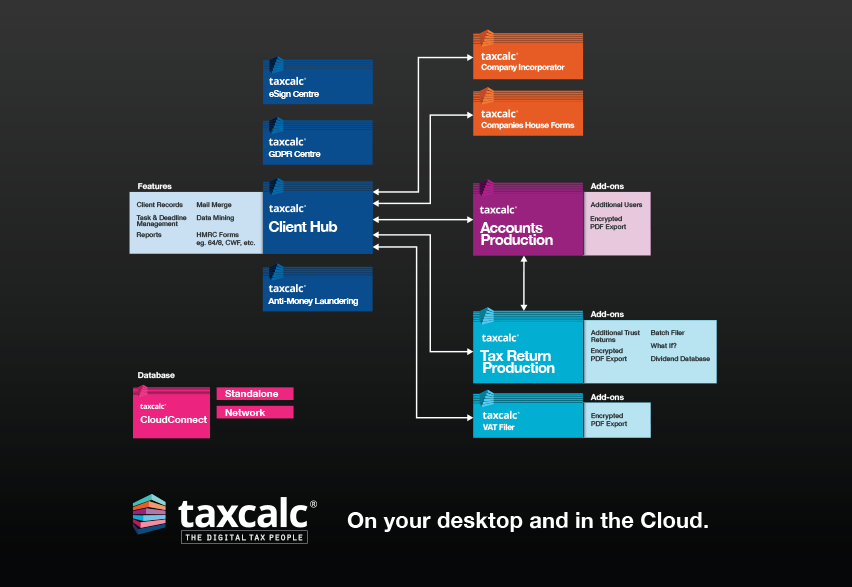 The heart of your practice
TaxCalc Client Hub acts primarily as a single source of client information, capturing as much as possible and then sharing this with the other applications in the TaxCalc suite.
The data entered is used to pre-populate sets of accounts, tax returns and VAT returns. Data all comes back from these sources, being made use of within mail merges and reports.
Click on the picture, left, to see how TaxCalc Client Hub integrates with other TaxCalc software.
Client communications
Send your clients letters, emails and tax questionnaires by using our powerful Mail Merge and Questionnaire functions.
Clients can be selected specifically or using a Data Mine, which interrogrates the database to find clients that meet specific criteria.
Manage and control
TaxCalc Client Hub features task and deadline management, so you can assign work to staff, track their progress and ensure client deadlines are met.
The software also features a dashboard of tax return production progress and a powerful reporting function, with pre-built reports to track progress in detail.
A scalable solution
All of TaxCalc's software products are built on a single platform. Installation is straightforward, with easy deployment and online licensing.
A no-cost server option is available, providing many benefits of centralised data storage such as shared access and a single backup.
Like what you see?
To talk to us about your practice software needs. Call our Sales Team today on:
0345 5190 883
Lines are open Monday to Thursday 9.30am - 5.00pm and 9am - 5pm Friday, excluding UK Bank holidays.
Help is always on hand
We aim to make our software as easy to use as possible but for those times when you need us, you can be sure we're there. Our support is unlimited and provided at no extra charge.
And in January, when our customers need us the most, we extend our support capacity and hours more than anyone else. Our established team have both academic and practical accountancy experience, so you know that whatever your problem, we can find a solution.
Fully comprehensive, yet easy to use software
We believe that Practice Management software shouldn't be an expensive optional extra for your practice – it's fundamental to getting the best out of your TaxCalc software. That's why TaxCalc Client Hub comes free, as standard, with every TaxCalc software product.
Create and manage client records
As well as capturing name and contact information, TaxCalc Client Hub can be used to keep records on services charged, engagement status, AML events, notes and much more. And if you can't find a desired field, you can easily add your own.
Tasks, reminders and work tracking
Take control of the activity in your practice by creating and scheduling tasks for automatic assignment to staff, with deadline, reminders and completion progress. Accounts, tax and VAT work can be tracked according to any of a series of customisable task types and work statuses.
Mail Merge and Tax Questionnaire
Send bulk letters and emails via Microsoft Word. TaxCalc Client Hub comes complete with a library of standard engagement letters, written to the latest CCAB standards. Select and send clients a tax questionnaire to collect tax information in advance of starting their tax returns.
Reports
TaxCalc Client Hub features a wizard driven report engine, helping you to build reports based upon clients, tasks and work status.
The system comes with a number of pre-built reports to get you going quickly.
Data Mine
As more data is captured by your TaxCalc software, you'll want to do more with it. Data Mine can be found in Mail Merge, Tax Questionnaire and Report functions and helps target clients that fit specific criteria.
Data Mine can also be used to check and validate client data. For example, finding all clients without a UTR.
Client Dashboards
TaxCalc Client Hub features a tax return dashboard, with a customisable client list table, helping you to see at a glance how many tax returns you have outstanding and the progress of work through your practice.
Client records themselves feature a customisable and printable 'at a glance' view of your client's core information.
Integration by default

As the core of the TaxCalc suite of products, TaxCalc Client Hub integrates tightly and shares the data you entered with the other applications in the range.
TaxCalc Client Hub ties together related processes. For example, marking a client as being new to your firm can automatically create a 64-8 and engagement letter.
Other useful HMRC forms

TaxCalc Client Hub features a small library of additional HMRC forms:
Both online and offline 64-8
SA1
FBI 2
SA303
CWF1
CT41G
Scalable server version at no extra cost
Gain the benefits of storing your data centrally with our no-cost server option.
Installation is incredibly straightforward, with easy deployment, online licensing and automatic configuration.
Features in detail
TaxCalc Client Hub is replete with features that are designed to help you run your practice.
Clients
Customisable client list table with search and filter options
Quick setup window to create clients
Caters for individuals, partnerships, limited company and trust clients
Handles multiple trades (individual only)
Create partner or staff portfolios and assign clients to them
Record services engaged and indicative fee levels
Record anti-money laundering events
Set up relationships between clients and non-clients alike (spouses, partnerships, directorships etc.)
Captures all necessary core information about your client, including:


name, address and other contact information
place notes against phone numbers (e.g. bookkeeper's number, evening only etc.)
critical dates (birth, incorporation etc.)
tax references (UTR, NINO, PAYE)
tax schemes and dispensations
tax office
pension auto-enrolment date
bank account details
engagement status, 64-8 status
Create custom fields that can be data mined and reported
Password protect sensitive clients from being opened by staff without correct privileges
Record and print arbitrary notes against the client's record
Check & Finish routine to ensure all necessary information to create a client has been entered
Import client data from csv files
Set work status for accounts, tax and VAT work
Archive former clients from views and reports
Tasks
Single Task viewing screen to see, search and filter tasks both active and completed in the practice
Task creation wizard for fast setting up of tasks
Optionally associate tasks with clients and non-clients alike
Create tasks by reference to key client dates, such as accounts year end or tax filing date
Enter due dates and reminders
Get notifications when a task reminds you of its presence or that its deadline approaches
Assign to staff for tracking around the office or leave unassigned for future allocation
Set tasks to reoccur
Customise the types of task that can be created
Keep an audit trail of task progress as it moved through your practice
Edit, duplicate, update, assign and delete tasks
Update, assign and delete multiple tasks at once
View and update tasks associated with a client from within any TaxCalc application
Mail Merge
SimpleStep driven process to guide you through creating a Mail Merge
Save Mail Merges for future use
Select all clients, specific clients or build a Data Mine to target clients meeting given criteria
Create templates in Microsoft Word and import into the system for future use
Create categories of templates to help manage your own template library
Includes templates for address labels and envelopes
Choose a letter template from the library provided (written to CCAB guidelines):


engagement letters for various types of clients
engagement letters for various types of services provided
standard terms of business
presentation of accounts and tax computations
disengagement letter
questionnaire cover letter
Mail Merge tokens include:

name and address components
pre-built formal and informal name blocks (e.g. Dear Mr R Smith or Dear Bob)
tax references, liabilities and balancing payments

Set a principal contact for Partnership and Limited Companies
Tax Questionnaire
Send a tax questionnaire to clients to gather information prior to starting their return
Base the return on previous year data or start afresh
Create one Microsoft Word file for all chosen clients or individual files for emailing later
Select all clients, specific clients or build a Data Mine to target clients meeting given criteria
Add a cover letter to each questionnaire (templates stored within Mail Merge)
Reports
Create interactive reports based on client data, tasks or work statuses (accounts, tax, VAT)
Select all clients, specific clients or build a Data Mine to target clients meeting given criteria
Choose from a long list of column titles, including custom fields
Variety of filter options based upon the type of report being built
Customise report output to choose columns presented, order sorted by and page orientation
Private report function (other users cannot see them)
Save reports for future re-use and share with other users
Import and export report templates
Export report output to Microsoft Word, Microsoft Excel and PDF file formats
Data Mine
Build a Data Mine to target clients that meet specific criteria
Use the wizard to build complex expressions in a simple fashion
Include or exclude archived clients
Save Data Mines for reuse elsewhere in the software
Variety of conditions available, including:


Client type, gender, marital status, age, engagement status, portfolio etc.
Relationships
AML status
Types of incomes, tax events (e.g. gift aid) and values
Tax flags (P11D dispensation, VAT scheme, CIS)
System
First run wizard to help get set up and running quickly and easily
Set up multiple user accounts, with passwords to prevent unauthorised access
Create security roles with access privileges and assign each to staff members
Single point to set up name of firm, qualification, office addresses
Database backup facility with custom reminder notifications
Restrict access to clients by subcontractors, outsourcers and other external workers
See which users are logged in and when they last logged in
Deployment
Standalone version, ideal for single user practices
Client/server version for running over an office network
Performance optimised for running over remote connections, such as VPN
TaxCalc – a software company that invests in its products
Every year, we update our software products with features that can really make a difference.
For existing customers, this page sets out all you need to know.


Tasks, Work Tracking and Deadline Management
Take control of activity and deadlines within your practice with our recent improvements to tasks, reminders and work tracking.
We've enhanced Client Hub with a number of improved Practice Management functions which allow you to create and schedule tasks and reminders, as well as tracking your work. You'll find the process streamlined, making it easier to manage deadlines and save time.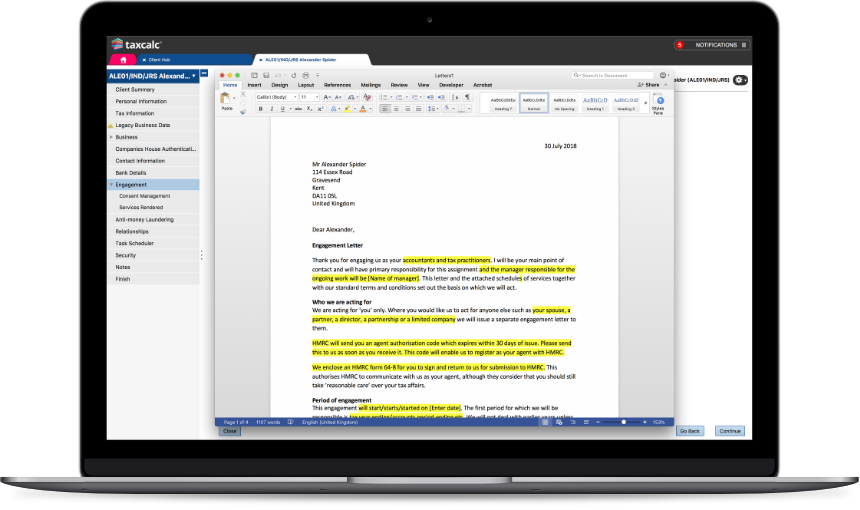 GDPR Engagement Letters
May 25 saw GDPR come into effect, making your old client engagement letters referring to the Data Protection Act out of date. Client Hub has now been updated with five new GDPR-friendly client engagement letters for you to use, including:
Firm's Terms of Business
Main letter for Individuals
Main letter for Partnerships and Limited Companies
Main letter for Trusts
Schedule of Services: Payroll
GDPR Consent Management
With new GDPR-friendly updates now built into Client Hub, you'll be able to manage clients within your firm and stay compliant. Consent Mangement allows you to:
Record Consent
Export Consent and contact details to Excel or Word
Report on client Consent status
Apply bulk Consent actions
Having this information in one place makes it easy to be compliant and know which clients can receive marketing from your practice.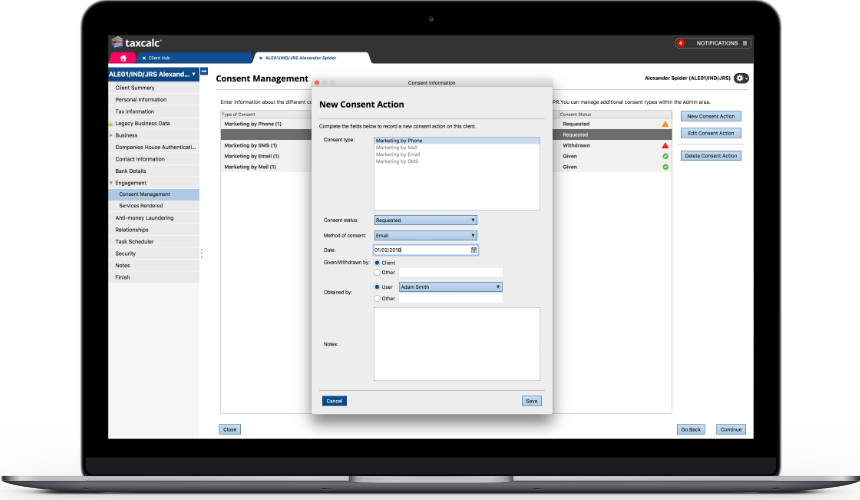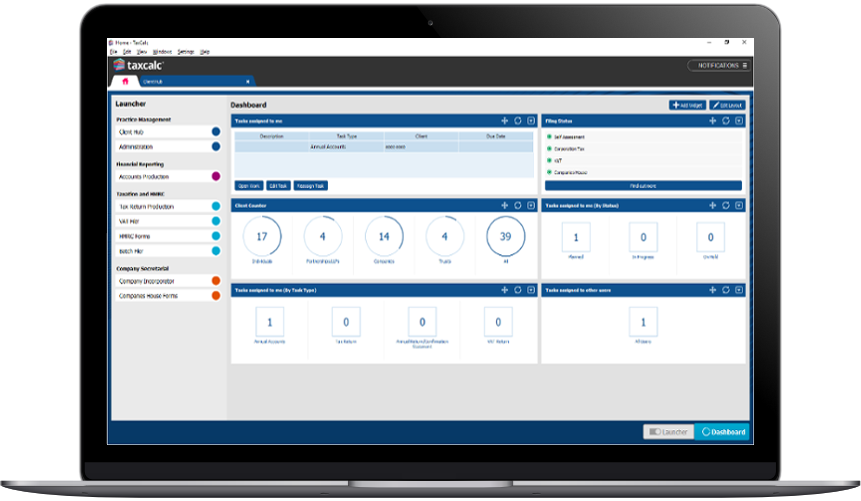 Introducing Dashboard
Dashboard provides a whole new way of working within TaxCalc.
We hold a lot of useful data inside of the TaxCalc Suite including Accounts, Tax Returns, Client's Details and Tasks.
Dashboard is the platform for improving the way you work day to day.
Your task list becomes interactive, getting you to the work you need to complete without having to select the client or specific period your task relates to.
To find out more about Dashboard, please visit our Knowledge Base article.
TaxCalc for all firms
We recognise that practices in the UK come in all shapes and sizes.
That's why we offer a wide range of Unlimited and smaller pre-built packages to suit your client base.

Whether you opt for your TaxCalc software to be supplied in standalone or server versions,
they both cost the same and come with free, unlimited support.
Standalone
Suitable for startups and those working on their own:
Local database with option to store tax returns in your own file system or cloud storage (e.g. DropBox)*.
Designed for a single installation. For multiple standalone machines please contact our team on 0345 5190 883.
Available for Windows, Mac, and Linux.
* Note that tax returns stored outside of the database will not be included in backups. If you move a tax return file, you will be required to help TaxCalc relocate it.
Server
Suitable for multi-staff offices at one or more locations:
Central database to store and coordinate all your practice data in your office.
Easy to use installer. One option for the server (which will auto-configure itself to run as a service on your network) and another option for each of the computers on your network.
TaxCalc's server software is designed to run over modest, lightweight hardware. You don't even need a dedicated server. In simple setups, you just need to bless one computer on your network with the database and TaxCalc takes care of the rest.
TaxCalc's software is optimised to run over a VPN, allowing you to connect from remote locations. Our CloudConnect service also allows you to connect from any location, providing superb performance and removes the need to run your own server or backups.
Concurrent user model means that you can install software on as many computers as you like.
Two concurrent users allowed out of the box with additional users available to buy at just £105 per user.
Back up all of your clients' accounts, tax returns and other practice records in one go.
If your practice's circumstances change, we can migrate you from the standalone version to the server version. Please call us on 0345 5190 883 to discuss.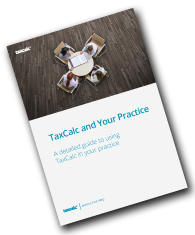 TaxCalc and Your Practice - A Short Guide
There's no need to be daunted at the prospect of change: hundreds of practices are moving to TaxCalc and are enjoying the benefit of one integrated software provider.
To learn more about how your practice can install, license and maintain TaxCalc, we've written a detailed guide about this, together with an insight into the technology and user interface design of the software.
Download
Powerful add-ons to improve functionality
TaxCalc sports a number of helpful add-ons. You can choose one or more add-on modules and review pricing when you come to buy your software.


Companies House Advanced Integration
Quickly on-board new Limited Company clients and keep company data up to date and accurate with Companies House Advanced Integration.*
*This add-on is included with Companies House Forms Unlimited.
Find out more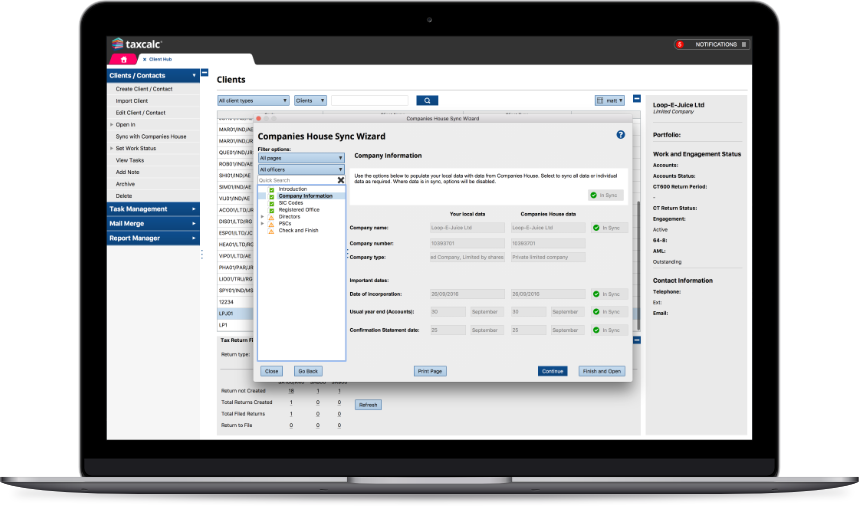 TaxCalc in action
We believe that Practice Management software shouldn't be an expensive optional extra for your practice -
it's fundamental to getting the best out of your TaxCalc software. That's why TaxCalc Client Hub comes free,
as standard, with every TaxCalc software product.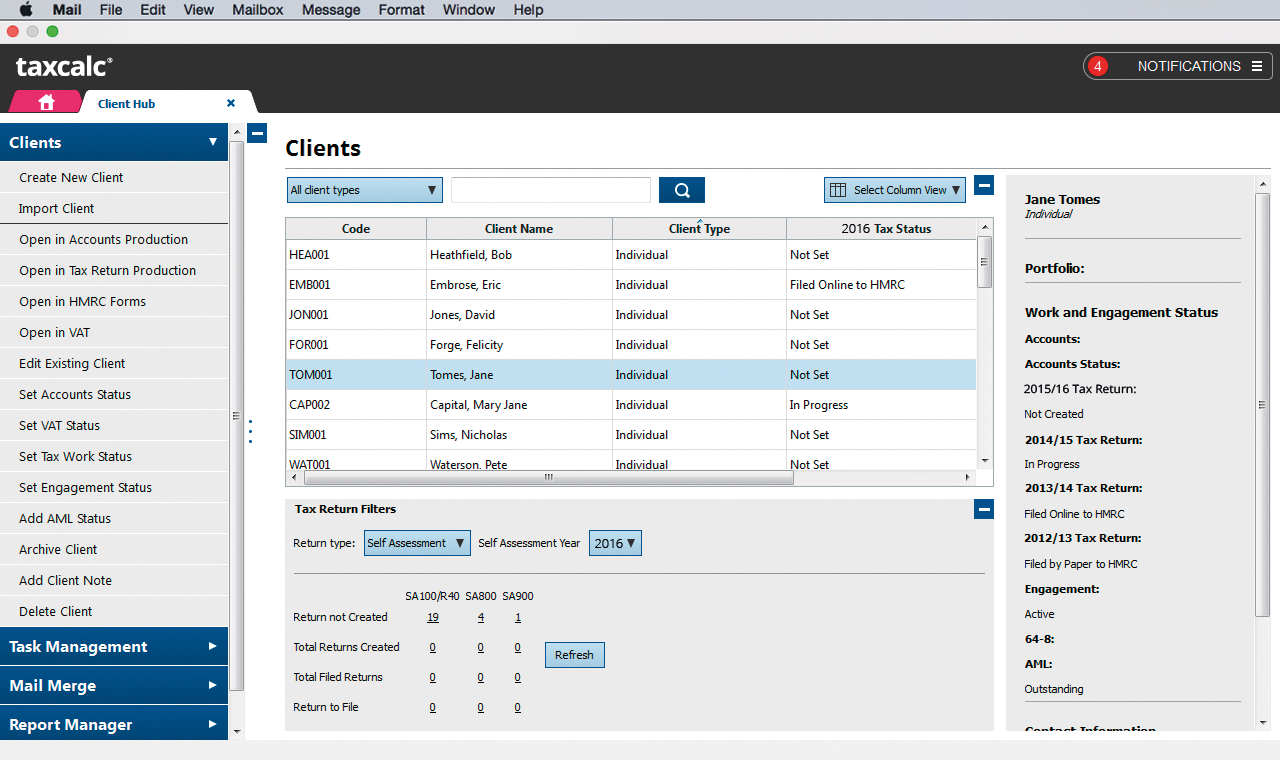 Your clients are accessed from the main Client screen.
You can customise the client table, showing columns of information (such as work status). Use the tax dashboard to keep track of tax return progress.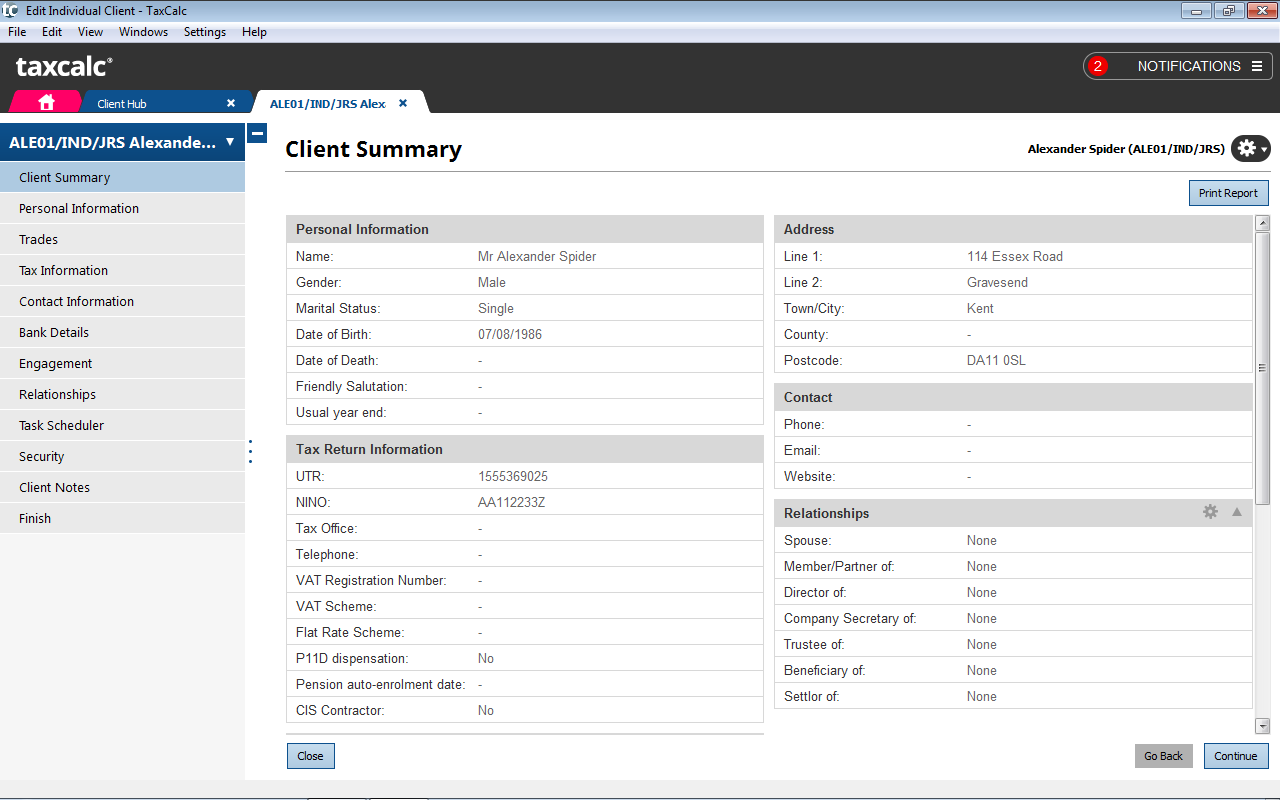 Whenever you open a client in TaxCalc Client Hub, you will see a summary of key information about them.
This screen can be customised on a per client basis and printed for your paper records.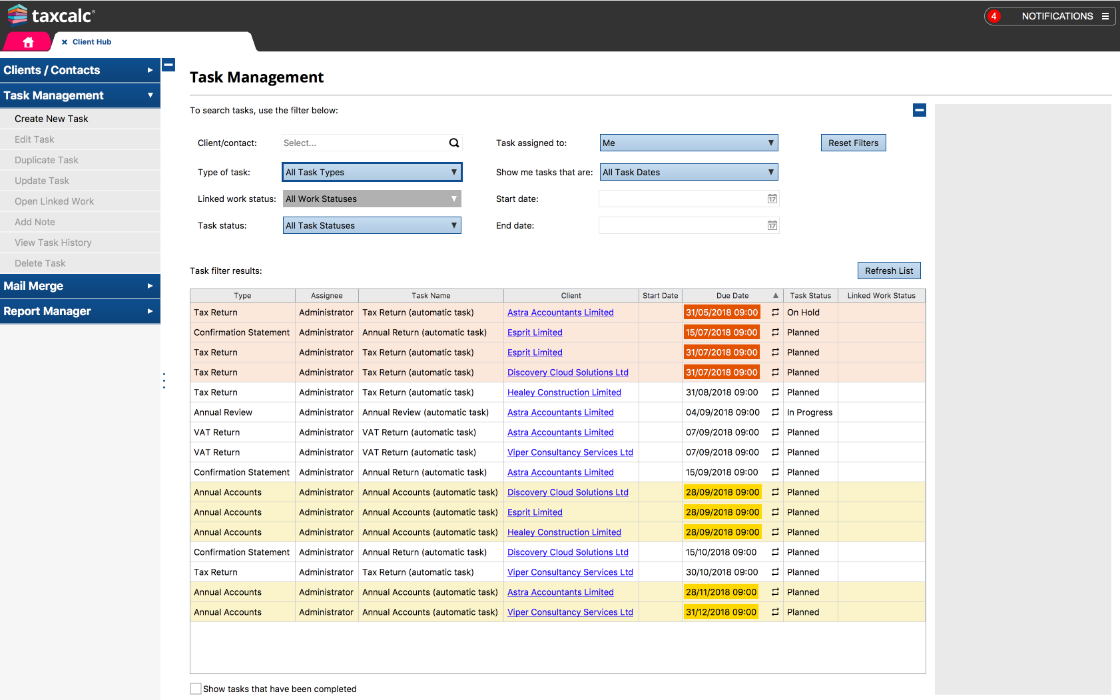 Setting up tasks is easy with TaxCalc's wizard.
Tasks can also be scheduled from within the client's record and referenced with key dates, such as the accounting year end.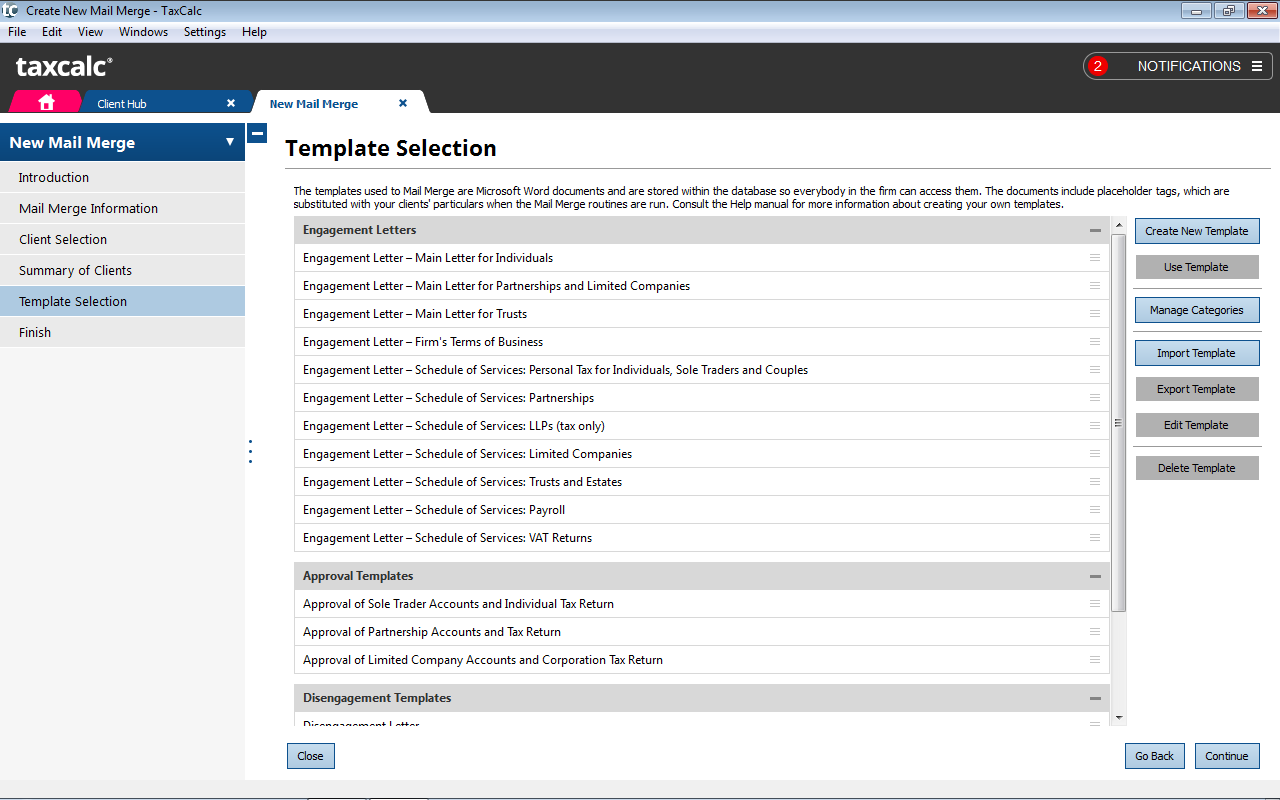 TaxCalc Client Hub is provided with a range of template letters, neatly organised by type.
You can easily add to the range of templates provided, each written to CCAB standards.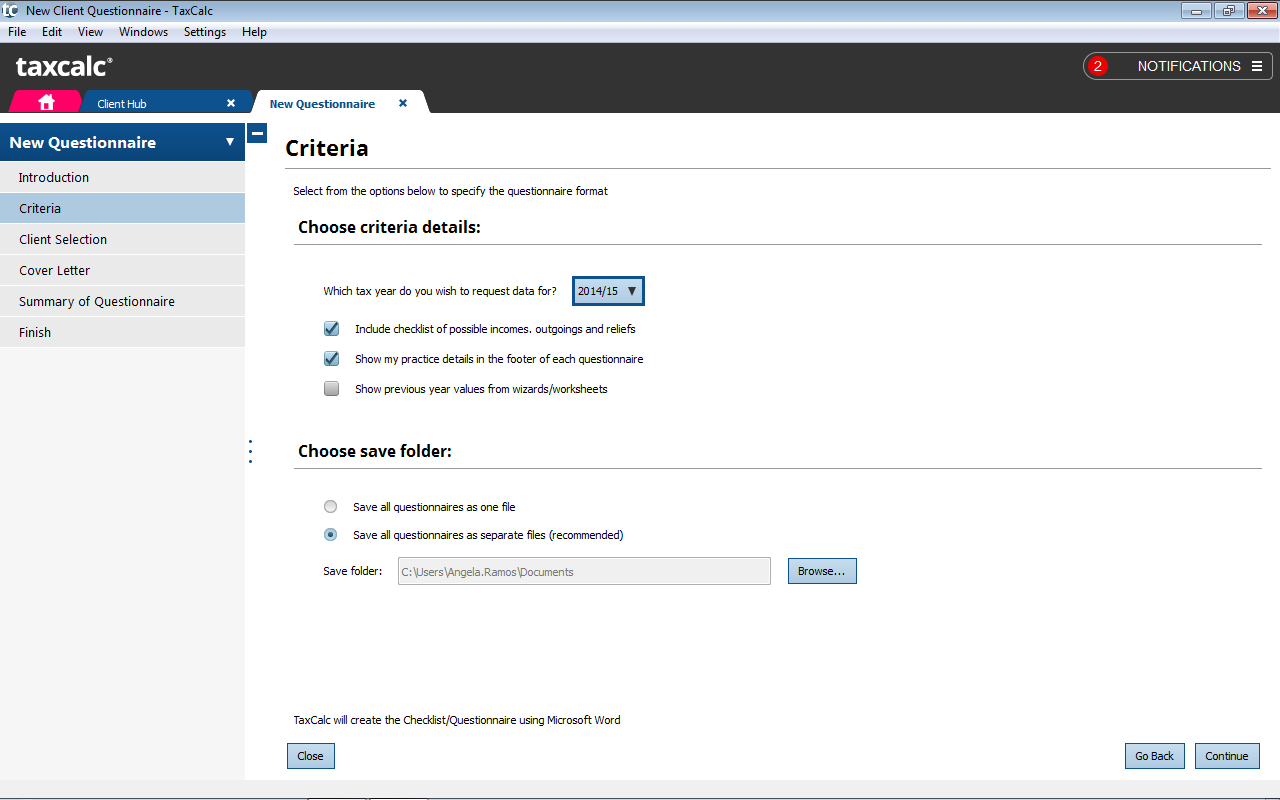 Help your clients to organise their records prior to starting their tax return by sending them a questionnaire.
New clients can be sent a blank questionnaire whilst existing clients can be based upon last year's return.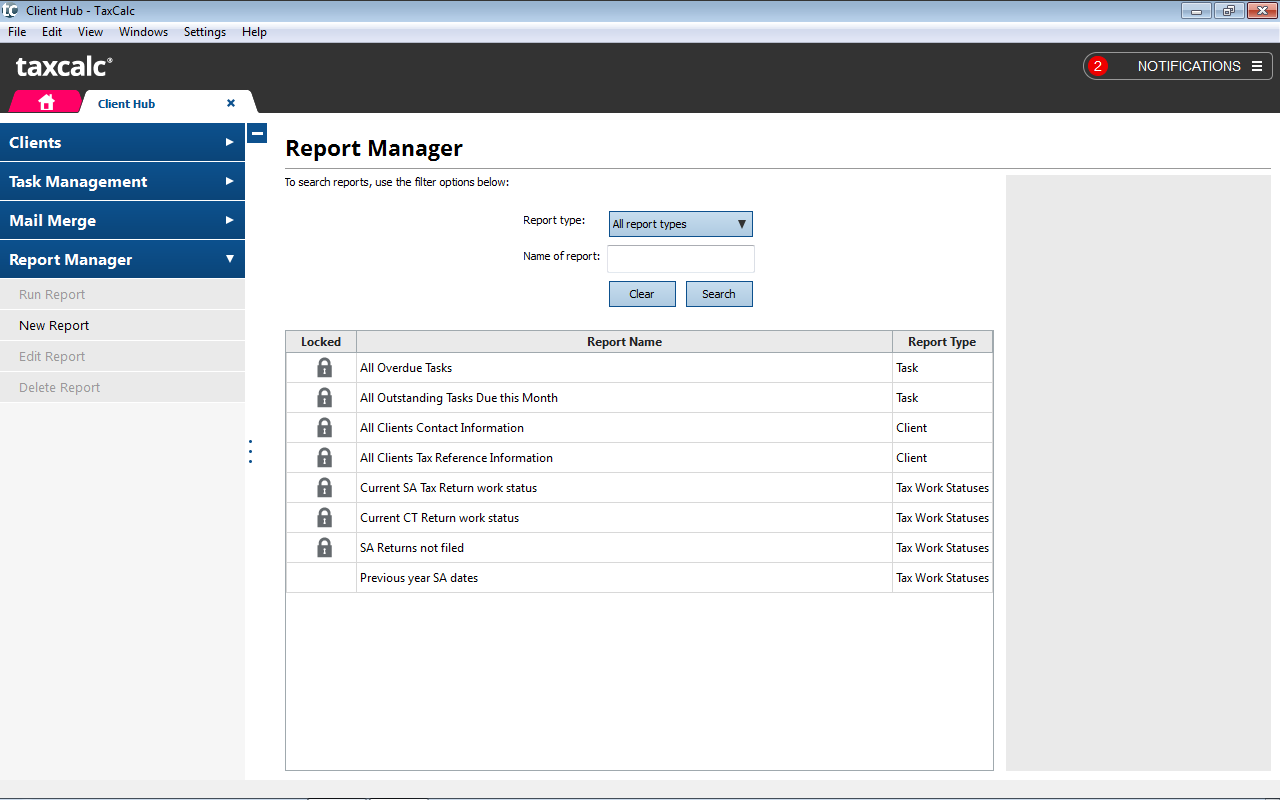 As well as using the Clients screen to keep on top of work progress, TaxCalc Client Hub features a comprehensive reporting function to create a variety of reports.
Frequently asked questions
The questions below provide immediate answers to many aspects of TaxCalc Client Hub.
If you have any further questions, please call 0345 5190 883 or email sales@taxcalc.com
Does TaxCalc work on
Windows 10?
Yes. TaxCalc's software has been fully tested with Microsoft's latest operating system and we can confirm that it does indeed work with Microsoft Windows 10. For a full compatibility list please see the System Requirements for TaxCalc.
Does TaxCalc work on Apple Macs?
Yes. TaxCalc will run on any 64-bit Macintosh running Mac OS 10.12 or higher.
Does TaxCalc work on Linux?
Yes. TaxCalc will run on any 64 bit kernal 3.10 (or higher), Debian (e.g. Ubuntu) or Redhat based distributions.
Will you release a server
version for Apple Macs?
We will wait to gauge the popularity of the standalone version before deciding whether there is enough support to embark upon creating a server version. Again, please email our support team at support@taxcalc.com to register your interest.
How do I get
TaxCalc Client Hub?
TaxCalc Client Hub is provided as a module at no extra cost when you buy either TaxCalc Accounts Production or TaxCalc Tax Return Production.
Can I buy TaxCalc Client Hub
on its own?
No. You will need to buy either of the products above to obtain TaxCalc Client Hub.
If you cannot find the product you are looking for, please call us on 0345 5190 883 or email sales@taxcalc.com.
How many clients can be
stored in TaxCalc Client Hub?
The database can store as many clients as you like and theoretically, is unlimited. TaxCalc Client Hub is not limited by restrictions placed on other products, so for example, your database could hold 80 clients whilst you have an Accounts Production licence for 50.
How many computers can I
install TaxCalc Client Hub onto?
For your convenience, TaxCalc Client Hub may be installed on up to two computers if you have chosen to use the standalone version. For network and cloud customers, there is no limit, although the number of concurrent users will be limited by the licence you purchased.
Choose your TaxCalc
We believe that Practice Management software is so crucial to the running of a practice that we provide TaxCalc Client Hub as part of any integrated software purchase.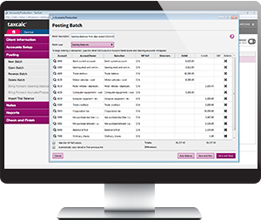 TaxCalc Accounts Production
Features online filing to Companies House and is build to handle all XBRL tagging automatically. TaxCalc Accounts Production effortlessly prepares fiancial statements for limited companies, LLPs, sole traders and partnerships.

Wih integration and direct sharing of data, TaxCalc Accounts Production is perfect stablemate to our award winning line of tax software.
Learn more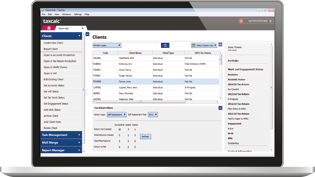 TaxCalc Tax Return Production
Our products cater for Individual, Partnership, Corporate and Trust returns with a range of scalable solutions to suit practices small and large.
Learn more