Companies House Advanced Integration
Quickly onboard new Limited Company clients.
£150.00
Buy Now
Quickly onboard new Limited Company clients and
keep company data up to date and accurate.
Collecting and maintaining client data can be a long and monotonous task,
but with Companies House Advanced Integration this will become a quick and simple process.
With this addon you check and pull additional information from the public register directly into Client Hub.
From now on you'll always be sure your local data and the data held on public record
is accurate and up to date at any time.
Quickly create new clients
Using our new advanced integration, further information can now be pulled from Companies House when creating a new client, saving you time and making sure the client data you have matches that held on the public register.
Information includes:
Company Information (inc SIC Codes and Registered Office)*
Directors
Company Secretaries
Persons with Significant Control (including Nature of Control)
Service Addresses
*Included with standard integration
Manage relationships
Our Simple-Step wizard lets you view all past and present officers (such as Directors, Company Secretaries and PSCs) registered with Companies House, letting you sync clients/contacts and their relationships directly in to Client Hub.
You'll save time in both creating new clients and avoid the risk of duplicating existing relationships.
Be sure your client data is accurate and up to date
With clear indications of where your local data is out of Sync with Companies House and the addition of Check and Finish to validate any entries you can be sure you'll know where any of your client's details may need reviewing.
A printable Summary Report can be used to send to your client to verify the accuracy of data in preparation for submitting your clients Confirmation Statement.
Like what you see?
To talk to us about your practice software needs. Call our Sales Team today on:
0345 5190 883
Lines are open Monday to Thursday 9.30am - 5.00pm and 9am - 5pm Friday, excluding UK Bank holidays.
Help is always on hand
We aim to make our software as easy to use as possible but for those times when you need us, you can be sure we're there. Our support is unlimited and provided at no extra charge.
And in January, when our customers need us the most, we extend our support capacity and hours more than anyone else. Our established team have both academic and practical accountancy experience, so you know that whatever your problem, we can find a solution.

Included with Companies House Forms
Companies House Advanced Integration is included within any purchase of Companies House Forms Unlimited.
TaxCalc in action
See how TaxCalc's Advanced Companies House Integration add-on can help save time and streamline your client on-boarding and management process.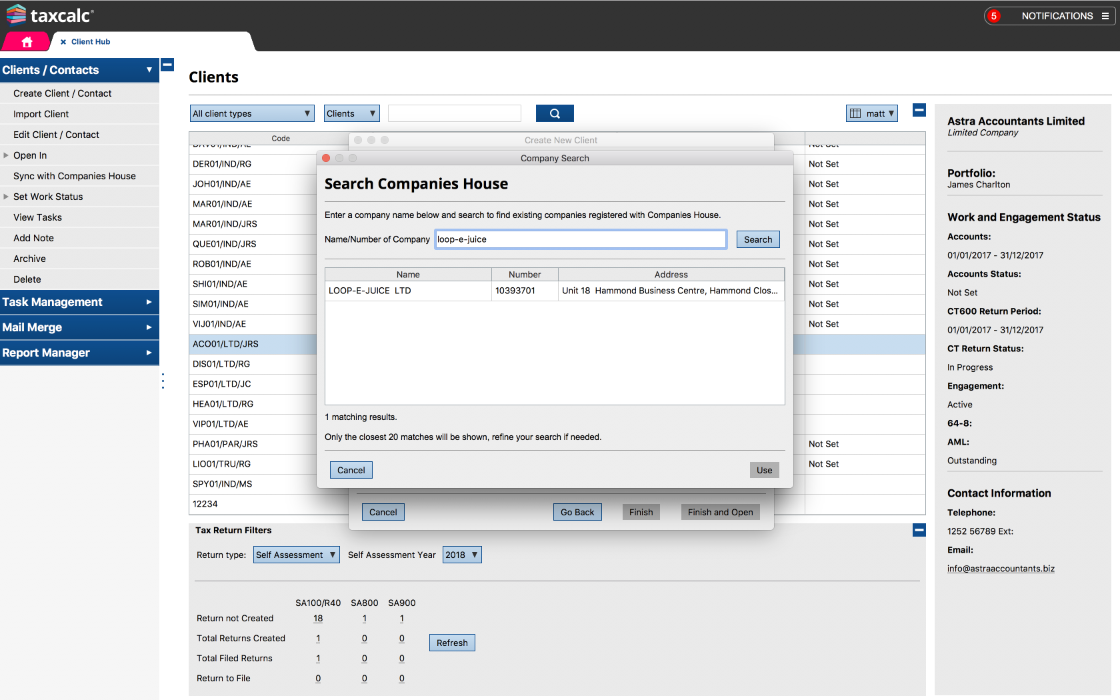 The search and results dialogue provides a simple summary of the public register based on the information entered. Allowing quick creation of a client with basic Company information.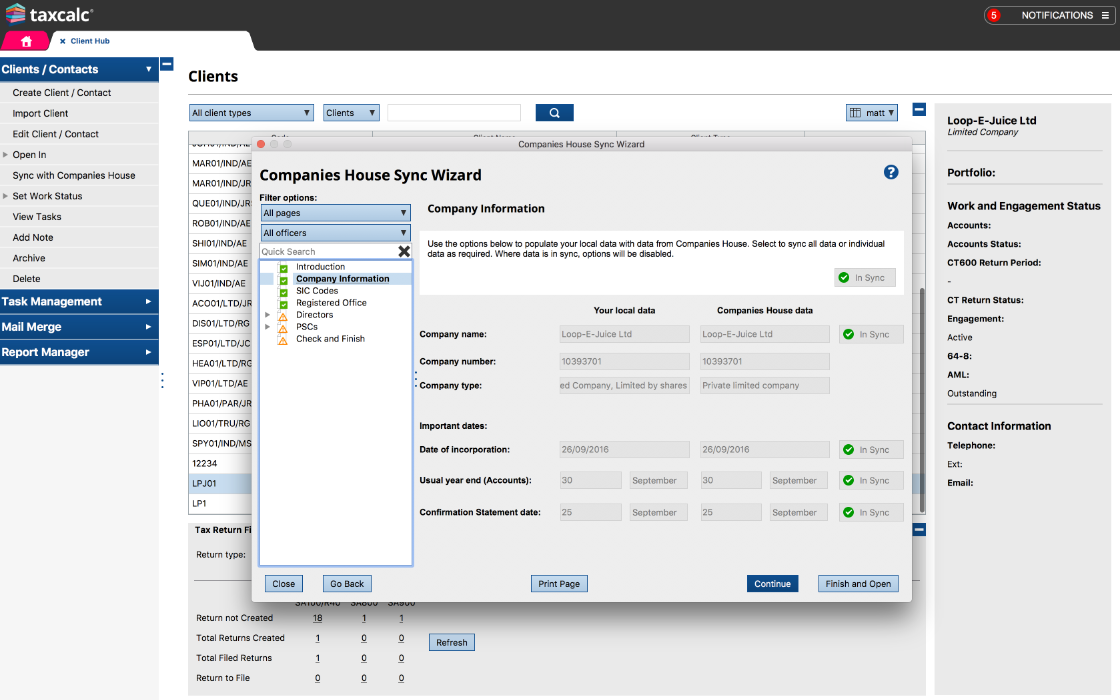 Sync Company Information, Important Dates, SIC Codes and Registered Office at the click of a button. Sync all items at once or select to sync one by one. You will be notified when the data is in sync.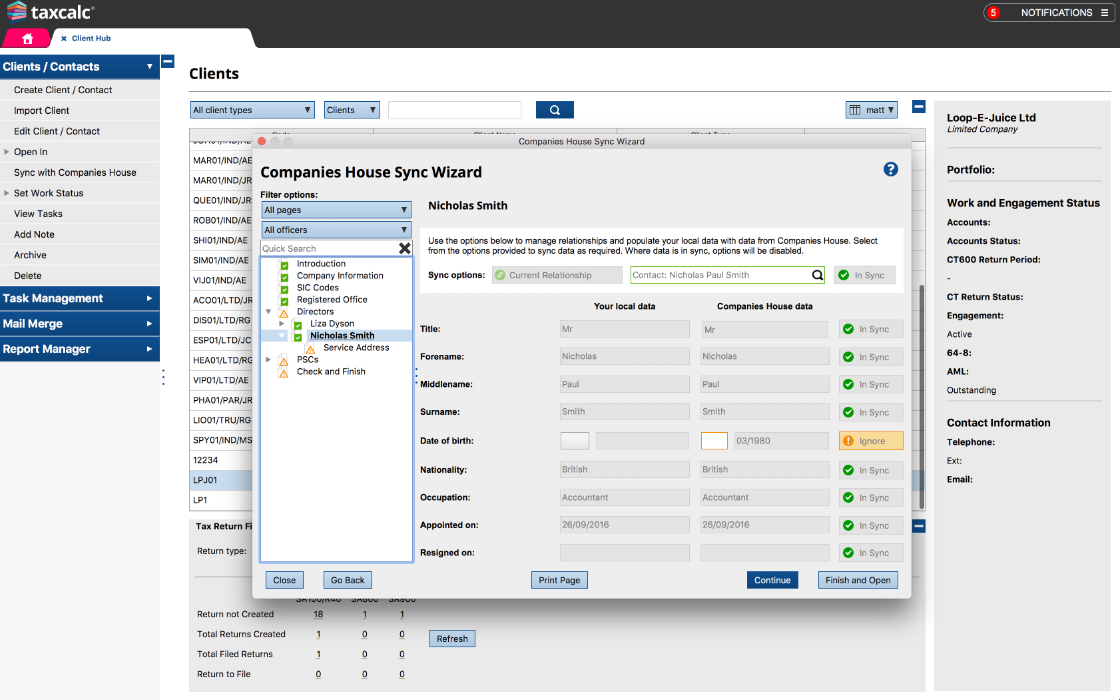 Sync both past and present Director, Secretary and PSC relationships held on the public register. Using the easy to follow sync options, quickly create a new client/contact, relationship and Service Address for each officer.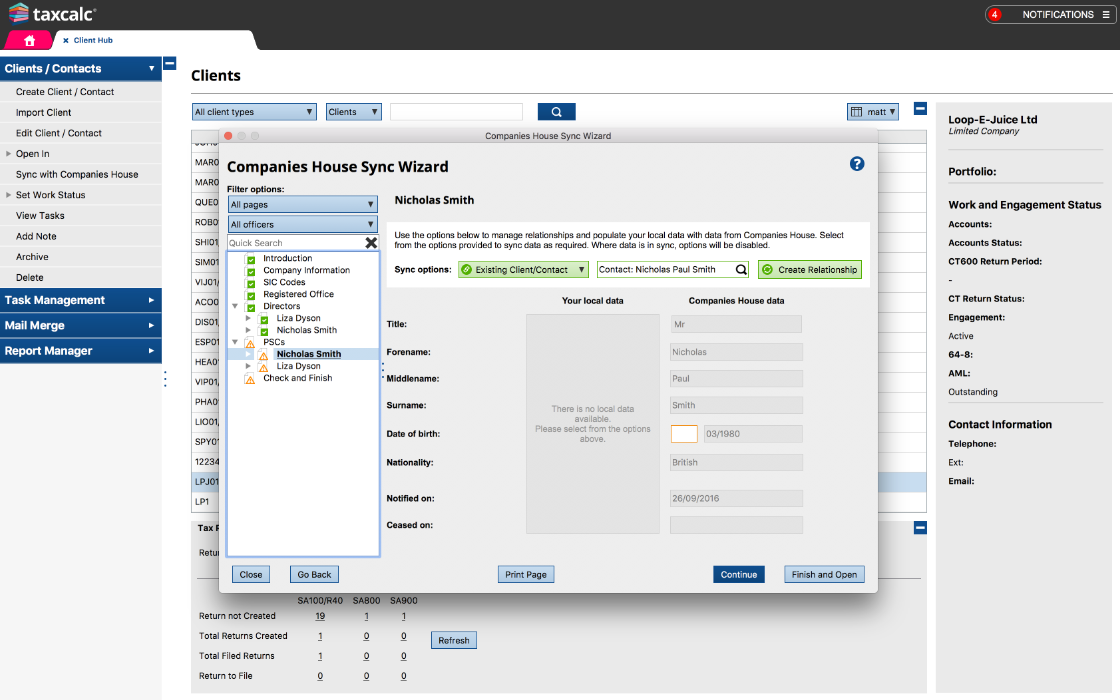 The sync wizard uses an intuitive search process to automatically select an existing client/contact or address where a match is found. Where a match cannot be identified a new client/contact can be created.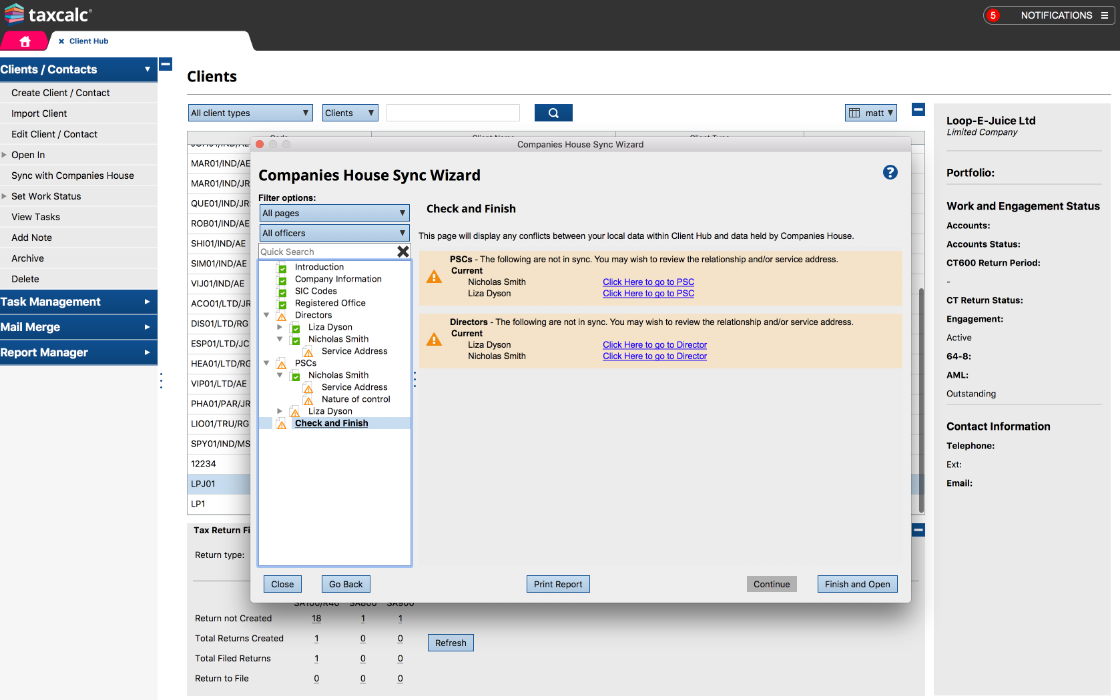 As with all TaxCalc products, the Companies House Sync Wizard ends with Check & Finish, which reviews and validates all pages and highlights any data not in sync or that may need your attention.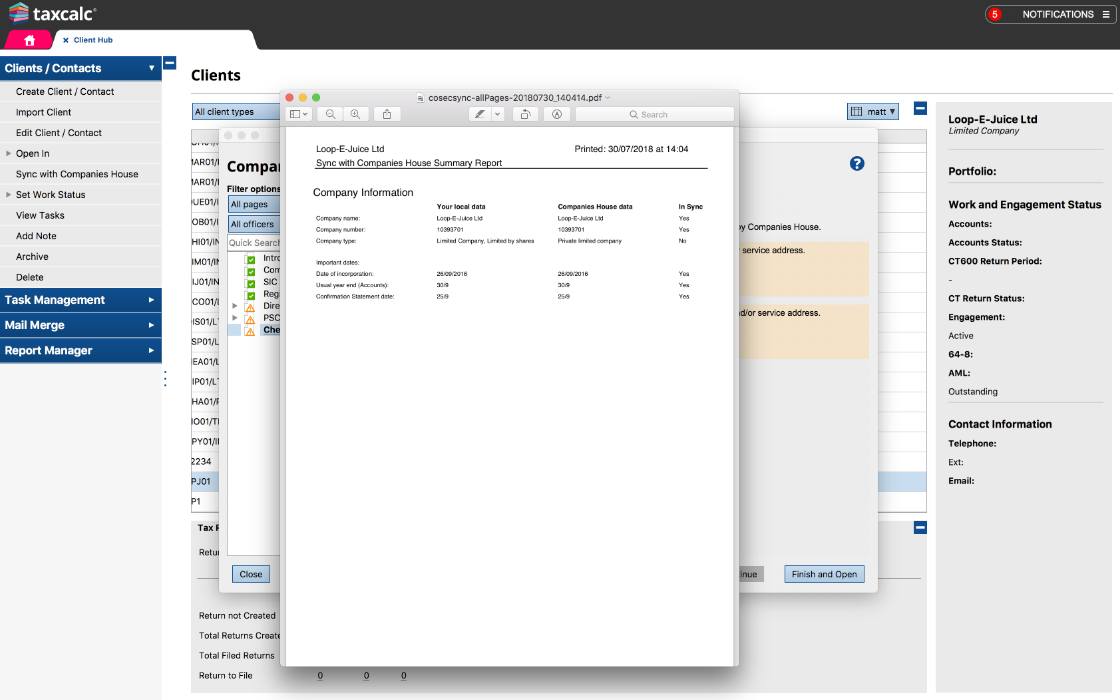 You can print each page or a Summary Report to provide a hard copy of data summarised within the wizard. This can be used to store on file or send to your client to verify the accuracy of data in preparation for submitting your client's Confirmation Statement.