Tax Return Production
Makes light work of tax returns.
From £114.00
Buy Now
Take a Trial
Fully comprehensive, yet easy to use software
TaxCalc Tax Return Production is the simplest and most complete way to control,
execute and file your clients' tax return online.
A package to suit your practice
TaxCalc provides all of the
supplementary pages for the
Individual, Partnership, Trust and
Corporation Tax forms.
Available in unlimited or micro practice bundles, you can find a TaxCalc tax
product to suit your size of practice.
Easy to complete
Fill out your clients' returns directly
using HMRC Forms mode or let TaxCalc do most of the work with our unique
SimpleStep questionnaire mode*.
Check before you file online
Use Check & Finish to validate your
entries and address any potential
problems before you push the
online file button.
Track work progress with TaxCalc Client Hub
Use TaxCalc Client Hub to monitor due dates, create tasks and track the progress of returns through your practice.
TaxCalc Tax Return Production is provided with TaxCalc Client Hub, our built-in Practice Management software.
Integration by default

As part of the TaxCalc suite of
products for accountancy practices
and tax advisors, TaxCalc Tax Return
Production integrates with
other applications in the range.
Server version at no extra cost

Gain the benefits of storing your
data centrally with our no-cost
server option.
Installation is easy, with easy deployment, online licensing and automatic configuration.
Other useful HMRC Forms
TaxCalc includes other forms
such as the 64-8 Authorising Your
Agent form, the R40 Repayment
form and the SA303 Reduction of
Payments on Account.
Annual licensing
TaxCalc is sold on an annual licence
basis, providing you with access to your
chosen tax returns for twelve month period
Should your licence expire, the software
will go into read-only mode, allowing you
continued access to your data.
Scalable and upgradeable
Upgrading to higher value products,
Adding more returns and adding
additional users is really easy.
TaxCalc is truly a scalable product
that grows with your practice.
*SimpleStep mode not applicable to Trust returns
Features in detail
TaxCalc Tax Return Production provides you with all the features and functions
to make light work of your tax returns.
TaxCalc for all firms
We recognise that practices in the UK come in all shapes and sizes.
That's why we offer a wide range of Unlimited and smaller pre-built packages to suit your client base.

Whether you opt for your TaxCalc software to be supplied in standalone or server versions,
they both cost the same and come with free, unlimited support.
Standalone
Suitable for startups and those working on their own:
Local database with option to store tax returns in your own file system or cloud storage (e.g. DropBox)*.
Designed for a single installation. For multiple standalone machines please contact our team on 0345 5190 883.
Available for Windows, Mac, and Linux
* Note that tax returns stored outside of the database will not be included in backups. If you move a tax return file, you will be required to help TaxCalc relocate it.
Server
Suitable for multi-staff offices at one or more locations:
Central database to store and coordinate all your practice data in your office.
Easy to use installer. One option for the server (which will auto-configure itself to run as a service on your network) and another option for each of the computers on your network.
TaxCalc's server software is designed to run over modest, lightweight hardware. You don't even need a dedicated server. In simple setups, you just need to bless one computer on your network with the database and TaxCalc takes care of the rest.
TaxCalc's software is optimised to run over VPN, so connecting in from remote locations provides superb performance.
Concurrent user model means that you can install software on as many computers as you like.
Two concurrent users allowed out of the box with additional users available to buy at just £110 per user.
Back up all of your clients' accounts, tax returns and other practice records in one go.
If your practice's circumstances change, we can migrate you from the standalone version to the server version. Please call us on 0345 5190 883 to discuss.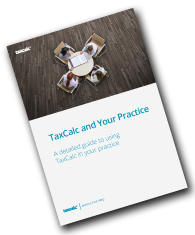 TaxCalc and Your Practice - A Short Guide
There's no need to be daunted at the prospect of change: hundreds of practices are moving to TaxCalc and are enjoying the benefit of one integrated software provider.
To learn more about how your practice can install, license and maintain TaxCalc, we've written a detailed guide about this, together with an insight into the technology and user interface design of the software.
Download
Powerful add-ons to improve functionality
TaxCalc sports a number of helpful add-ons. You can choose one or more add-on modules
and review pricing when you come to buy your software.
Single SA900 Trust tax return
If you have a client that needs to complete a Trust return, this add-on provides you with the form for easy
on-screen completion and online filing.
Income received from the Trust can be imported directly into an SA100 Individual tax return.
TaxCalc Dividend Database
Make the entry of dividend income a snap with this database of FTSE 350 and AIM 100 listed dividend data.
Bring forward your clients' shareholdings from their 2018-19 tax returns and TaxCalc Dividend Database
will do the rest.
The database is released in June each year to include dividends paid up to the end of the previous tax year.
TaxCalc What If? Planner
Use your clients' 2019-20 tax return data to project their tax liabilities for the 2020-21 tax year.
You can also create scenarios, adjusting your clients' levels of income or to see the effects of decisions being made now on next year's tax bill.
The add-on is released in June each year to include changes announced for the next tax year.
TaxCalc Encrypted PDF Export
Export your clients' tax returns as encrypted PDF files for transmission to them by email.
Passwords are saved in the client's record in TaxCalc Client Hub and conveniently applied at point of export.
Note that this add-on is only available for Windows users.
TaxCalc Batch Filer
For firms that have detailed review and filing processes, TaxCalc Batch Filer allows you to queue up approved
tax returns for bulk filing.
TaxCalc in action
We pride ourselves on delivering high quality and easy to use software. Please click on a screenshot below to
see how you use TaxCalc and see how easy it is to complete your tax return.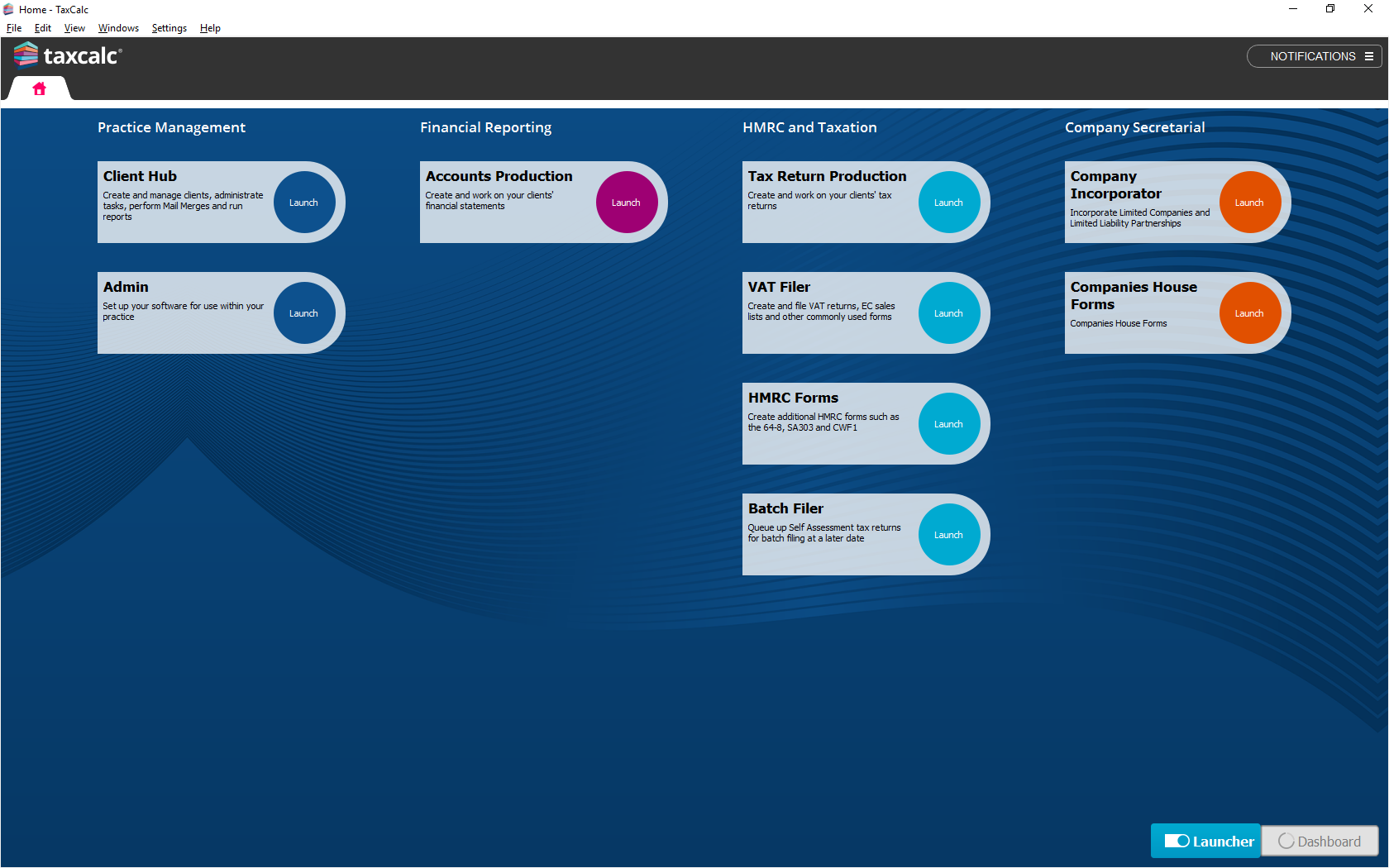 You can launch TaxCalc Tax Return Production in two ways.
The first is to click on its icon on the
Hub Home screen, choose a client and
then a tax return period.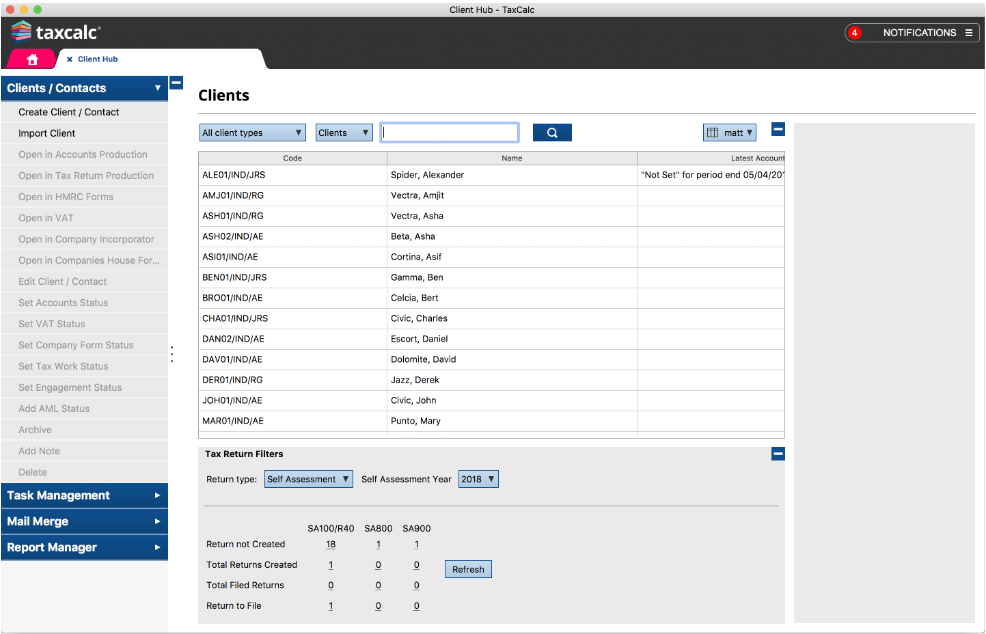 Alternatively, you can open a tax return from within TaxCalc Client Hub.
Use TaxCalc Client Hub to monitor progress, set work reminders and keep on track of your workload.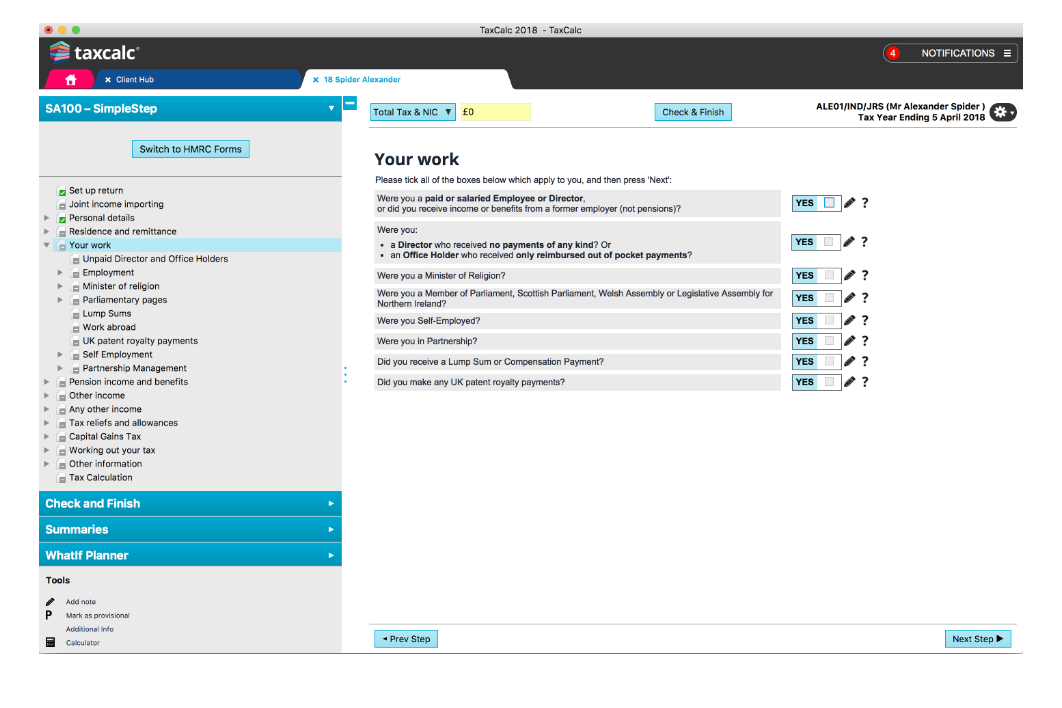 TaxCalc contains two modes of entry. SimpleStep is our unique questionnaire mode, which guides you through the return, asking questions based upon answers given and data entered.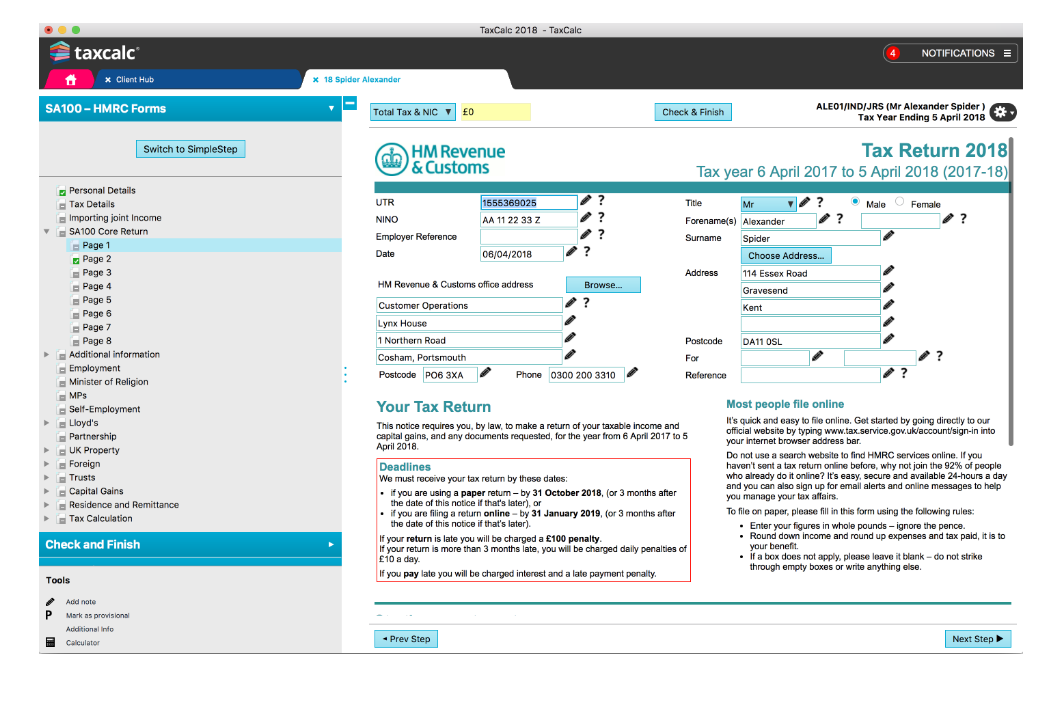 HMRC Forms mode displays a facsimile form for fast direct entry.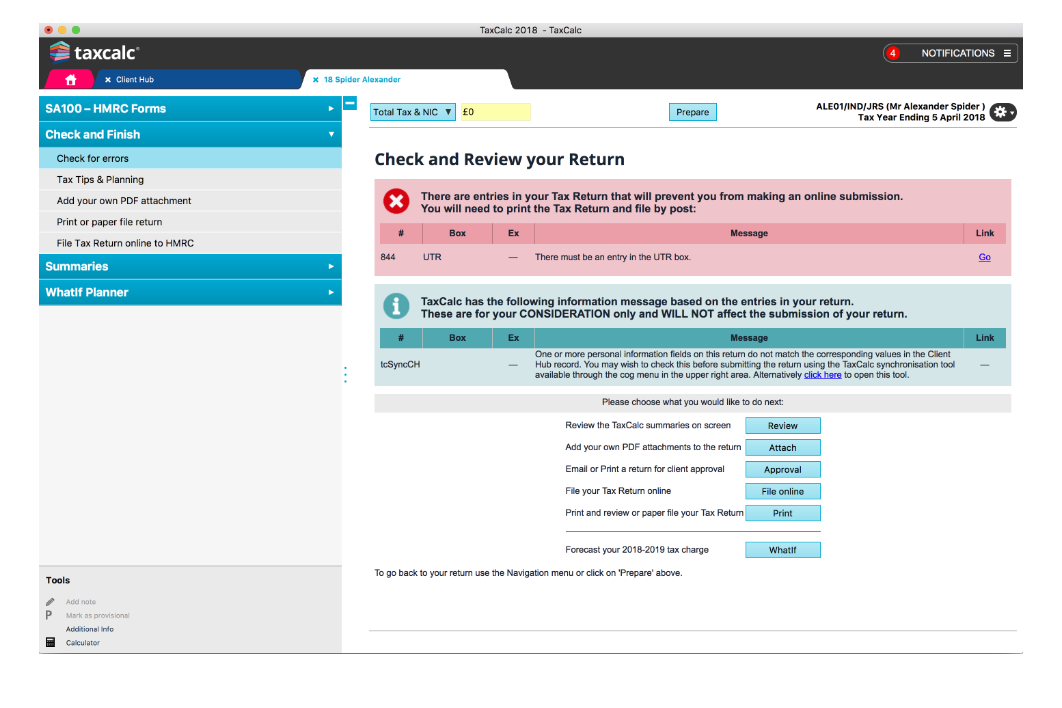 When you get to the end of your return, Check and Finish validates the entries you've made and highlights any potential issues before you file.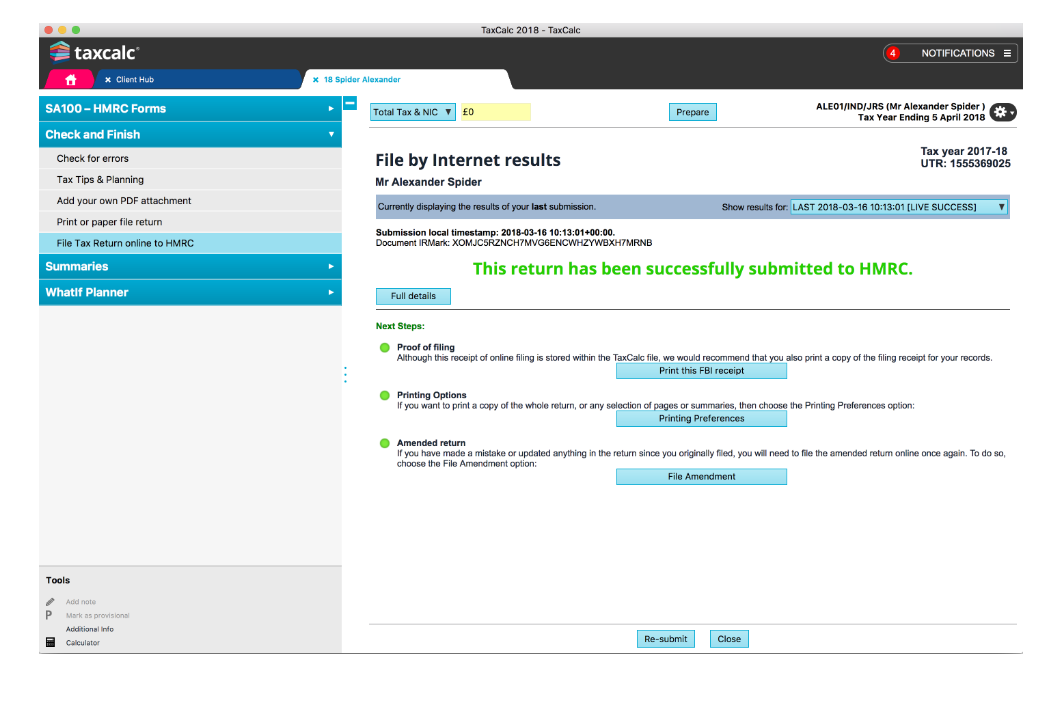 TaxCalc files your client's return online and tells you when it has been successfully received by HMRC.
Frequently asked questions
The questions below provide immediate answers to many aspects of TaxCalc Tax Return Production.
If you have any further questions, please call 0345 5190 883 or email sales@taxcalc.com
Does TaxCalc work on
Windows 10?
Yes. TaxCalc's software has been fully tested with Microsoft's latest operating system and we can confirm that it does indeed work with Microsoft Windows 10. For a full compatibility list please see the System Requirements for TaxCalc.
Does TaxCalc work on
Apple Macs?
Yes. TaxCalc will run on any 64-bit Macintosh running Mac OS 10.12 or higher.
Does TaxCalc work on Linux
Yes. TaxCalc will run on any 64 bit kernel 3.10 (or higher), Debian (e.g. Ubuntu) or Redhat based distributions.
Will you release a server
version for Apple Macs?
We will wait to gauge the popularity of the standalone version before deciding whether there is enough support to embark upon creating a server version. Again, please email our support team at support@taxcalc.com to register your interest.
Do I have to buy the
software every year?
TaxCalc is an annual purchase because we have to redevelop it each year for new rates
and tax rules. We also continually improve the product and release a series of updates during
the course of your licence.
Your software will run for a full twelve months and you will be invited to renew your licence 30 days before it expires. If you renew within this period, some products will be entitled to an early renewal discount.
Furthermore, we believe in fair, transparent pricing and sales terms. That's why we don't lock you into long contracts or require lengthy notice periods to leave us (not that you would!).
Can I upgrade or add
additional returns?
Yes. You can start off working with one version of TaxCalc Tax Return Production and later upgrade or buy a version that provides additional returns. We will provide you with a credit for any unused portion of your annual licence.
If you cannot find the product you are looking for, please call us on 0345 5190 883 or email sales@taxcalc.com.
Will I need to reinstall
if I upgrade?
We make it easy for you. All you need to do is pay for your upgrade and restart TaxCalc on your computer. Your software will be updated automatically.
Can I move from the
standalone version to the
server version?
Yes. Whilst you can do this by yourself, we also offer a migration service, charged based on the complexity of your standalone deployment (for example, to merge many standalone databases).
Can I buy previous
years' returns?
All TaxCalc Tax Return Production products create tax returns for tax years from 2011-12. We have a range of standalone products for tax years prior to this. Please call us on 0345 5190 883 or email sales@taxcalc.com. to discuss your requirements.
How many computers can I
install TaxCalc Tax Return Production onto?
TaxCalc Tax Return Production may be installed on a single computer if you have chosen to use the standalone version. For network and cloud customers, there is no limit, although the number of concurrent users will be limited by the licence you purchased..