Accounts Production
Effortlessly produces statements and schedules
From £119.00
Buy Now
Take a Trial
';
Introducing our award-winning
Accounts Production software
TaxCalc Accounts Production caters for Sole Trader and Partnership accounts and features a wide variety of formats for your Limited Liability Partnership and Limited Company clients.
Utilising a simple and straightforward workflow, backed up by innovative SimpleStep and Check & Finish processes, accounts are prepared quickly and efficiently.
The software is powerful too and boasts features
often found on very expensive high-end systems. Our approach to iXBRL means absolutely no manual tagging and limited company accounts can be filed directly to Companies House online.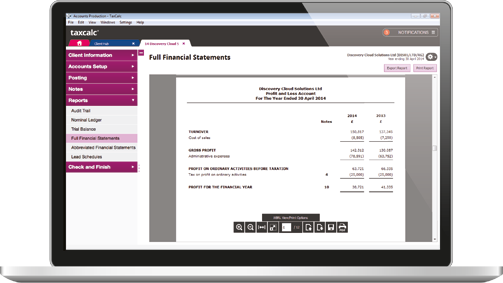 Unbeatable value
TaxCalc Accounts Production is sold on an annual licence basis.
Available in 12, 50 and Unlimited client versions, you can be sure of
finding a version to suit your practice:
Unlimited clients

£529 + VAT

Up to 50 clients

£269 + VAT

Up to 12 clients

£119 + VAT
Additional users are charged on a concurrent usage basis at just £105 plus VAT.
Integration by default
All of TaxCalc's software products are built on a single platform. With one application and one database, you'll find integration and data sharing at the heart of our software suite.
For example, client details entered into TaxCalc Client Hub are automatically populated in the financial statements. Similarly, financial statements can be exported into tax returns, kept up to date as changes occur and, for Corporation Tax, long periods of account can even be split over more than one CT600 return.
Integrated, scalable solution
All of TaxCalc's software products are designed to scale and grow with your firm. You can buy a licence to cater for a smaller number of clients and then upgrade as your portfolio increases.
Our software is available with a no-cost server option, providing great benefits of centralised data storage and management.
Finally, our software features TaxCalc Client Hub, which is a suite of powerful practice management tools that includes work tracking.
email support:
support@taxcalc.com
phone support:
0345 5190 882

support hours:

Monday - Thursday 9:30am to 5.00pm
Friday 9:00am to 5:00pm
Extended hours in January
Help is always on hand
We aim to make our software as easy to use as possible but for those times when you need us, you can be sure we're there. Our support is unlimited and provided at no extra charge.
And in January, when our customers need us the most, we extend our support capacity and hours more than anyone else. Our established team have both academic and practical accountancy experience, so you know that whatever your problem, we can find a solution.

With TaxCalc Accounts Production software it's not just the product that's good, it's the whole service. They really are there to help you. TaxCalc Accounts Production is reliable and efficient, saving me time and the client money.

Stewart Galloway, SKG Accounting Services

Feature-rich yet easy to use software
TaxCalc Accounts Production is the simplest and most complete way to
meet your clients' accounts preparation needs.
Seamless integration with Xero
Importing data from online accounting software has never been quicker. TaxCalc Accounts Production provides you with an easy to use wizard to import a year-end trial balance directly from Xero in a few simple steps.

Exporting and sharing CSV files or manual entry of long trial balances, are now a thing of the past.
Fast import of trial balance
Use the Import Wizard to quickly
import data from a variety of
bookkeeping systems.
Creating a map is easy and once saved,
can be shared among clients and kept
up to date as your clients' charts of
accounts evolve.
A second pair of eyes
TaxCalc's unique Check & Finish
routine examines your postings
and disclosures to ensure
corroboration and consistency
within the financial statements.
Check & Finish will also look for
missing information, such as a
director's signature, which would fail
HMRC's iXBRL checks.
iXBRL inside
Built after the introduction of iXBRL,
TaxCalc Accounts Production has
been designed from the ground up to
handle iXBRL for you.
Financial statements produced by
our software are fully tagged,
automatically and without any
manual intervention by you.
Online Companies House Filing
Avoid the month-end post office rush
(and the potential for fines) by filing a
variety of Limited Companies and LLP accounts formats directly to Companies House with our online filing wizard.
Includes submission and progress
monitoring functions to ensure receipt
is recorded by Companies House.
Easy to use
TaxCalc Accounts Production is built around your workflow: core information, posting, notes and narratives, and interactive reports.
As a TaxCalc product, you'll find SimpleStep is present to guide you through the entering of notes and narratives, making suggestions for required notes, based on the postings you've made.
Integration with the
TaxCalc suite
The TaxCalc suite of products form
part of one giant, fully integrated
application that shares data seamlessly
between functions.
TaxCalc Accounts Production sources
your core client data from TaxCalc
Client Hub and exports results into
TaxCalc Tax Return Production.
Annual licensing

TaxCalc Accounts Production is sold on
an annual licence basis, providing you
with access to your chosen clients'
financial statements for twelve months.
Should your licence expire, the software
will go into read-only mode, allowing
you continued access to your data.
Scales up as your firm grows

Gain the benefits of storing your data
centrally with our no-cost server option.
Increasing the number of clients in your
licence and adding extra users as time
goes on is really easy. TaxCalc's
products are designed to be truly
scalable a practices grow.
Please call 0345 5190 883 to discuss
your requirements.
Features in detail
TaxCalc Accounts Production is complete with features that are designed to help you run your practice
Compliance and Filing
Creates Limited Company accounts in iXBRL file format for submission to HMRC and both Limited Company and LLP (FRS 102 1A) accounts for submission to Companies House
File Limited Company and LLP (FRS 102 1A) accounts to Companies House online*
Quickly check the filing status of all accounts submitted to Companies House online
Income and expenditure reports for Sole Trader and Partnership clients
Modern interface provides for a fast and efficient entry of financial data
Automatic updating for new features and compliance throughout the life of your licence
* An account with Companies House is required to file online, similar to obtaining agent filing credentials with HMRC.
Supporting Schedules
High quality interactive lead schedule, trial balances and nominal ledger reports
Drill down to transaction batch from trial balance, nominal ledger and audit trail reports
Multi-year, historic trial balance reports with variance analysis
Chart of Accounts
Comprehensive, editable charts of accounts to ensure financial statements can be customised to match your clients' affairs
Master chart of accounts editing function to customise to your firm
Create a list of favourite accounts for fast access to commonly used codes
Export
Export self employment, partnership and limited company accounts data to TaxCalc Tax Return Production
Long periods of accounts can be split into two Corporation Tax returns when exported to TaxCalc Tax Return Production
Supports the SNF data transfer standard, to share financial report data with third party (non-TaxCalc) tax products
Export financial statements to Microsoft Word, Excel, PDF and iXBRL (limited companies)
Presentation of Financial Statements
Roll forward of disclosure notes from previous period
Fine control over presentation of notes with options for bold, italics, underline, alignment and more
Transactions and disclosure notes saved on a per accounting period basis
Live editing of financial statements to update note text in real time
Tailor the presentation of the accounts, to include watermark, customised front cover and margin shift for hole punching and binding
Library of best-practice template notes saves you time writing your own
Edit master notes library for application to all clients
Build notes with tokens to insert common references such as client name, accounting period dates and more
Automatic texts to handle gender, possession and pluralisation in notes
Produce financial statements in pounds sterling, dollars and euros
Edit terms and labels within the financial statements on both client and master level
Accountant's report templates suitable for ACCA, CIMA, AAT, ICAEW and ICAS plus generic report for any QBE practitioner
Posting Transactions
Intuitive, spreadsheet-like posting window with account lookups, modification of accounts titles on the fly, narrative and working paper references
Direct import of a year-end trial balance from Xero via seamless integration new
Import trial balances from all other online accounting/bookkeeping packages via .csv import
One-time mapping for all imports
Roll forward routines to bring forward balances from previous period
Journal reversing function
Automatic batch balancing feature
Automatic handling of rounding differences
Specify favourite/commonly used account codes when posting
Enter narratives and working paper transactions per transaction
Insert, delete and reorder transactions
Copy down narrative feature
Client Types and Formats Supported:
Sole trader:

full accounts
income and expenditure statement

Partnership:

full accounts
income and expenditure statement
Limited Liability Partnership (LLP):

FRS 102 section 1A for small companies (inc SORP 2016)
registrar financial statements (filleted accounts)
abridged accounts (FRS 102 section 1A only) new
Old UK GAAP (FRSSE 2008, 2015, SORP 2015)
abbreviated accounts (old UK GAAP only)
audited and unaudited accounts
dormant accounts
Limited Company:

FRS102 section 1a for small companies
FRS 105 for Micro Entities
registrar financial statements (filleted accounts)
abridged accounts (FRS 102 section 1A only) new
Old UK GAAP (FRSSE 2008, 2015, micro format)
abbreviated accounts (old UK GAAP only)
audited and unaudited accounts
dormant accounts
company limited by guarantee
TaxCalc – a software company that invests in its products
Every year, we update our software products with features that can really make a difference.
For existing customers, this page sets out all you need to know.


Now with Xero integration
Using our familiar import trial balance wizard, import a year end trial
balance directly from online accounting software Xero. The seamless
integration allows the import to be completed within a few easy steps
giving a number of impressive benefits including:
Time saving
Limiting the need for manual
data entry
Reducing administration
Increasing accuracy
Find out more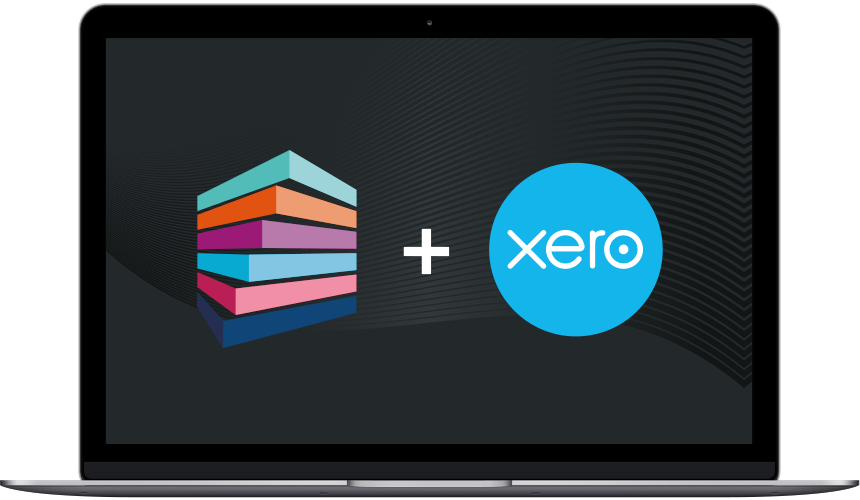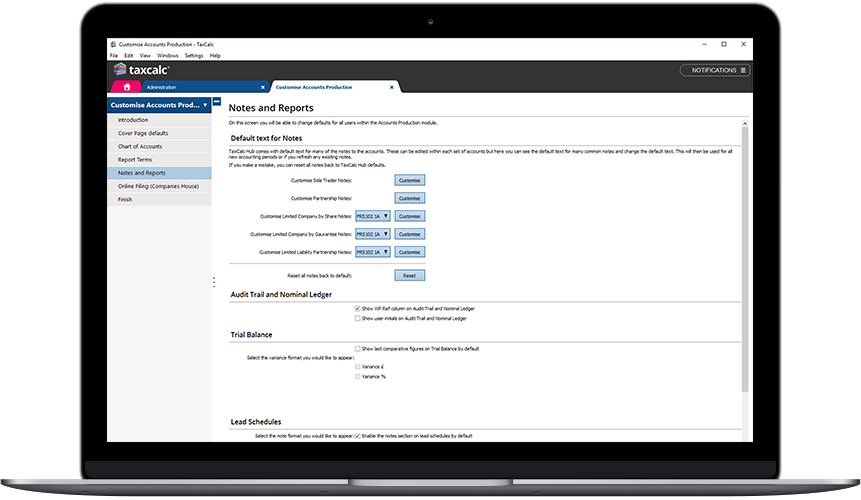 Improvements to Default Text for Notes
TaxCalc Accounts Production comes with default text for many of the notes to the accounts which can be edited under Admin. This release extends the offering of both accounting standards and choice of notes to make this functionality even more powerful.
Separate sets for FRS 102 1A and FRS 105
Existing set retained for old UK GAAP (FRSSE)
Larger selection of notes
Filter Notes and Disclosures within Edit Notes
A stylish refresh has been applied to Edit Notes which now includes new smart, quick filter options.
For Limited Companies and LLPs applying FRS 102 1A, you now have the benefit of seeing which notes are required by law and which are encouraged by FRS. In addition, you can now filter the menu tree to only show notes which are currently included or excluded from the Financial Statements.
These filters will give you peace of mind that you are making a better choice over your disclosures.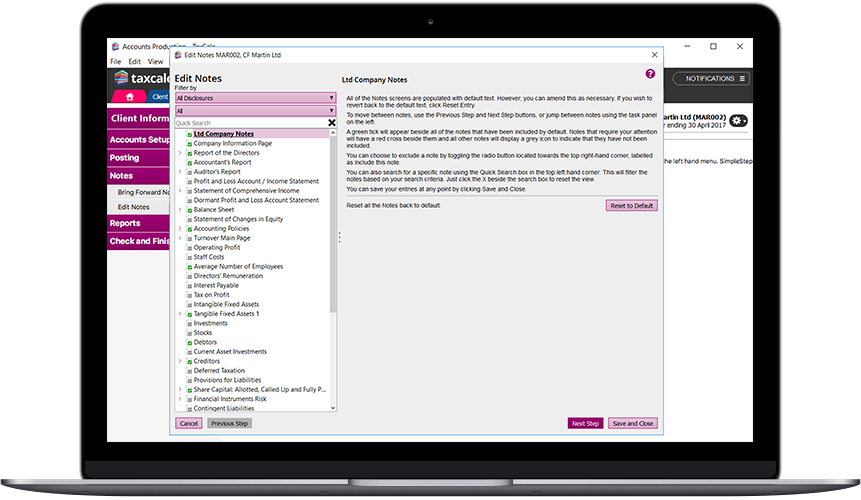 Additional Statement Preferences for FRS 102 1A
A variety of options for the presentation of profit and loss and equity are allowed by legislation and reporting standards. To give you and your clients the flexibility and choice, Accounts Production has been extended to include the additional statement preferences:
Abridged Accounts
Statement of Income and Retained Earnings
Single Statement of Comprehensive Income
Updated Auditors and Accountants Reports
Audit Report updated in accordance with ISA (UK) 700
Audit Information note within Registrar Financial Statements
Accountants Report updated in accordance with AAF 07/16 and 08/16
Navigate through Accounts Production with quick access options
Bring Forward Notes and Opening Balances on creation of an Accounting Period
Attach accounts to a Tax Return direct from the Full Financial Statements
File accounts to Companies House straight from the Registrar Financial Statements
TaxCalc for all firms
We recognise that practices in the UK come in all shapes and sizes.
That's why we offer a wide range of Unlimited and smaller pre-built packages to suit your client base.

There is no extra cost for the server options and both come with free, unlimited support.
Standalone
Suitable for startups and those working on their own:
Local database with option to store tax returns in your own file system or cloud storage (e.g. DropBox)*.
Designed for a single installation. For multiple standalone machines please contact our team on 0345 5190 883.
Available for Windows, Mac, and Linux.
* Note that tax returns stored outside of the database will not be included in backups. If you move a tax return file, you will be required to help TaxCalc relocate it.
Server
Suitable for multi-staff offices at one or more locations:
Central database to store and coordinate all your practice data in your office.
Easy to use installer. One option for the server (which will auto-configure itself to run as a service on your network) and another option for each of the computers on your network.
TaxCalc's server software is designed to run over modest, lightweight hardware. You don't even need a dedicated server. In simple setups, you just need to bless one computer on your network with the database and TaxCalc takes care of the rest.
TaxCalc's software is optimised to run over VPN, so connecting in from remote locations provides superb performance.
Concurrent user model means that you can install software on as many computers as you like.
Two concurrent users allowed out of the box with additional users available to buy at just £105 per user.
Back up all of your clients' accounts, tax returns and other practice records in one go.
If your practice's circumstances change, we can migrate you from the standalone version to the server version. Please call us on 0345 5190 883 to discuss.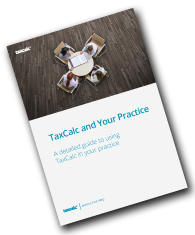 TaxCalc and Your Practice - A Short Guide
There's no need to be daunted at the prospect of change: hundreds of practices are moving to TaxCalc and are enjoying the benefit of one integrated software provider.
To learn more about how your practice can install, license and maintain TaxCalc, we've written a detailed guide about this, together with an insight into the technology and user interface design of the software.
Download
TaxCalc in action
We pride ourselves on delivering high quality and easy to use software. Please click on a screenshot below to
see how you use TaxCalc and see how easy it is to complete your tax return.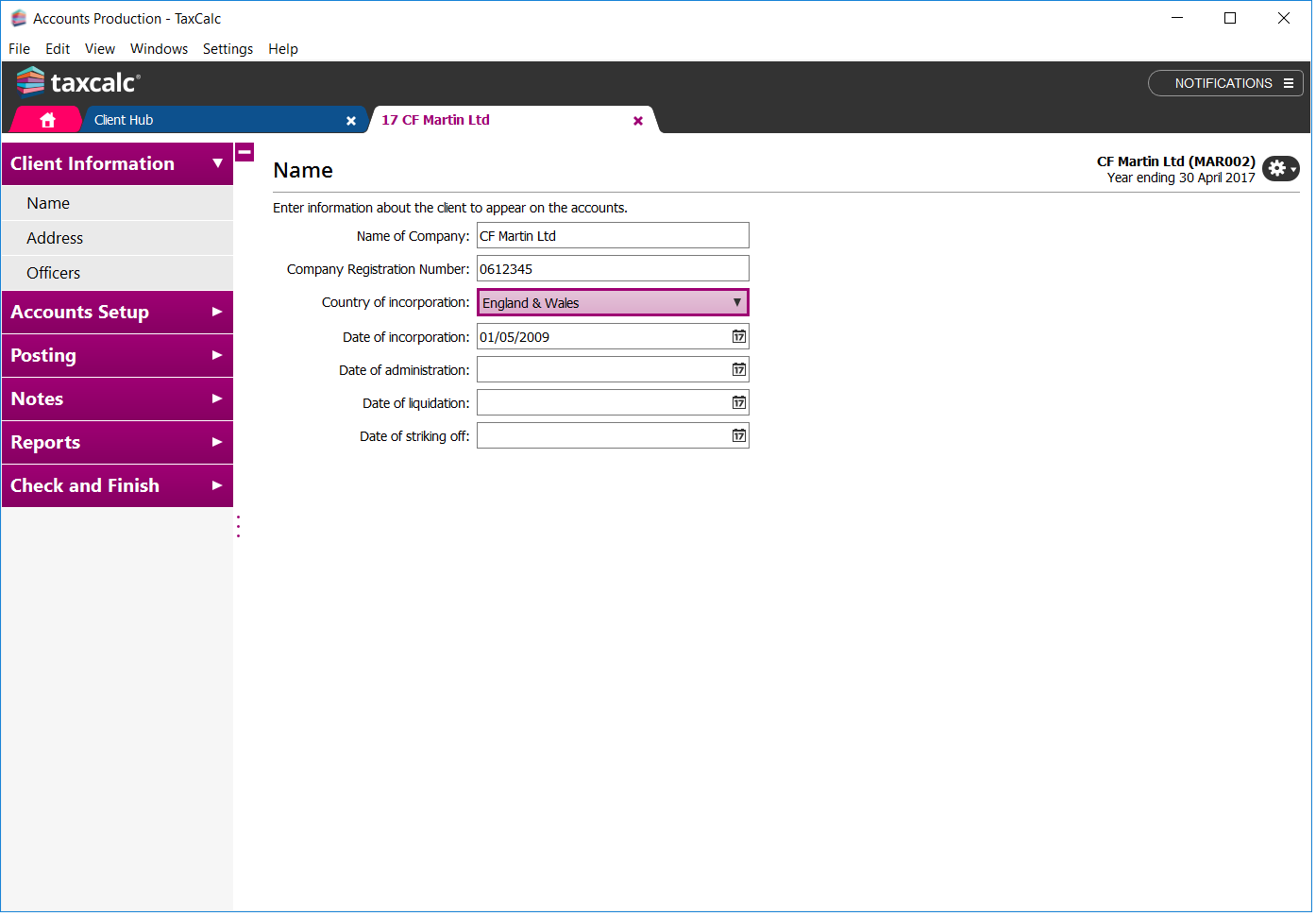 Standing information about your client, such as their name, address, partners and officers are presented to you to review and confirm.
This section also includes the Chart of Accounts, which can be viewed, edited and printed.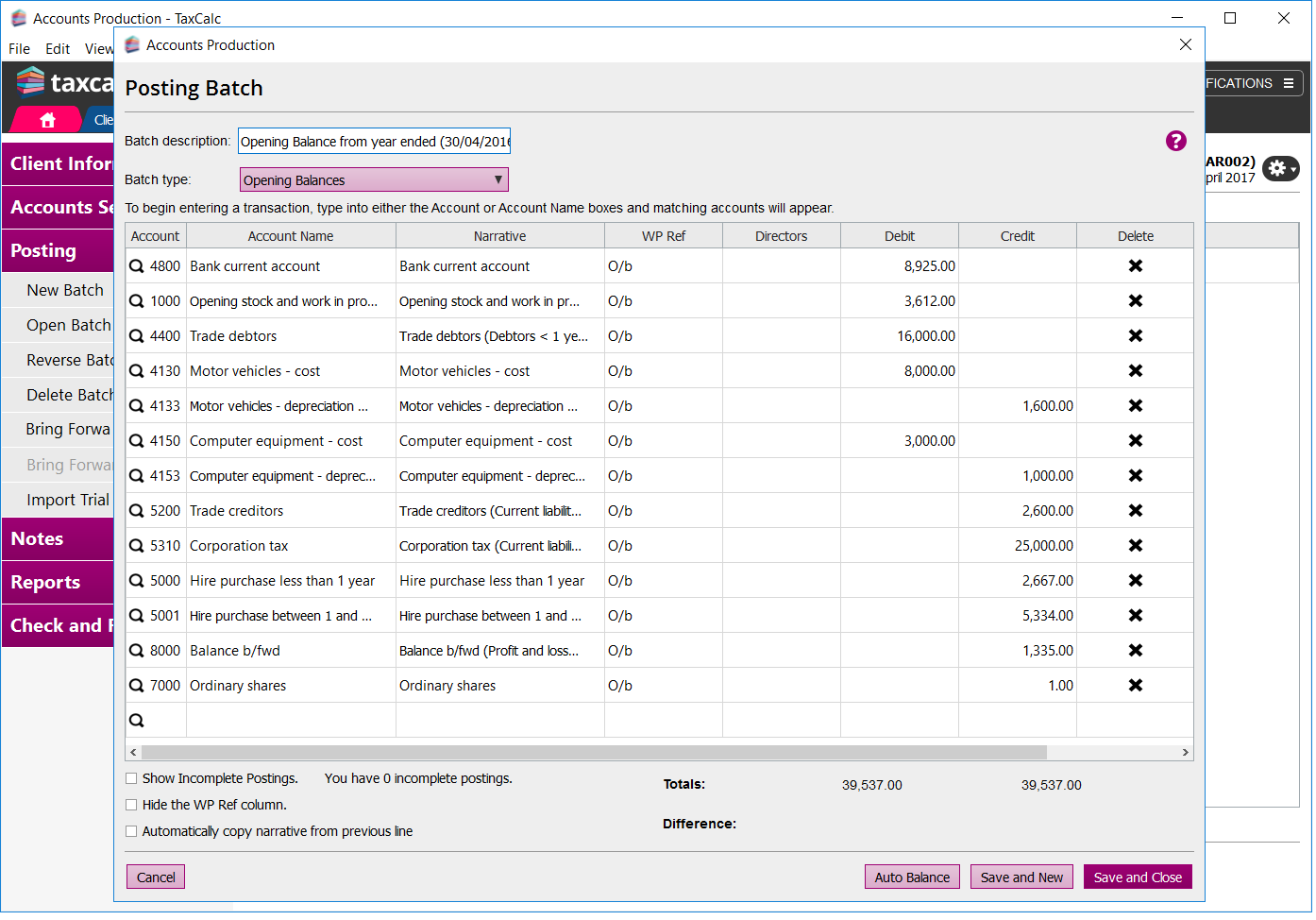 Transactions are entered into one or more spreadsheet-like Posting Batches.
Alternatively, you can import a trial balance directly from Xero via seamless integration or using a CSV file for all other online accounting/bookkeeping software.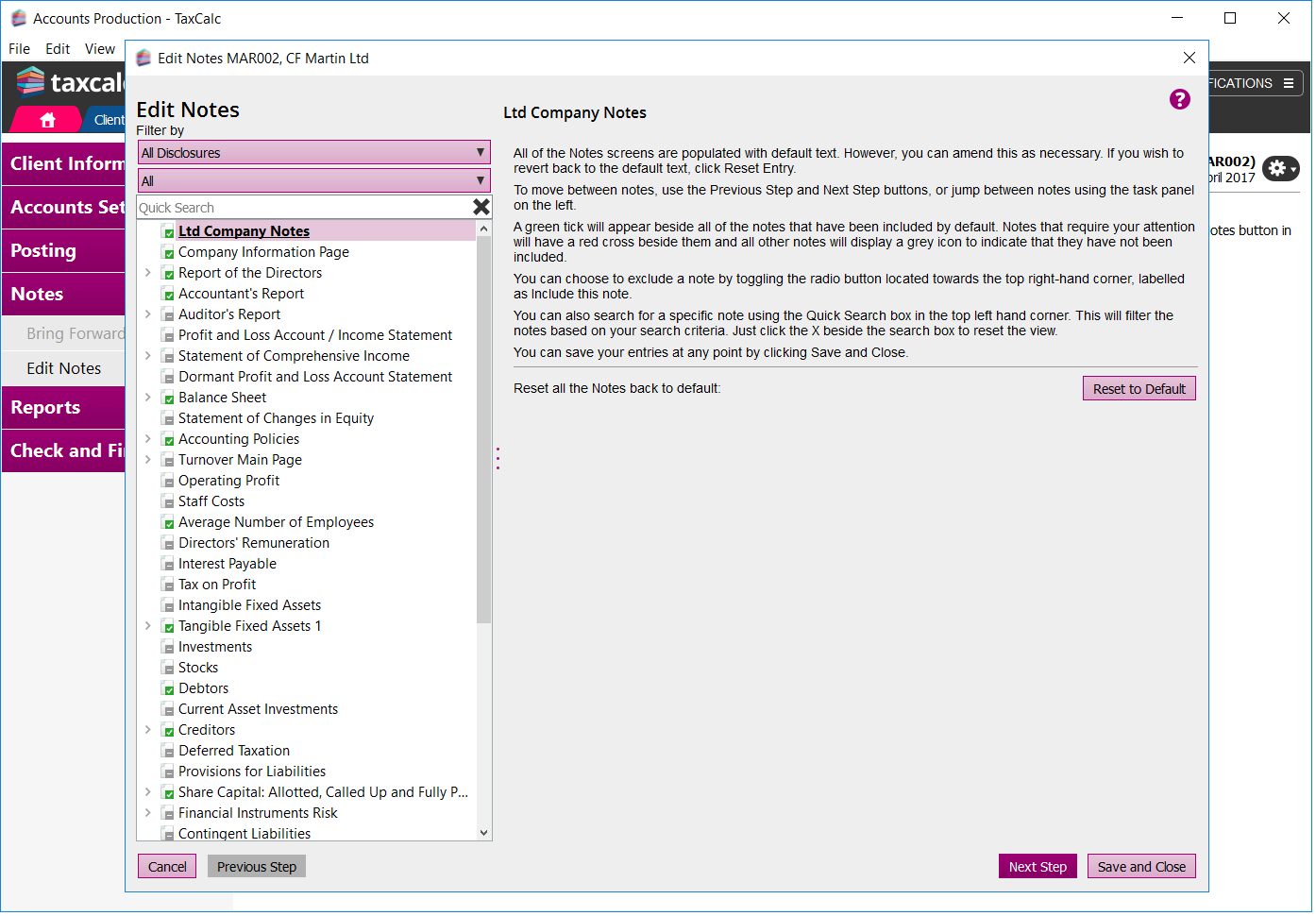 TaxCalc Accounts Production features a library of notes and disclosures that may appear on your clients' financial statements.
Suggested notes are automatically turned on, based upon computed balances.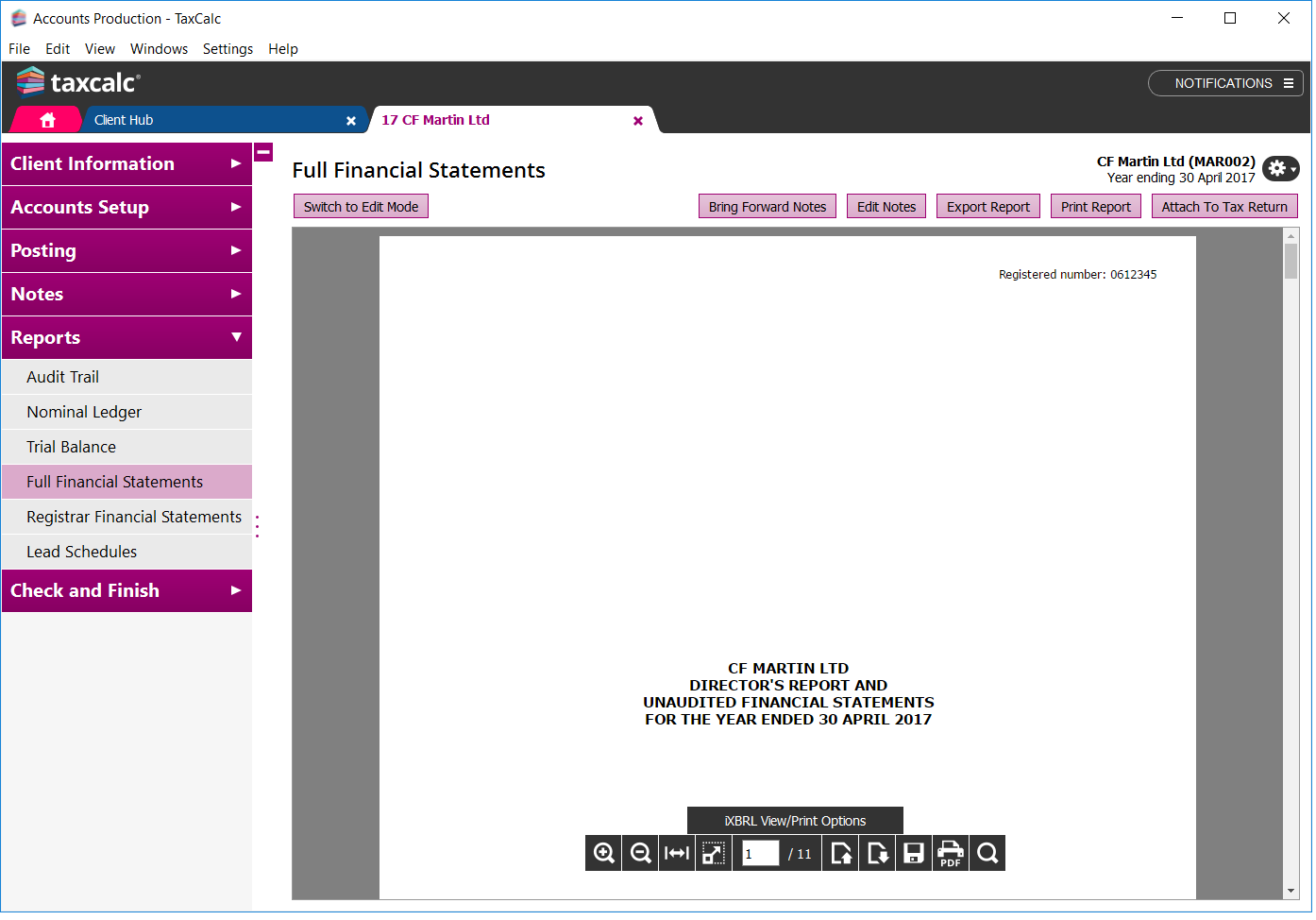 Producing a report in TaxCalc Accounts Production takes just one click. All reports are presented in the left hand menu, ready to be generated.
The system supports full Audit Trail, Nominal Ledger and Trial Balance with drill down and filtering, together with a full set of Lead Schedules.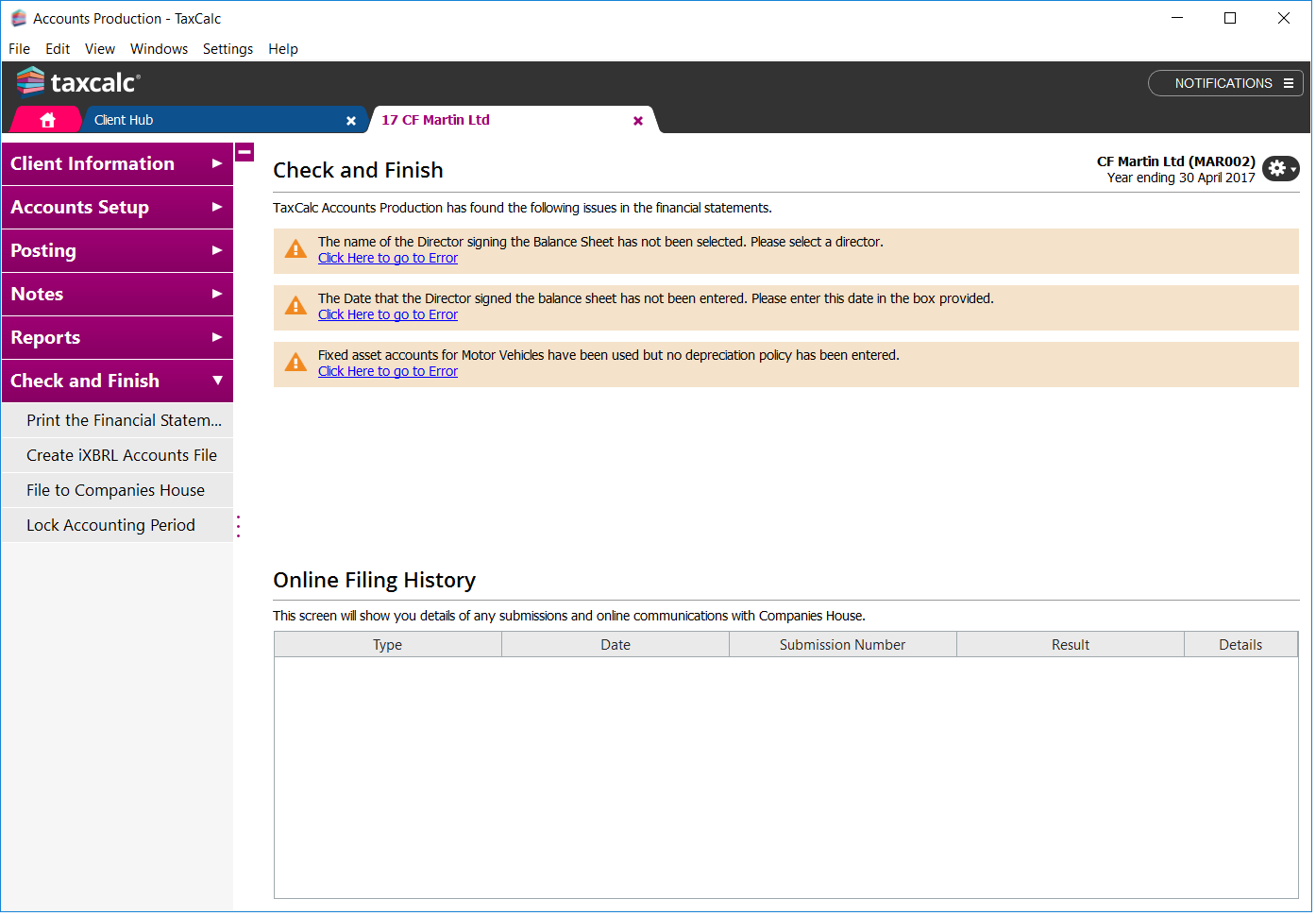 As with all TaxCalc products, TaxCalc Accounts Production features Check & Finish, which reviews and validates the accounts to ensure consistency, highlights potentially missing disclosures and reports back anything that needs your attention.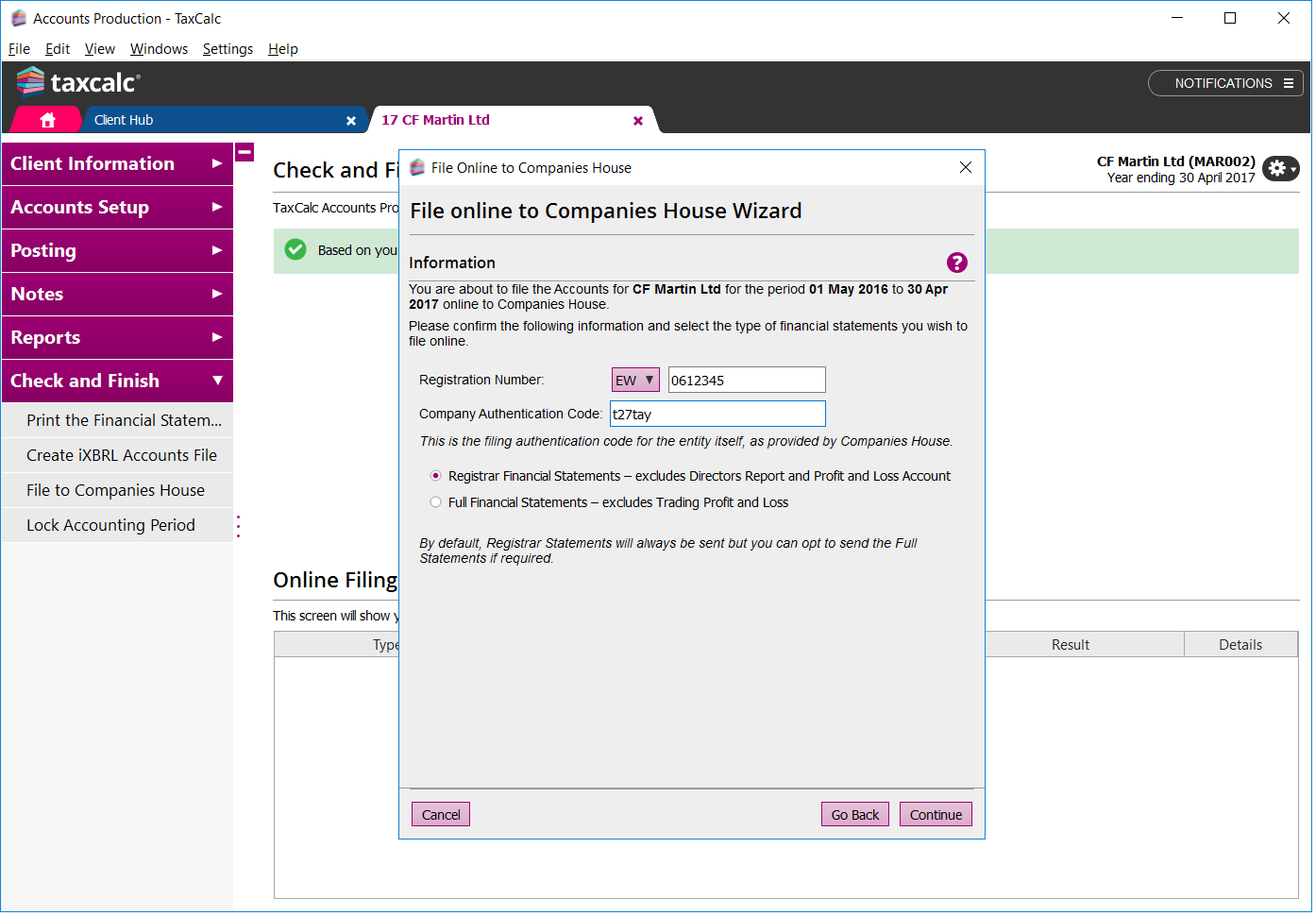 You can file full, registrar (filleted) and dormant Limited Company accounts online to Companies House using our easy to use wizard.
The system will help you to stay informed as to your submission's progress.
Frequently asked questions
The questions below provide immediate answers to many aspects of TaxCalc Accounts Production.
If you have any further questions, please call 0345 5190 883 or email sales@taxcalc.com
Does TaxCalc work on
Windows 10?
Yes. TaxCalc's software has been fully tested with Microsoft's latest operating system and we can confirm that it does indeed work with Microsoft Windows 10. For a full compatibility list please see the System Requirements for TaxCalc.
Does TaxCalc work on Apple Macs?
Yes. TaxCalc will run on any 64-bit Macintosh running Mac OS 10.10 or higher.
Does TaxCalc work on Linux
Yes. TaxCalc will run on any 64 bit kernal 3.10 (or higher), Debian (e.g. Ubuntu) or Redhat based distributions.
Will you release a server
version for Apple Macs?
We will wait to gauge the popularity of the standalone version before deciding whether there is enough support to embark upon creating a server version. Again, please email our support team at support@taxcalc.com to register your interest.
Is TaxCalc Accounts
Production compliant
with new UK GAAP?
Yes. TaxCalc Accounts Production has been developed to support the following new UK GAAP standards:
FRS 102 section 1a for small companies and LLPs
FRS 105 for limited companies
In addition, all old UK GAAP standards are also still support e.g. FRSSE 2008, 2015 etc.
How many computers can I
install TaxCalc Accounts Production onto?
For your convenience, TaxCalc Accounts Production may be installed on up to two computers if you have chosen to use the standalone version. For network and cloud customers, there is no limit, although the number of concurrent users will be limited by the licence you purchased.