AML Checking Service
Perform AML checking with Equifax.
From as little as £2.00 per search.
Buy Now

Know your client with our award-winning
Anti-Money Laundering Identity Checking Service
The TaxCalc Solution to AML compliance
If you are an accountant, bookkeeper or other finance professional, the Money Laundering Regulations 2007 (as amended 2012) mean that you need to know your client before you act for them.
If you provide services to clients, you have a legal obligation to keep anti-money laundering records. Failure to take your obligations seriously could mean penalties ranging from fines to imprisonment.
Experts you can trust
For the last 30 years, TaxCalc has been the market leader in the provision of tax solutions to hundreds of thousands of taxpayers and thousands of firms of accountants.
Launched in 2009, TaxCalc Anti-Money Laundering Identity Checking Service partners with Equifax, the global leader in identity and credit information. Quoted on the New York Stock
Exchange and employing 7,000 people in 15 countries, you can be sure that Equifax has accurate and up to date information to confirm the identities of your prospective clients.
Who is it for?
Sectors that legally require relevant anti-money laundering records:
Accountancy practices
Auditors
Bookkeepers
Payroll agencies
Tax advisors and/or those that prepared tax returns
How it works
As part of your engagement process,
simply enter the name, address and
other information about your prospective
client into the system.
All known data about your client is
passed securely and electronically to
Equifax for instant processing.
PASS and REFER results
After carrying out the identity check, the
system will return to you a PASS or REFER
result with additional information about
data sources used and results of those
personal checks.
If the check returns a REFER, there are
action points to give you guidance as to
further enhanced due diligence that you
may wish to consider.
IMPORTANT INFORMATION ABOUT YOUR ANTI-MONEY LAUNDERING COMPLIANCE
Firms are required to process their clients' data in accordance with the Data Protection Act 1998. You will need to enter your Data
Protection Registration Number when registering to use TaxCalc Anti-Money Laundering Identity Checking Service.
Your firm will also need to observe anti-money laundering compliance from either your professional body or, in the instance that you
are not a member of a recognised professional body, from HM Revenue and Customs itself.
Please see below for more information.
Data Protection and Equifax
Before you can begin making online
searches, you will need to be registered
with the Information Commissioner's Office
and have your Data Protection Registration
Number to hand.
Note that a legitimate Data Protection
Registration Number will always start with
the letter Z. Sometimes firms may be
issued with provisional numbers, starting
with the letter P. Equifax cannot process
identity searches with provisional numbers.
Registration can be done online with the
Information Commissioner's Office and
incurs an annual registration fee of £35.
Register now
Professional Regulation
Any finance professionals that provide
services to clients and who are not
regulated by a recognised professional
body will be regulated by HM Revenue
& Customs.
Learn more
Registration is via a MLR100 form, which can be completed online on the gov.uk website. There is no charge for registration.
Register now
System Requirements
If you can read our website without issue, you already have everything you need to use this service.
TaxCalc AML Identity Checking – Harmonious Integration
We're always looking for ways to make your life in practice easier. Which is why we've now integrated our Anti-Money Laundering Identity Checking Service into TaxCalc Client Hub.
Simply, you'll be able to run client searches using all client data held in Client Hub's database.
This will save you time and increase productivity when on-boarding clients and checking their compliance with Money Laundering Regulations.
Here's how it works and what you have to do: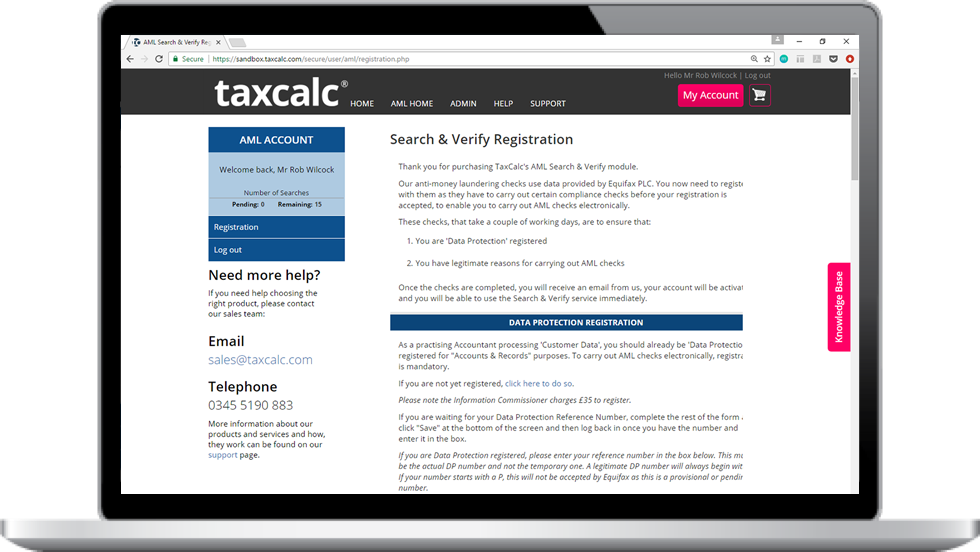 Integrated AML with Client Hub
1. If you haven't already done so, register with the Information Commissioner's Office here
2. You can pay for individual searches, or buy bundles of searches. The more you buy, the more cost-effective it will be. See your options at Anti-Money Laundering Checking Service.
3. All you have to do now is go to the client you wish to check, click on the Anti Money Laundering tab on the left column and hit the Run AML Check button in the top right hand corner.
See how it looks on the screenshots tab.
You're now ready to run all of your AML Personal Searches through TaxCalc Client Hub:
Keep a date history of each individual's AML checks
Report on whether your clients need a new AML check
Stay in complete control of your AML obligations

Empowering you with your AML Obligations
If you're not currently using our AML product, we've now provided you with an area to add AML records with a description and a date to keep your AML data in one place.
TaxCalc in action
We pride ourselves on delivering high quality and easy to use software. Please click on a
screenshot below to see how you use the AML Identity Checking service.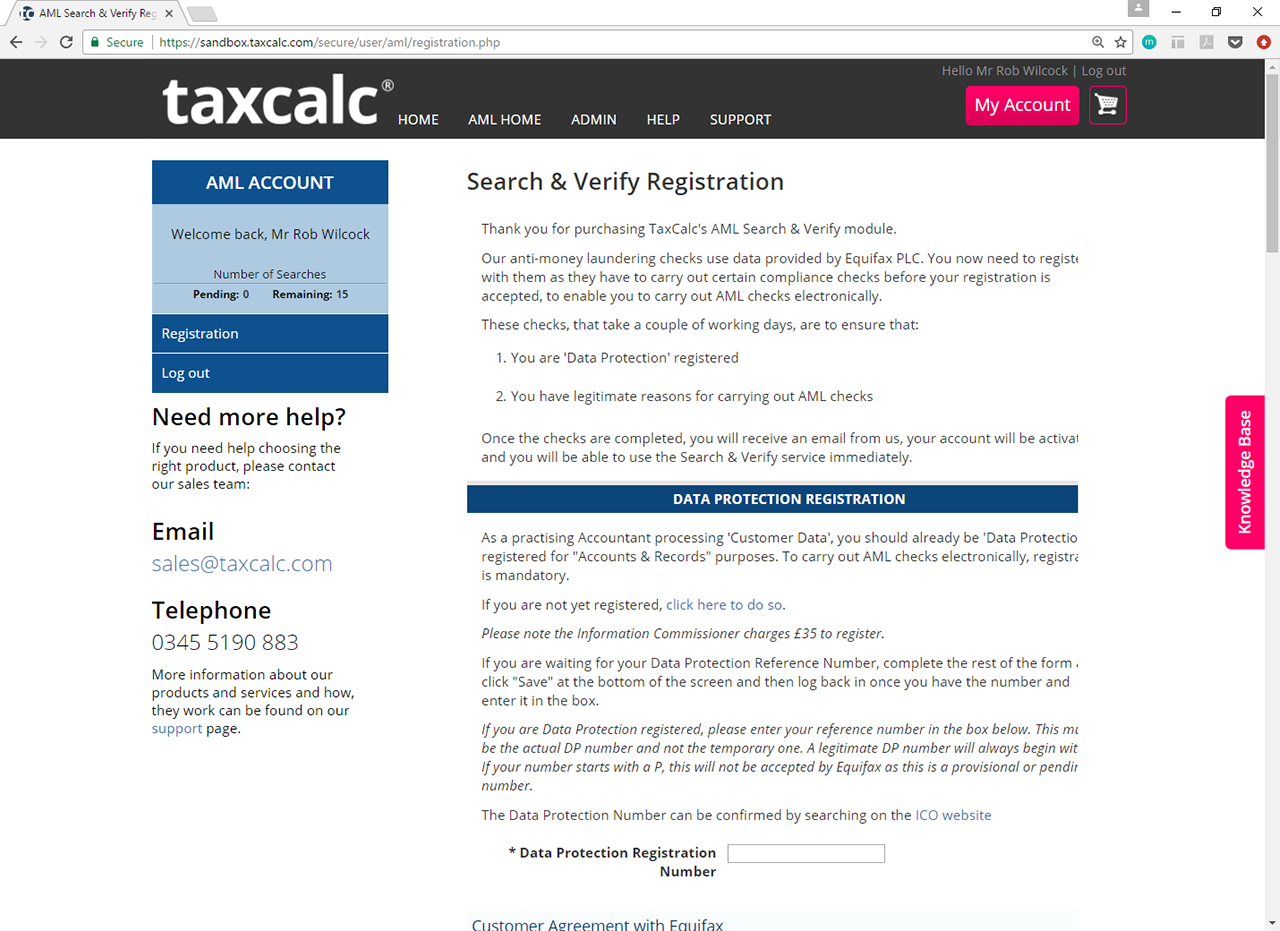 Registering with TaxCalc Anti-Money Laundering Identity Checking Service is easy, requiring you to fill out an online form.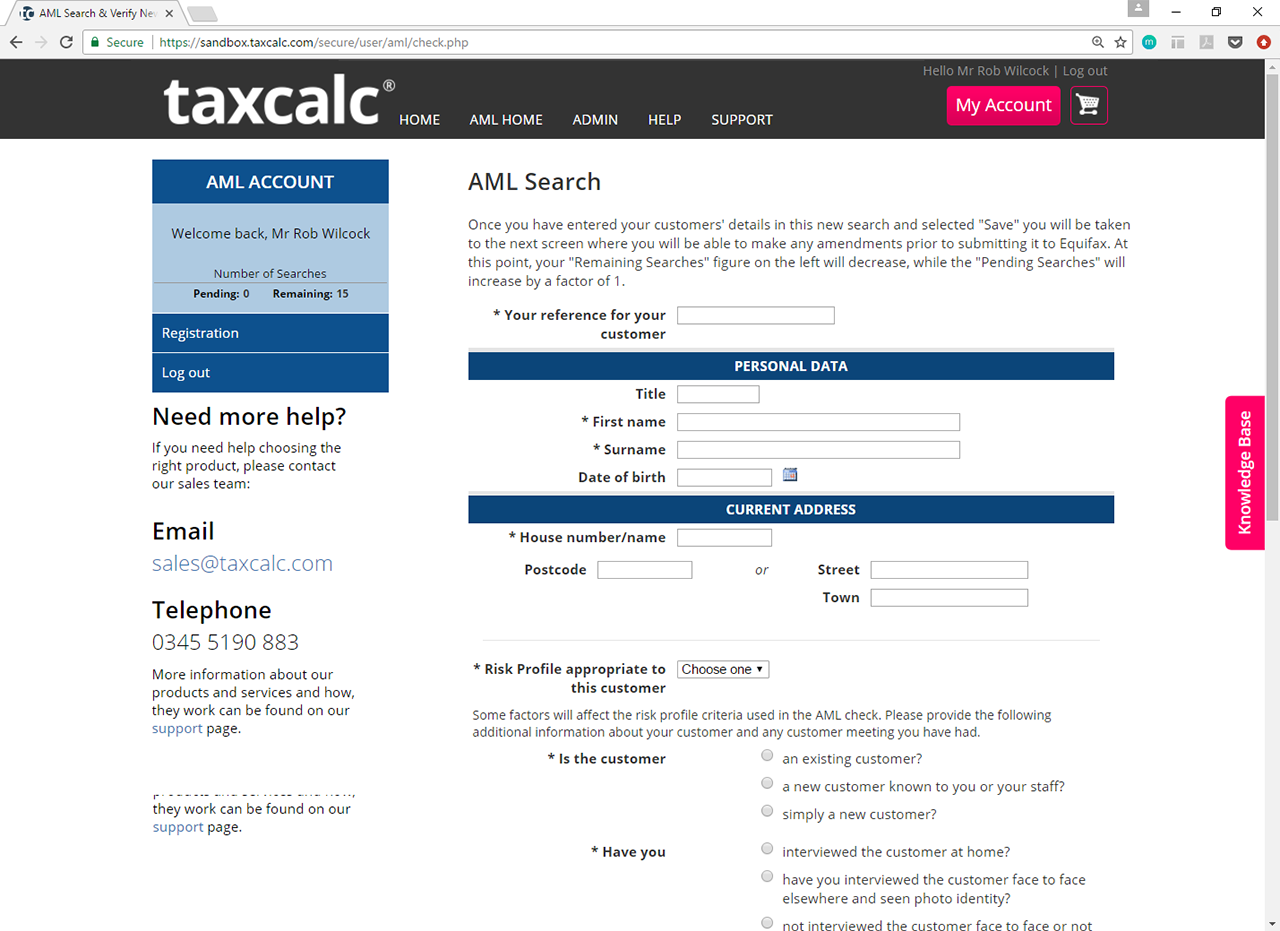 Carrying out a search is as simple as entering as much relevant data about your prospective client as possible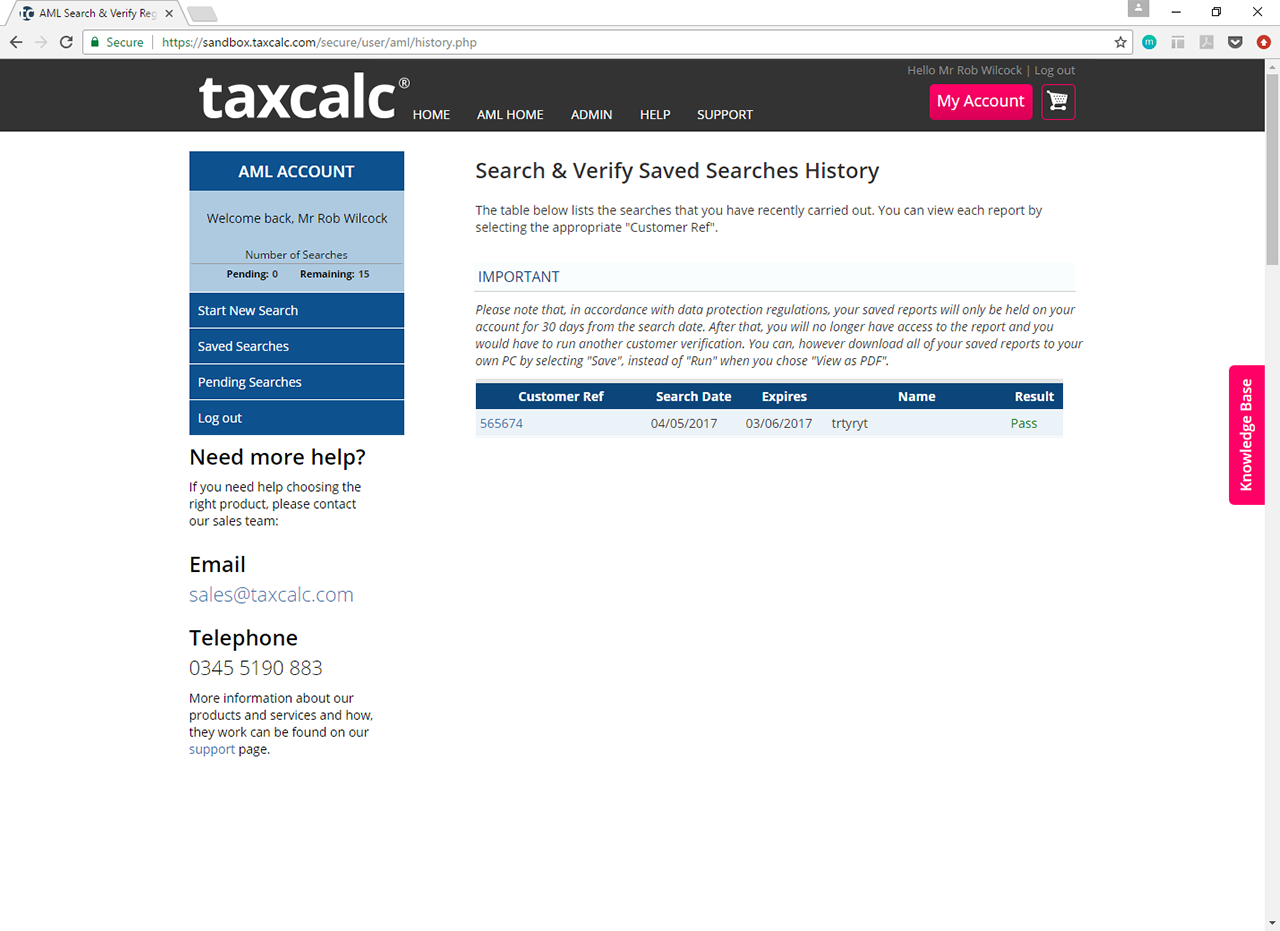 The system uses data held by Equifax to provide a PASS or REFER on your client's identity.
The report is held online for download for 30 days.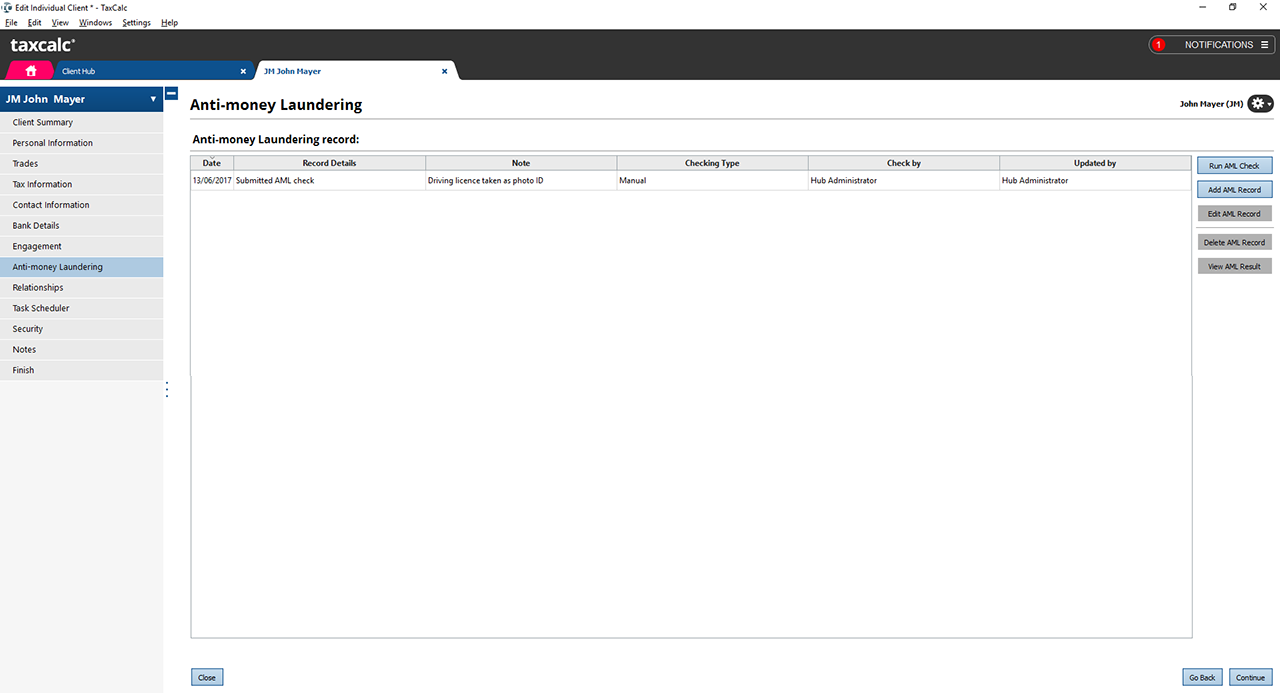 Client Hub now has the ability to carry out AML searches from within the Client Hub.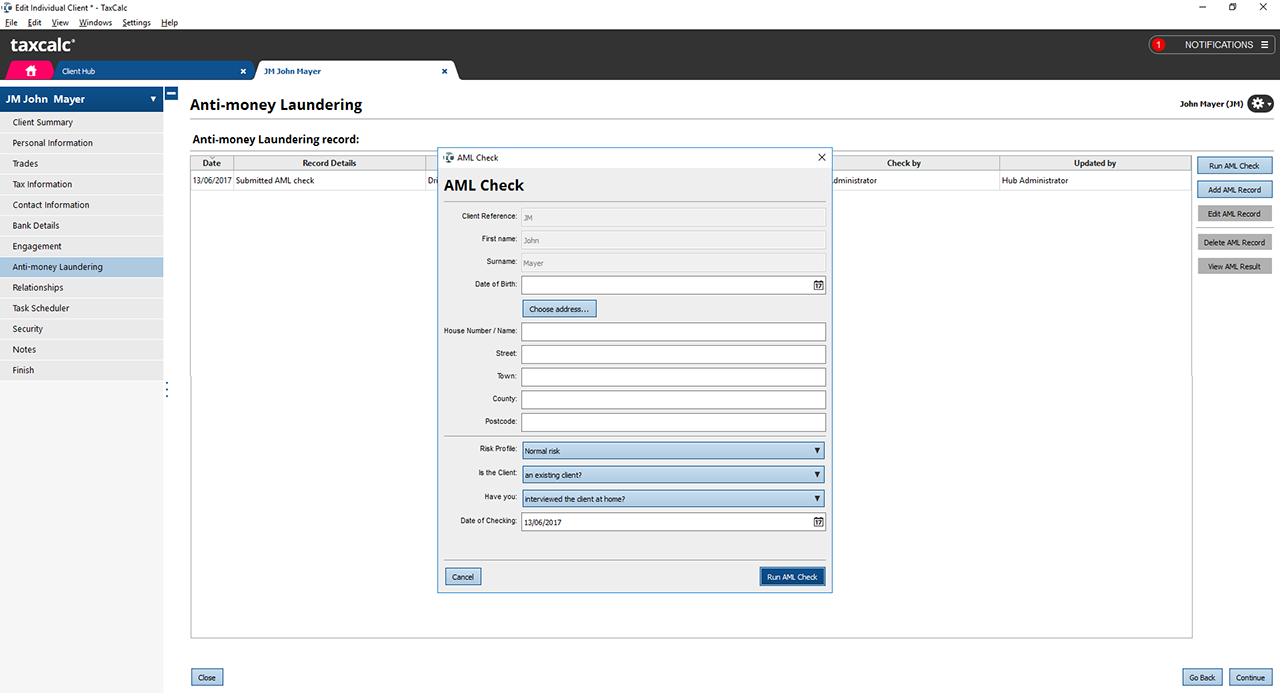 Enter the specific details and send to Equifax without logging into our website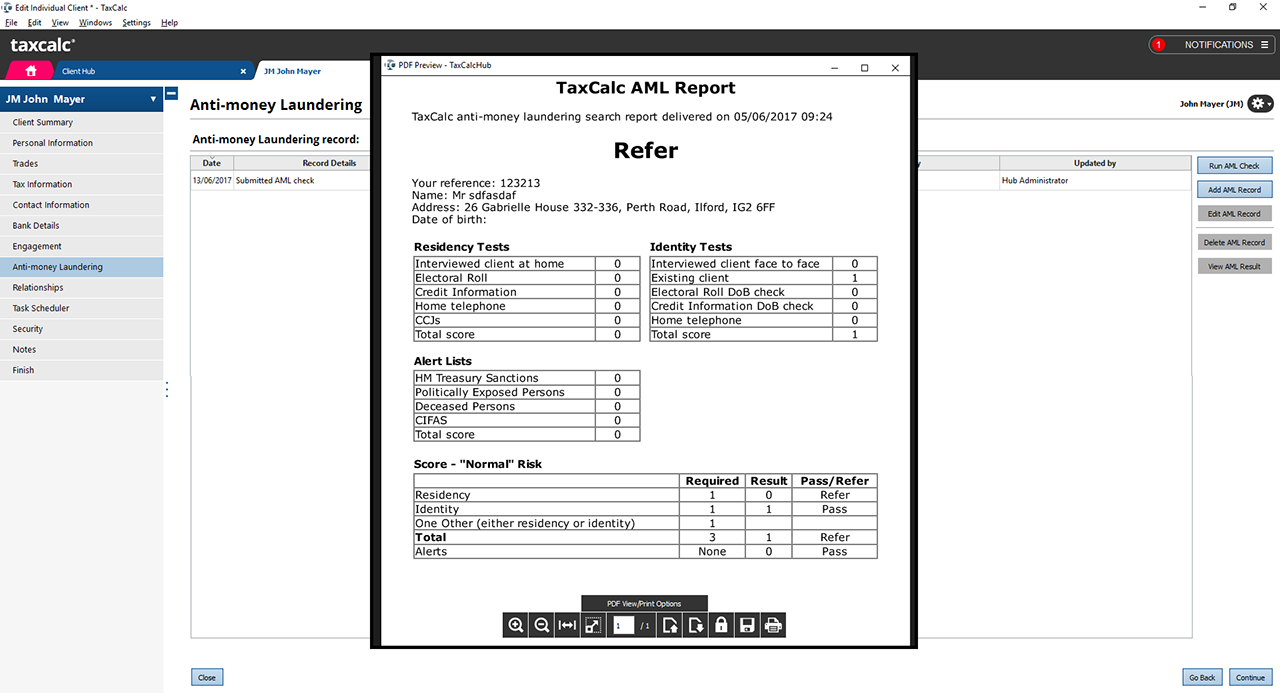 View the AML Report directly from Client Hub once the AML Search is completed.
Frequently asked questions
The questions below provide immediate answers to many aspects of TaxCalc Anti-Money Laundering Identity Checking Service.
If you have any further questions, please call 0345 5190 882 or email sales@taxcalc.com
Why do I need to pay to
register for this service?
Unfortunately, it is not possible to completely automate the registration process and the charge covers a small amount of manual processing undertaken by Equifax.
Do search credits last forever?
Yes. Search credits do not time out and will remain on your account until they are used.
Can I have a credit for
unused searches?
No. Once you have bought search credits, they are not refundable.
How long do you keep
the results of searches?
Our system will hold the report for 30 days. After that, it will be irretrievably deleted.
Can I buy more search
credits before I've used
up my current batch?
Yes. If you are running low on search credits, you can buy more to top up your allowance.
What should I do if the
system returns a REFER result?
A REFER result means that not enough information was found to corroborate your client's identity or negative information was found that will require you to consider additional factors.
Can I use the system to
perform a credit
check on my client?
No. The system will only confirm your client's identity and will not return any information about their credit score.
Will using the system affect
my client's credit rating?
No. Whilst Equifax will record the fact that a search was made to corroborate your client's identity, this will not affect their credit score.
Can the system perform a
search on a limited company?
No. The system will provide you with additional evidence as to the identity of your human clients only. It does not cater for limited companies.
Thankfully, there's a public database of companies available. Simply visit Companies House on www.gov.uk/government/organisations/companies-house and carry out a check on the company database.