VAT Filer for Business
Enhanced MTD bridging software.
From £18 per year
Buy Now
Ready for MTD for VAT, let VAT Filer do the hard work for you.
For sole traders, partnerships or limited companies.
In April 2019, Making Tax Digital for VAT came into effect, most VAT-registered businesses are now required to submit VAT returns using HMRC's new MTD service. If your business is VAT-registered, or you're thinking of becoming VAT registered, we've got the perfect solution for you.
TaxCalc VAT Filer guides you through the process of importing your bookkeeping records and turning them into HMRC-acceptable VAT return submissions. It's easy to learn, superfast and, starting at just £18.00 for one registered business, exceptionally good value.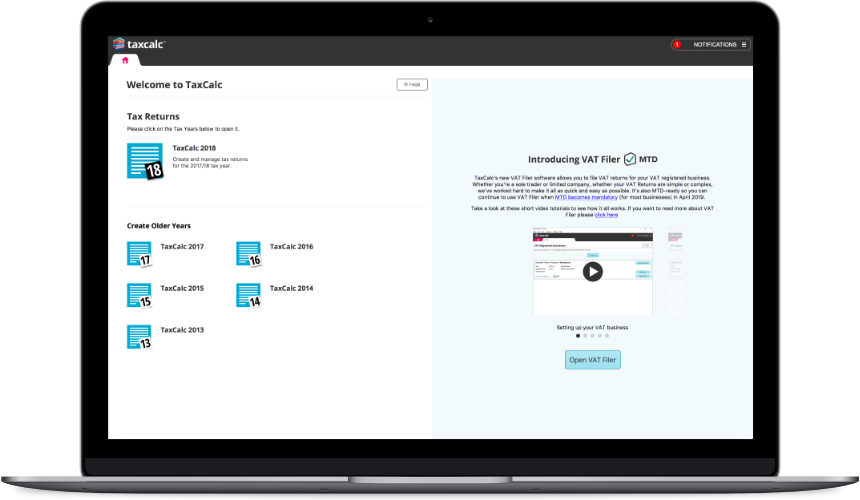 VAT Filer lets you:
Complete and submit VAT Returns for your soletrade business, partnership or limited company
Import your bookkeeping records from a spreadsheet
Add and record any adjustments needed to your source data
Calculate the VAT you owe or repayment due to you
Store all your VAT data in one place
Take a tour
See how easy it is to create and submit a VAT return.
Rest assured, you're choosing the best
TaxCalc's VAT return software is trusted by thousands of people to complete and file their tax returns every year. Award-winning and officially-recognised by HMRC, it's incredibly simple to use and comes with smart tools to power through your return quickly and accurately.
Buy Now
About MTD for VAT
* The roll out of MTD for VAT beginning in April 2019 required businesses to file their VAT returns using the MTD for VAT online service.
Features
Just like all our products VAT Filer for business is simple and intuitive to use and packed with user-friendly features
to speed you through your VAT returns.
MTD-compatible
VAT Filer supports your MTD obligations for keeping digital records and exchanging data digitally with HMRC through the MTD service.
Spreadsheet import
Quickly and easily import any spreadsheet directly into your VAT Returns (as required by MTD) using an on-screen cell selector.
Adjustment wizards
Calculate and digitally record adjustments to your VAT Return (as required by MTD) using our smart and simple adjustment wizards.
Attach supporting data
Keep an electronic copy of your supporting documents within easy reach by adding attachments directly against VAT Returns.
Auto create VAT obligations (periods)
Reduce errors and automatically create VAT periods by retrieving VAT obligations directly from HMRC (as required by MTD).
Access VAT Payment History
Keep on top of your VAT position by retrieving any payments you have made and anything you owe directly from HMRC (once you're registered for MTD).
System requirements:
An internet connection is needed in order to license your product and to file online to HMRC.

Minimum screen resolution: 1024 × 768
Windows
One of the following versions of Windows:

Microsoft Windows 10
Microsoft Windows 8.1
Microsoft Windows 8
Microsoft Windows 7

Appropriate hardware to run the above operating system
Adobe Reader version 9.0 or higher
Microsoft Office 2010 or higher (for export to Word and Excel)
Macintosh
Intel Macintosh running Mac OS 10.12 (Sierra) or higher
Microsoft Office 2010 (for export to Word and Excel)
Linux
64 bit kernel 3.10 (or higher), Debian (e.g. Ubuntu) or Redhat distributions
GUI
Office productivity software (for Word and Excel exports)
TaxCalc in action
We pride ourselves on delivering high quality and easy to use software. Please click on a screenshot below to
see how you use TaxCalc and see how easy it is to complete your VAT return.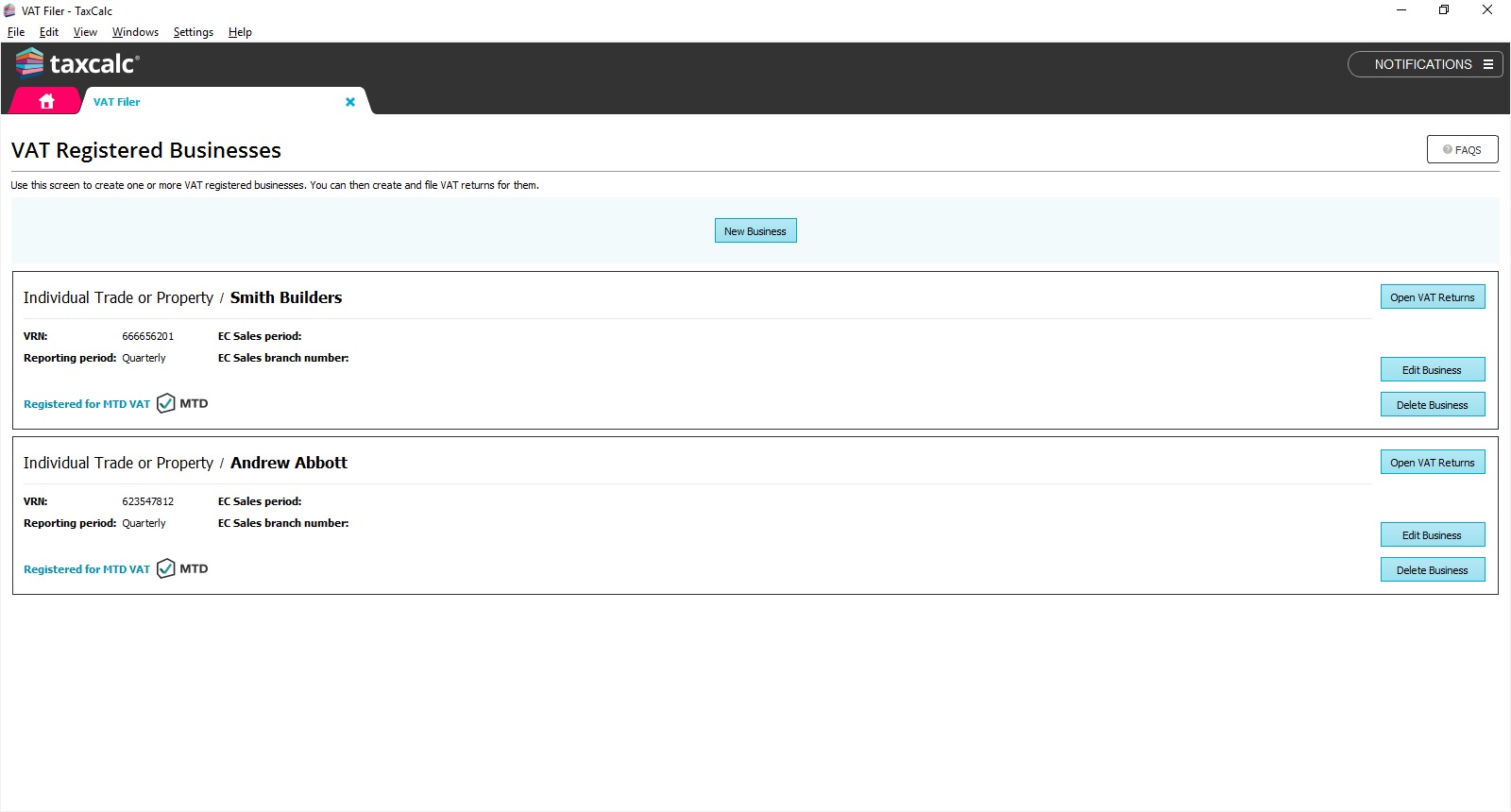 See an overview of your business.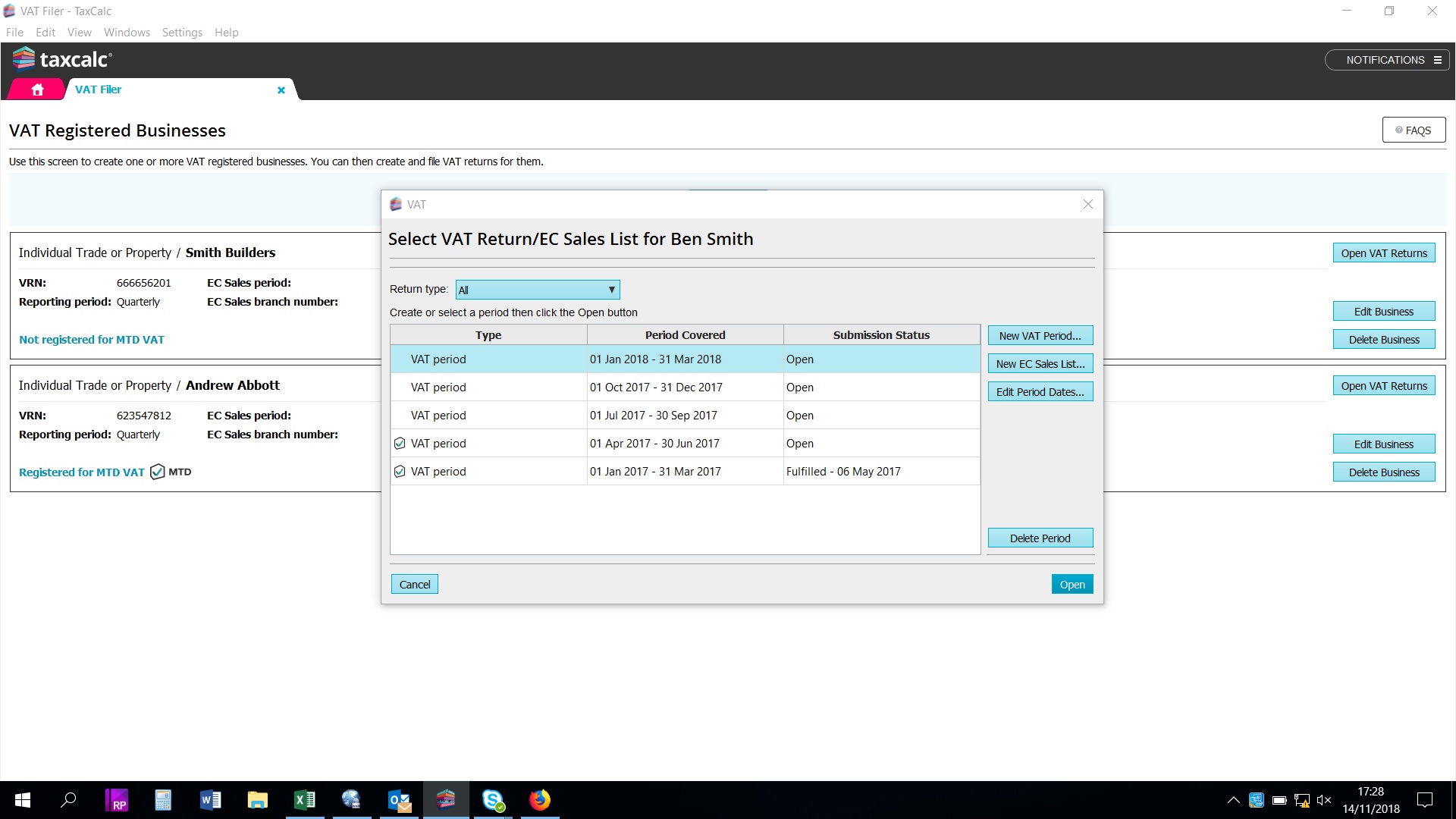 All your VAT Returns can be easily accessed and their online status determined, all on one screen.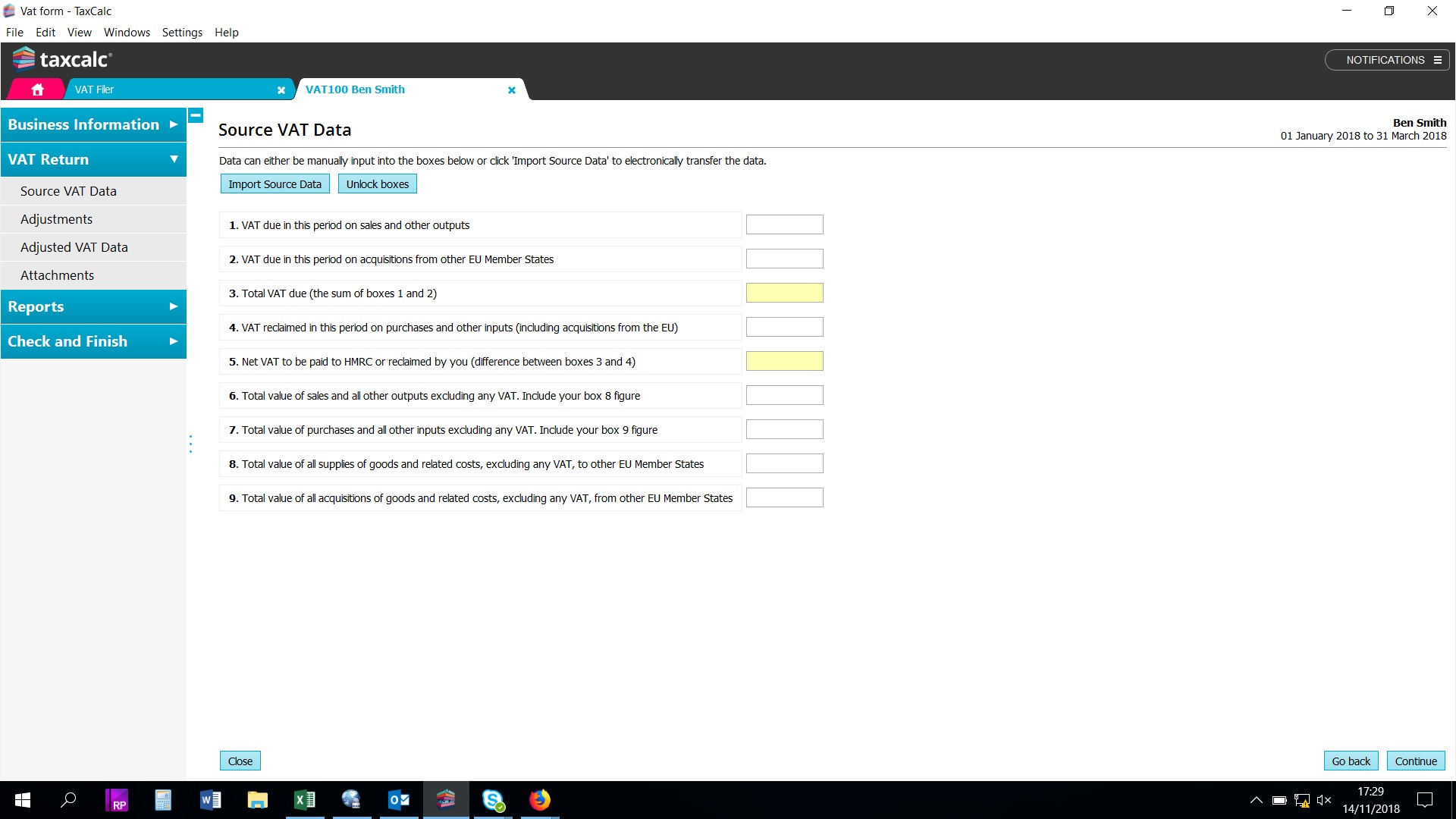 VAT Returns are very easy to complete.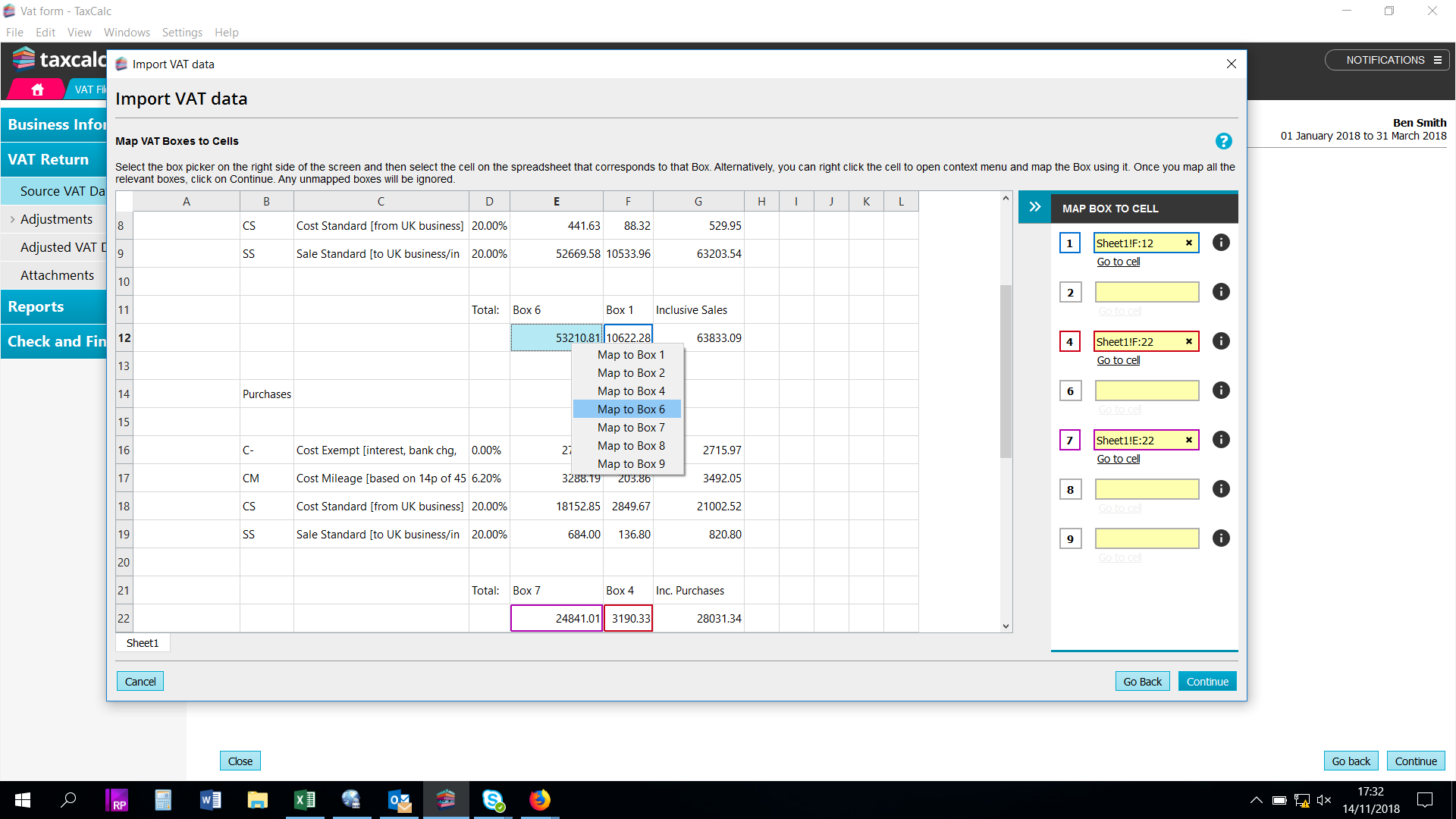 Use the import routine to quickly import VAT source data from a spreadsheet.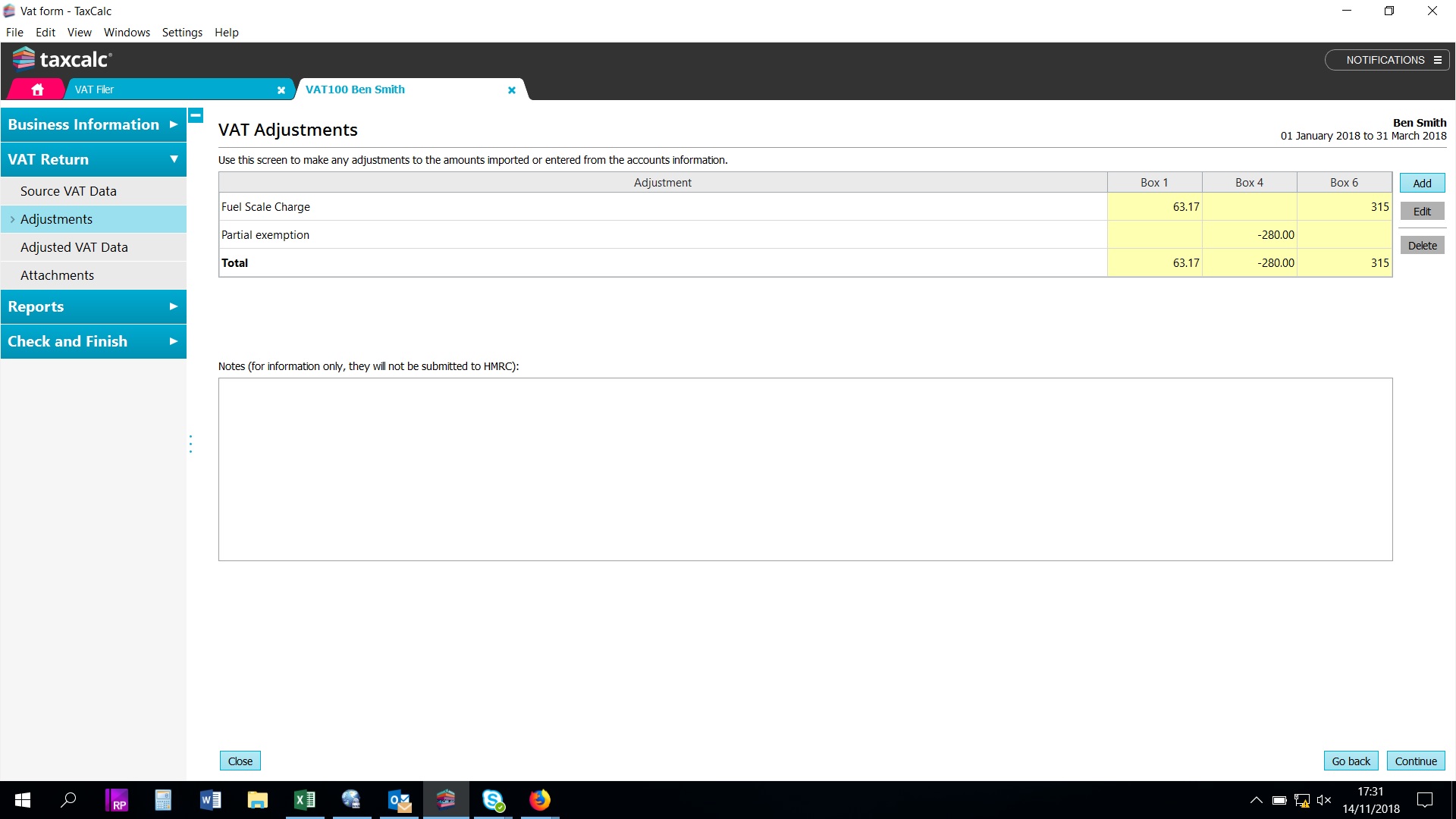 Use the adjustments page to easily add any adjustments that may be required to the source data.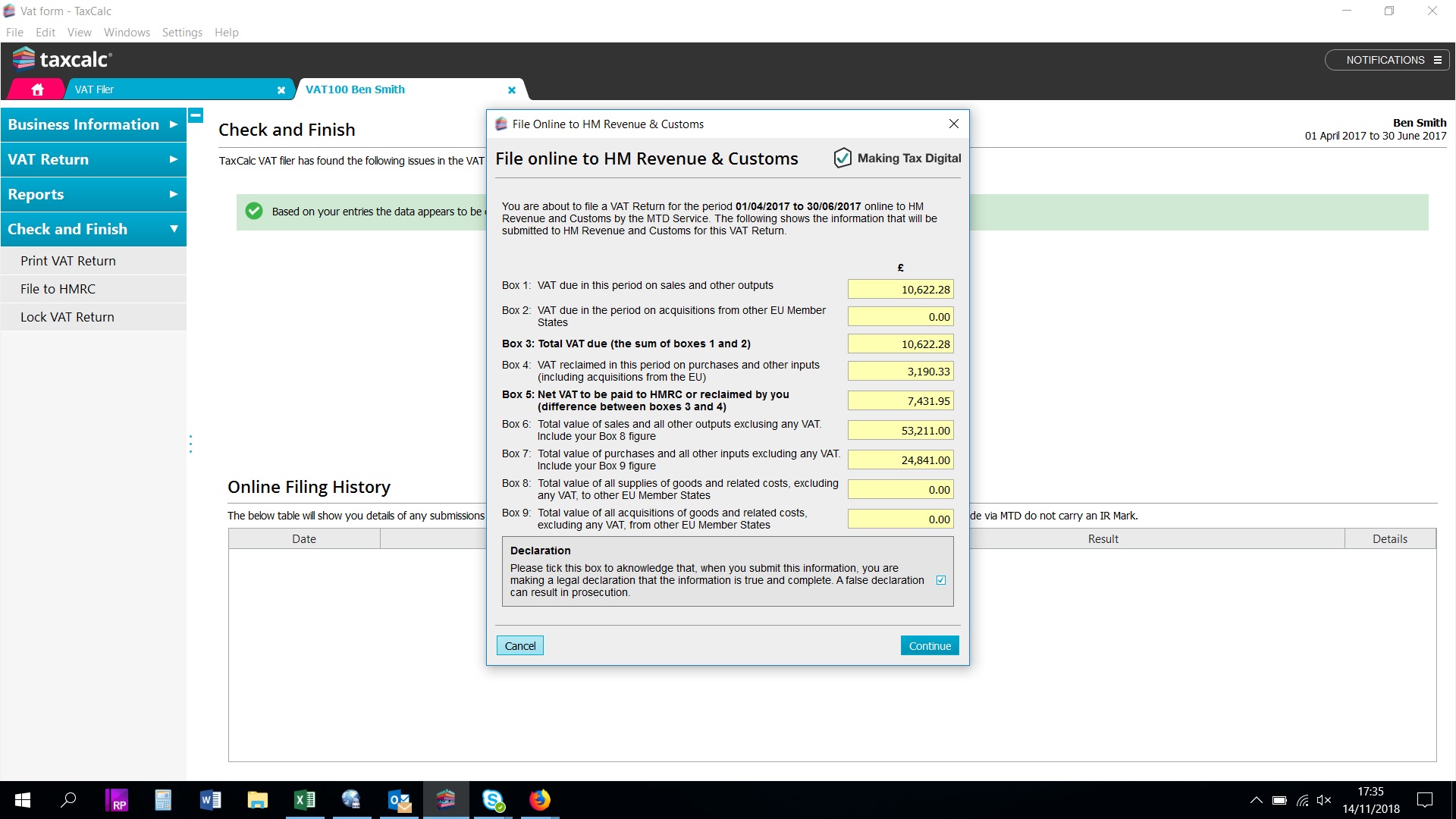 Submission of VAT Returns to HMRC is straight forward and completed with a few button clicks.
Frequently asked questions
The questions below provide immediate answers to many aspects of TaxCalc VAT Filer.
If you have any further questions, please call 0345 5190 882 or email sales@taxcalc.com
Can you use VAT Filer to submit VAT Returns via the Making Tax Digital (MTD) Services?
TaxCalc is MTD-ready and VAT Returns can be submitted using the MTD Service. For a business to be able to submit VAT Returns without the assistance of an Agent, you will need to sign up for the MTD Services using your current Government Gateway credentials.
Can I import data directly from my bookkeeping software?
At the moment, VAT Filer doesn't have the ability to import bookkeeping data using third party APIs due to these not being available. However, you can export the data from your bookkeeping package and use our import routine to feed this information into VAT Filer.
Can I import data from any spreadsheet?
VAT Filer has the ability to quickly and effortlessly import data from spreadsheets via our software bridging solution. With a few button clicks, boxes from the VAT Return can be mapped to your spreadsheet and imported into the VAT data screens so you can start the process of completing your VAT Return.
Can I add supporting documentation to my VAT Returns?
Supporting documentation can be added to a VAT Return via our 'Attachments' page. Please note that the documentation added is for your reference purposes only and will not be sent to HMRC with your VAT Return.
Can I produce EC Sales Lists using VAT Filer?
EC Sales Lists can be produced and submitted to HMRC using VAT Filer.
Is TaxCalc included on HMRC's software suppliers list for VAT?
Yes. We're included on HMRC's software supplier's list as Acorah Software Products Ltd (TaxCalc).