Company Incorporator
Fast and efficient incorporations.
From £80
Buy Now
Take a Trial
Introducing our award-winning
Company Incorporator software
TaxCalc Company Incorporator assists with the fast and
efficient incorporation of Private Limited Companies and
Limited Liability Partnerships (LLPs).
Like all of our products, the software is built around SimpleStep® and Check & Finish processes. Together, they make a simple and straightforward workflow to capture all the necessary information to ensure a successful incorporation.
By carrying out the incorporation within TaxCalc, costly time spent retyping and setting up the new client company is avoided.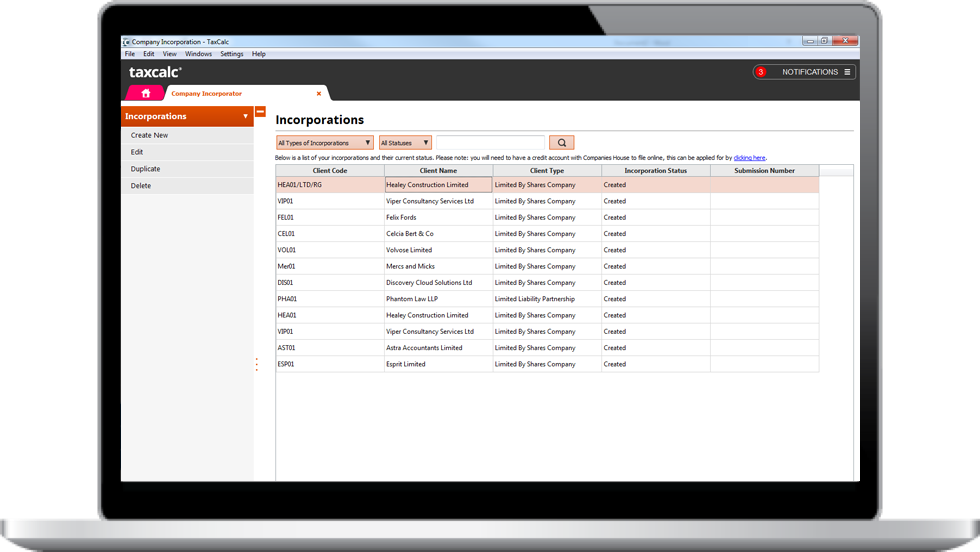 Pay as you go pricing
TaxCalc Company Incorporator is sold on a per incorporation basis*. There is no up front fee or annual licence to use the software.
10 incorporations

£80 + VAT

20 incorporations

£140 + VAT

50 incorporations

£300 + VAT

100 incorporations

£500 + VAT
There are no additional user charges.
Save time and money
With TaxCalc Company Incorporator, there is no need to use an external incorporation agent: you can do it all within your TaxCalc software.
You can file the incorporation online and keep track of its progress with Companies House.
Once a company has been successfully incorporated, you can view the Certificate of Incorporation.
Integration as standard
All of TaxCalc's products are designed to integrate and share data with each other. TaxCalc Company Incorporator is no different.
When setting up officers and shareholders, relationships can be created with individuals and corporate entities in TaxCalc Client Hub, populating the incorporation forms with data.
Once incorporated, all subscriber share information is shared back with TaxCalc Client Hub, setting up shareholder registers
* Companies House incorporation fees are charged during the incorporation process and collected through your Companies House presenter credentials
Like what you see?
To talk to us about your practice software needs. Call our Sales Team today on:
0345 5190 883
Lines are open Monday to Thursday 9.30am - 5.00pm and 9am - 5pm Friday, excluding UK Bank holidays.
Help is always on hand
We aim to make our software as easy to use as possible but for those times when you need us, you can be sure we're there. Our support is unlimited and provided at no extra charge.
And in January, when our customers need us the most, we extend our support capacity and hours more than anyone else. Our established team have both academic and practical accountancy experience, so you know that whatever your problem, we can find a solution.
Incorporate companies and LLPs quickly and efficiently
TaxCalc Company Incorporator is the simplest and most complete way to assist you with the incorporation of
Private Limited Companies and Limited Liability Partnerships (LLPs).
Incorporate Limited Companies and Limited Liability Partnerships
Use TaxCalc Company Incorporator to incorporate Private Limited Companies, both limited by shares and by guarantee, and Limited Liability Partnerships (LLPs).
Easy to use
TaxCalc Company Incorporator is built around a single SimpleStep process – a questionnaire that gathers necessary information to ensure successful incorporation.
A second pair of eyes
Use Check & Finish to validate your entries prior to submission to Companies House. Missing information or potential errors are immediately brought to your attention.
Track progress of incorporations
TaxCalc Company Incorporator helps you to track the progress of incorporations during processing by Companies House.
Company name availability checker
Ensure your clients' choice of name for their company is available prior to incorporation by using the name availability checking feature.
Flexible Articles and Attachments
Adopt Companies House model Articles or customise your clients' new companies by attaching your own amendments or replacement Articles.
Features in detail
TaxCalc Company Incorporator is complete with features that are designed to help you run your practice.
Incorporation
Incorporates the following entities:
Private limited companies by shares
Private limited companies by guarantee
Limited liability partnerships
Company name checker
Simple process to enter officers, shareholders and to identify person(s) of significant control
Model Companies House Articles and Memorandum of Association
Attach modified or replacement articles
Create ordinary, preference and custom share classes
Create share classes in UK Sterling, Euros and US Dollars
Templated rights and particulars of share classes
SIC code finder
Standard and same-day incorporations supported
Window to track progress of processing at Companies House
Store and view incorporation documents
Integration
Companies and LLPs incorporated automatically appear as clients – no rekeying
Set up officers, shareholders as clients or contacts for reuse in further incorporations
Global address book to store regularly used addresses
TaxCalc in action
We pride ourselves on delivering high quality and easy to use software. Please click on a screenshot below to see how straightforward it is to incorporate your clients' companies using TaxCalc.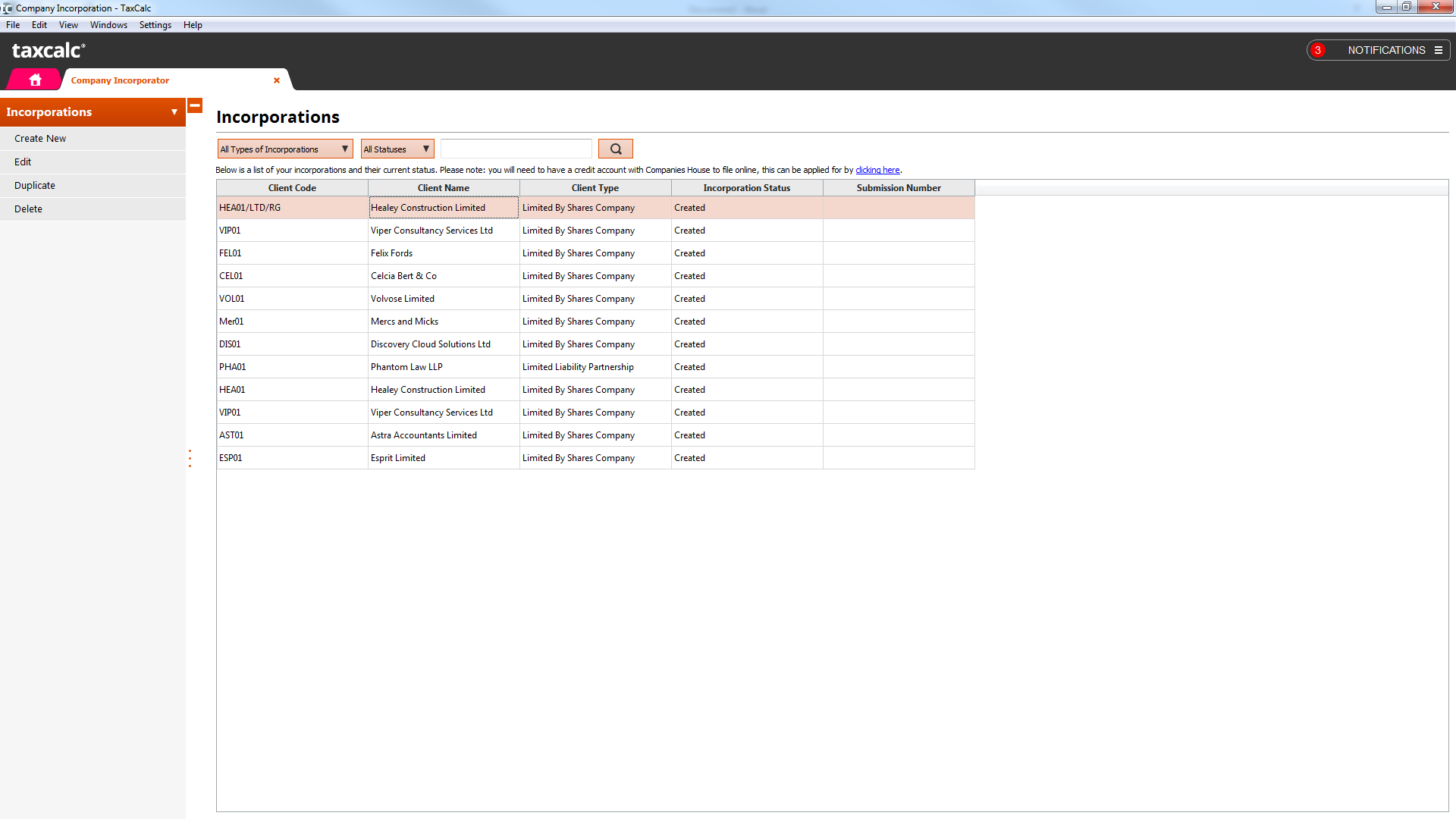 Incorporations in progress and successfully created are located in a central screen for easy access.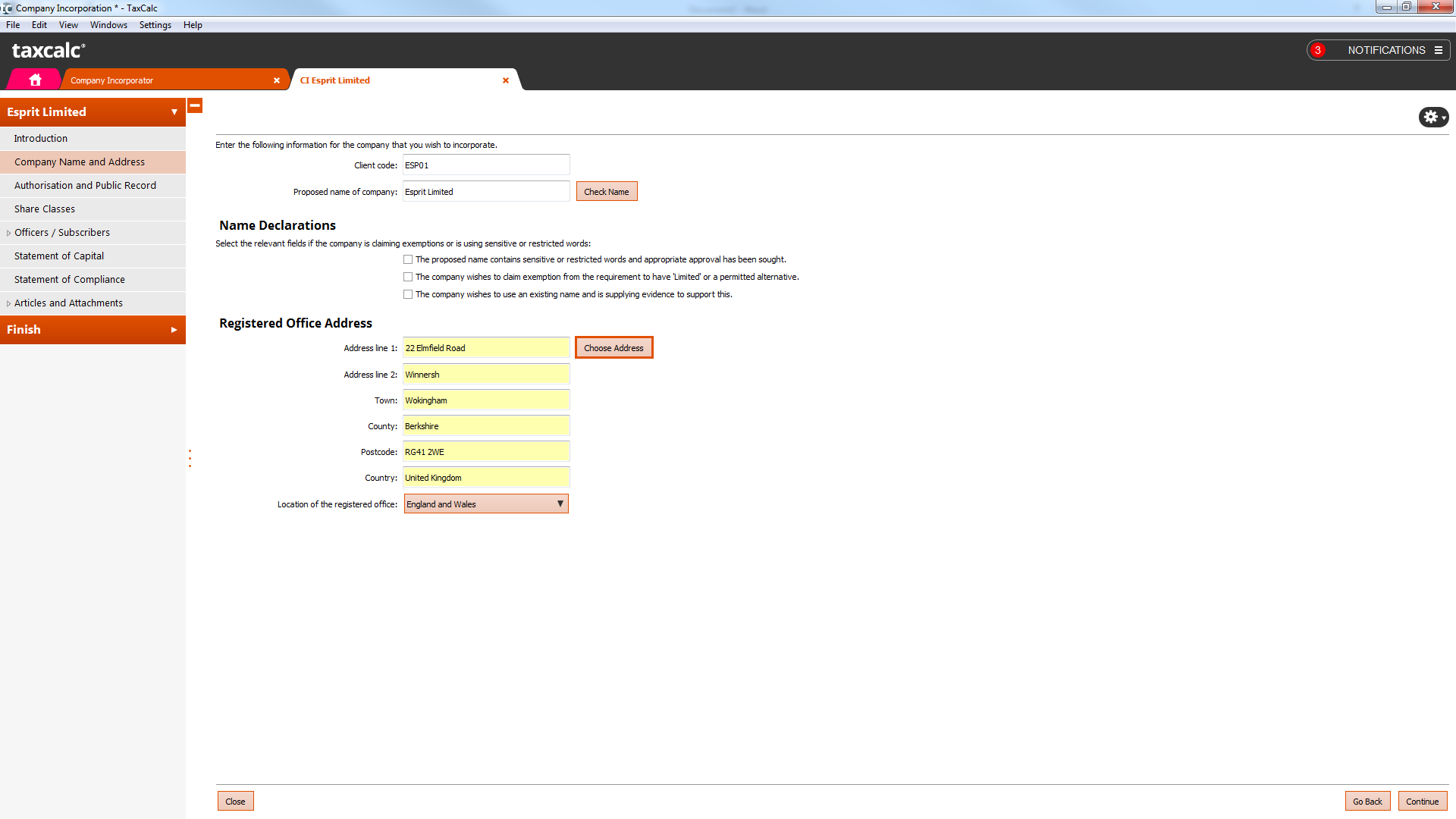 Incorporations are created through a SimpleStep process, which is a questionnaire that gathers all the information needed.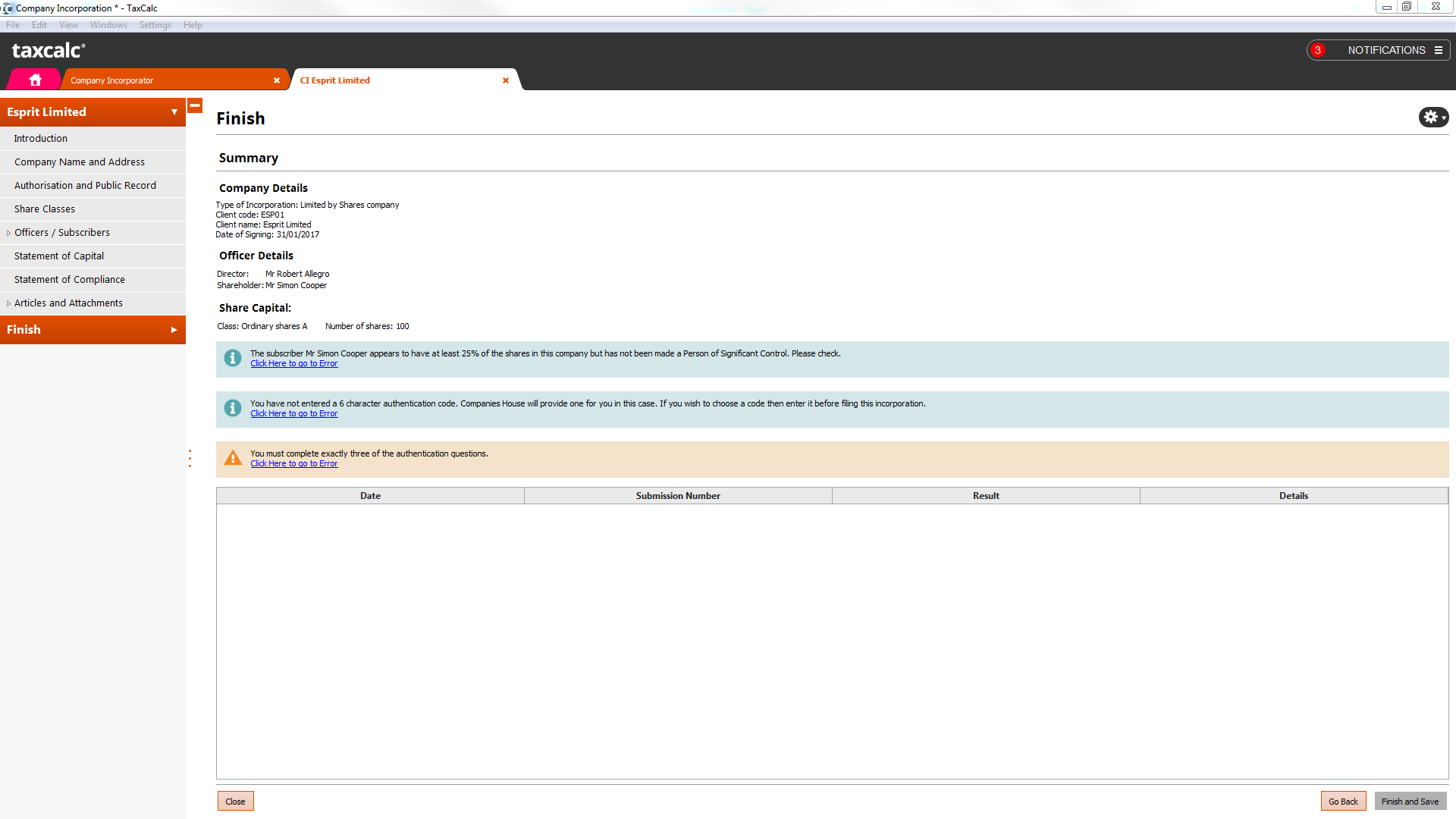 At the end of the data gathering process, Check & Finish reviews and validates the information entered to ensure a successful incorporation.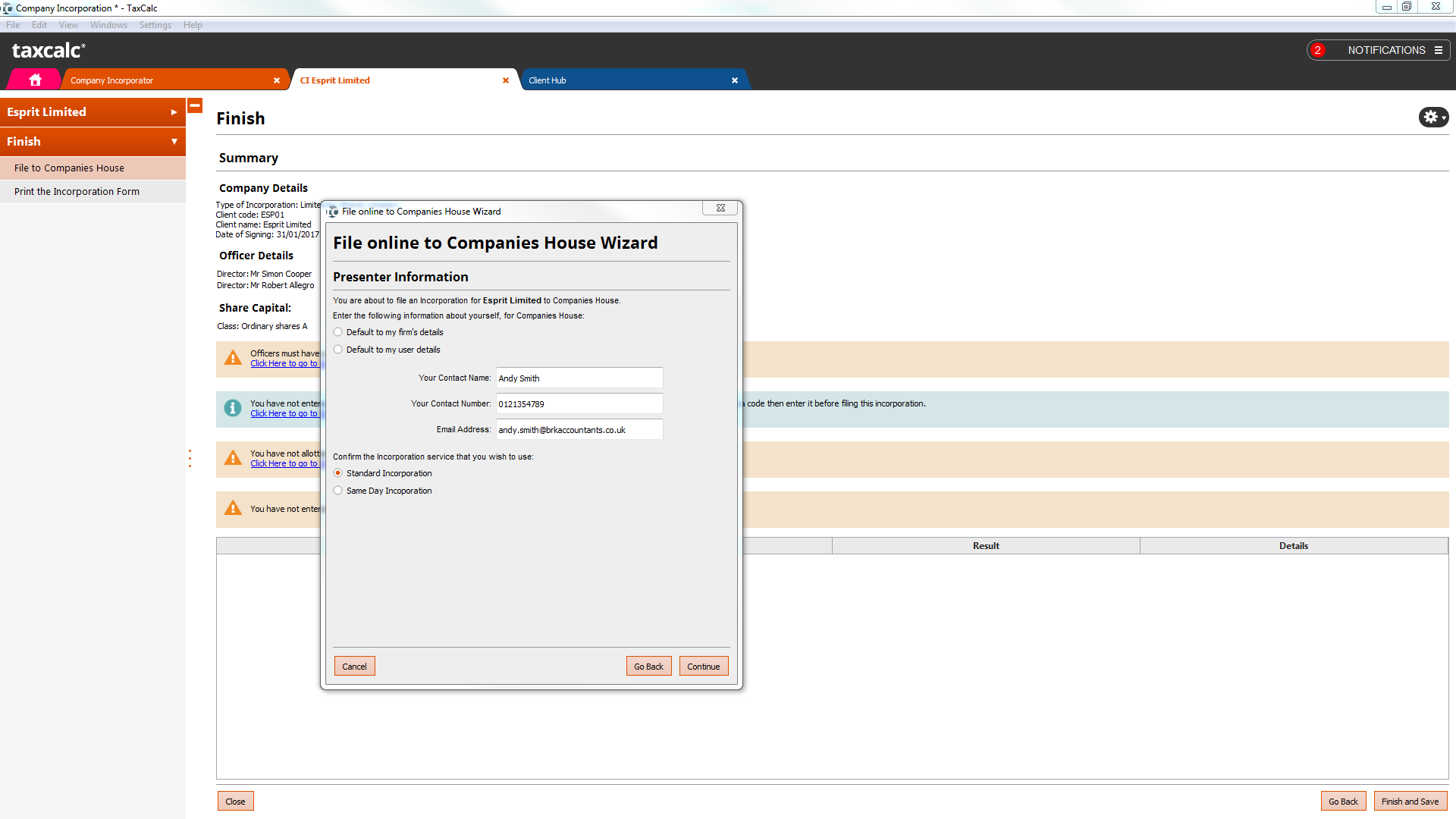 When ready, all information is sent to Companies House online via an easy to use wizard. You can track progress of the incorporation.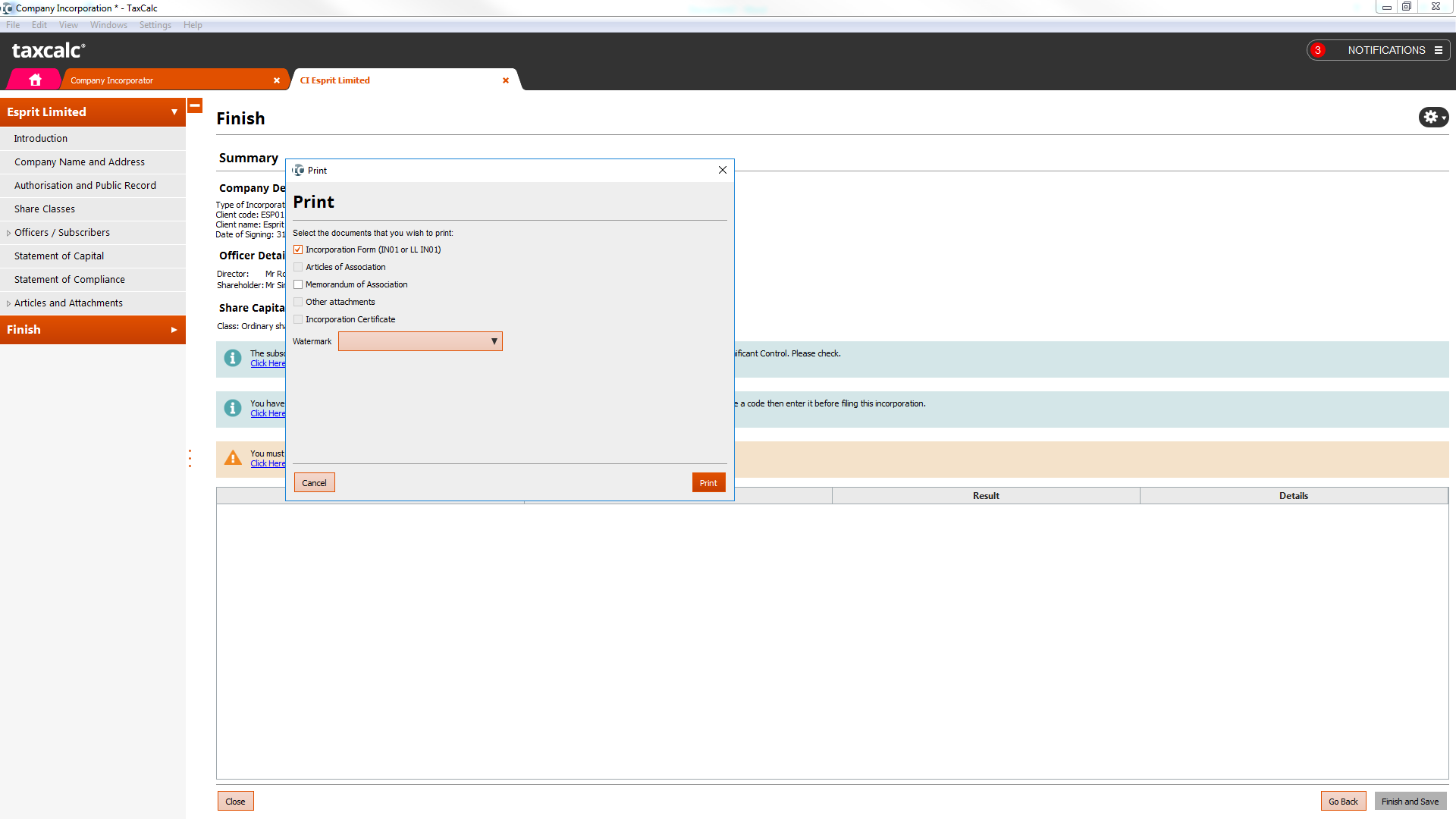 TaxCalc Company Incorporator stores the incorporation documents that can be viewed at any time.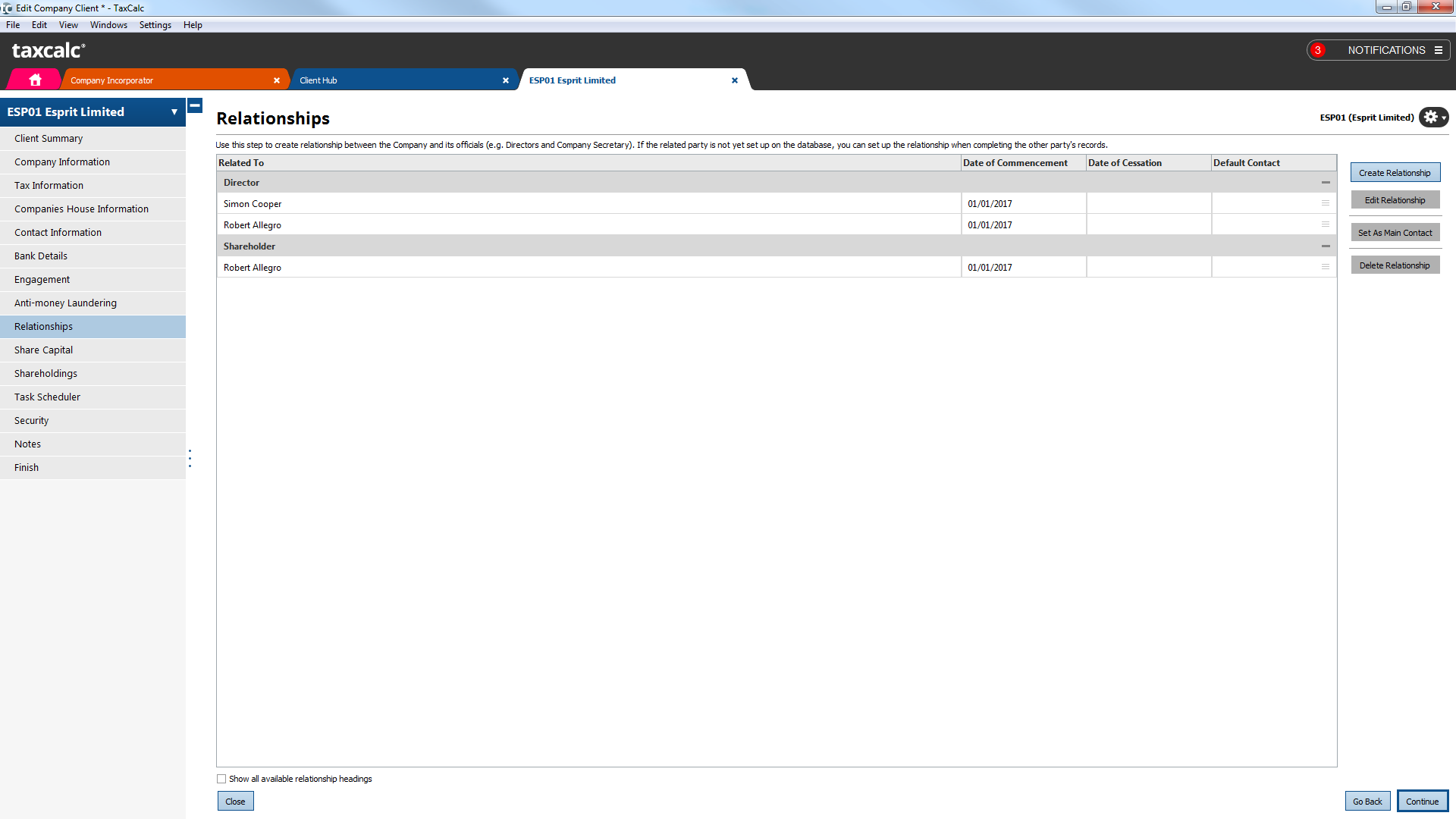 Information entered into TaxCalc Company Incorporator is shared with other TaxCalc products including officers, share captial and shareholders.
Frequently asked questions
The questions below provide immediate answers to many aspects of TaxCalc Company Incorporator. If you have any further questions, please call 0345 5190 883 or email sales@taxcalc.com
Does TaxCalc work on Windows 10?
Yes. TaxCalc's software has been fully tested with Microsoft's latest operating system and we can confirm that it does indeed work with Microsoft Windows 10. For a full compatibility list please see the System Requirements for TaxCalc.
Does TaxCalc work on Apple Macs?
Yes. TaxCalc will run on any 64-bit Macintosh running Mac OS 10.12 or higher.
Does TaxCalc work on Linux?
Yes. TaxCalc will run on any 64 bit kernel 3.10 (or higher), Debian (e.g. Ubuntu) or Redhat based distributions.
Will you release a server
version for Apple Macs?
We recommend that practitioners that wish to run their practices on Apple Macs consider TaxCalc CloudConnect. Under this service, we look after your data in the Cloud meaning any computer with an Internet connection can connect to it.
To find out more about TaxCalc CloudConnect, please visit our dedicated TaxCalc CloudConnect web pages or call our sales team on 0345 5190 882.
Do the prices displayed include
the Companies House incorporation fees?
The prices displayed do not include Companies House fees. These will be charged by Companies House at the following rates:
standard online incorporation £10
standard paper incorporation £40
same-day software incorporation £30
same-day paper incorporation £100
To file an incorporation using TaxCalc Company Incorporator, you will need to have a created a credit account with Companies House. This can be applied for here: (https://www.gov.uk/government/publications/apply-for-a-companies-house-online-filing-presenter-account)
Do assisted incorporation credits
expire?
No, assisted incorporation credits do not expire and will remain on your account during the life of the service. Please see our Terms and Conditions of Sale for more information.
Can assisted incorporation
credits be refunded?
Once assisted incorporation licences have been purchased, it is not possible to request a refund. We may, under some circumstances, provide you with a credit note to be used against the purchase of other products.
You can find our full Terms and Conditions of Sale in our legal section of this website.
How do assisted incorporation
credits work?
A credit will allocated to a client incorporation at the point that you print or file it. If you receive a failure from Companies House when filing, you will be able to re-file until it is successful, without using an additional credit.
Can I attach my own articles?
Yes, you can attach your own articles. TaxCalc Company Incorporator has options to adopt the standard Companies House model articles or attach your own bespoke articles.
Can I incorporate companies with
multiple share classes?
Yes, TaxCalc Company Incorporator caters for companies with multiple share classes.
When a company is incorporated,
can it be turned into a client?
Yes, data entered during the incorporation is shared with TaxCalc Client Hub after a successful incorporation has been made.
How do I take a trial of TaxCalc
Company Incorporator?
You can take a trial of TaxCalc Company Incorporator at any time by clicking on its icon on the TaxCalc Hub Home tab. If you require any further information about this product, please contact our sales team on 0345 5190 882.
How many computers can I
install TaxCalc Company Incorporator onto?
TaxCalc Company Incorporator may be installed on a single computer if you have chosen to use the standalone version. For network and cloud customers, there is no limit, although the number of concurrent users will be limited by the licence you purchased.