CloudConnect
Fast. Familiar. Secure.
From £26.00 per month
Buy Now
Introducing our award-winning
CloudConnect® service
TaxCalc CloudConnect is a unique service where we host your practice's data in our UK cloud data centre, providing you with secure access from any computer running TaxCalc with an Internet connection.
It's only your data that's hosted. By simply transmitting your data to and from our server over an encrypted connection, TaxCalc CloudConnect gives you desktop level performance whilst still offering a feature rich user experience.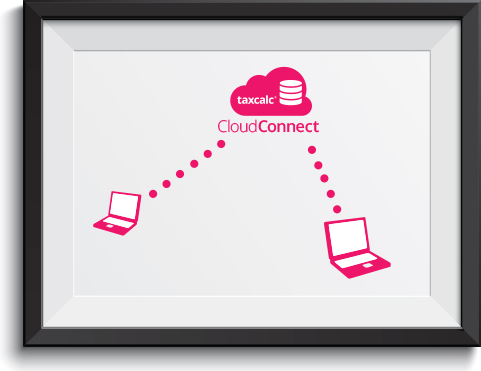 Three steps to say goodbye to the server
Choose Your TaxCalc Software
Buy your TaxCalc software for your practice in the normal way, including additional users and add-on modules.
Order TaxCalc CloudConnect
When building your order, add the TaxCalc CloudConnect service.
Work from anywhere
Once set up, your TaxCalc software will access data from the Cloud, not a local or server database.
Monthly payment terms
A first for TaxCalc, we're offering TaxCalc CloudConnect on monthly payment terms from just £26 per month.
But that's not all. By taking on TaxCalc CloudConnect, we'll allow you to add your TaxCalc software licences onto the same monthly payment, spreading the combined cost over twelve months at a time.
Keeping your data safe
Your live data and backup data are stored in the UK. No US companies are used in our infrastructure.
We take the custodianship of your data seriously. That's why we subject our systems to regular third party vulnerability and penetration testing.
We back up your data
Enjoy peace of mind knowing that your data is backed up regularly, with rolling daily backups covering your activity for the previous seven days. For an additional level of control, you can also create arbitrary backups at any time.
Like what you see?
To talk to us about your practice software needs. Call our Sales Team today on:
0345 5190 883
Lines are open Monday to Thursday 9.30am - 5.00pm and 9am - 5pm Friday, excluding UK Bank holidays.
Help is always on hand
We aim to make our software as easy to use as possible but for those times when you need us, you can be sure we're there. Our support is unlimited and provided at no extra charge.
And in January, when our customers need us the most, we extend our support capacity and hours more than anyone else. Our established team have both academic and practical accountancy experience, so you know that whatever your problem, we can find a solution.
Taking security very seriously
We know that security is absolutely paramount when it comes to keeping your clients' data safe.
That's why TaxCalc CloudConnect® has been built from the ground up with it in mind.
Protecting your
customer account
Your TaxCalc customer account is the place where you'll administrate TaxCalc CloudConnect and control access to your data.
As such, we've substantially improved access security through the addition of "two-factor authentication" – using your mobile phone to send you a pass code to gain entry.
Locking out
unauthorised changes
You can set security questions that we'll use to challenge requests to change critical information on your customer account (such as your email address, password or mobile number).
The provision of general support regarding use of the software is unaffected.
Secure installation
and licensing
To avoid having to provide your staff and subcontractors with your customer account details, you can create a second account for the purposes of downloading the installer and licensing your software.
Thus you're free to circulate these to staff, knowing your main account is kept safe.
Control user access
For peace of mind, you can turn on Quarantine mode on your account, which prohibits all computers from accessing your client data until you approve them.
Thus you can control who can and cannot access your client data.
TaxCalc Hub user access
Once installed and successfully licensed, getting into TaxCalc is still via the Hub log in window.
TaxCalc CloudConnect increases access security, requiring users to create strong passwords for the purposes of logging in.
Ring-fenced databases
Every TaxCalc CloudConnect customer gets their own unique, ring-fenced database on our server.
This means that in the unlikely event that you leave us, we can delete your practice's data neatly, cleanly and in its entirety.
Hub user password reset


To further reduce the possibility of a third party gaining access to your practice data, the self-service Hub admin account password must be reset by logging in to your main account or by answering the security questions set by you over the phone.
Secure transmission
channels
All communications between your TaxCalc software and our servers uses Transport Layer Security (TLS) encryption protocols.
This is the same high standard as used in the transmission of a tax return to HMRC.
Third party security scrutiny
We take the custodianship of your data seriously. We believe that we've built a secure system and to continually prove it we pay outside security professionals to carry out vulnerability and penetration testing.
System requirements:
An internet connection is needed in order to license your product and to file online to HMRC.

Minimum screen resolution: 1024 × 768
Windows
One of the following versions of Windows:

Microsoft Windows 10
Microsoft Windows 8.1
Microsoft Windows 8
Microsoft Windows 7

Appropriate hardware to run the above operating system
Adobe Reader version 9.0 or higher
Microsoft Office 2010 or higher (for export to Word and Excel)
Macintosh
Intel Macintosh running Mac OS 10.12 (Sierra) or higher
Microsoft Office 2010 (for export to Word and Excel)
Linux
64 bit kernel 3.10 (or higher), Debian (e.g. Ubuntu) or Redhat distributions
GUI
Office productivity software (for Word and Excel exports)
Frequently asked questions
The questions below provide immediate answers to many aspects of TaxCalc CloudConnect®.
If you have any further questions, please call 0345 5190 882 or email sales@taxcalc.com.
What operating systems are supported?
TaxCalc CloudConnect will run on Windows, Mac and Linux operating systems (or any combination of the three), subject to our system requirements.
Is TaxCalc CloudConnect fast?
Yes. Since TaxCalc CloudConnect transmits data only, rather than entire web pages, we have been able to achieve acceptable performance even when run through a tethered mobile phone on a 3G network.
We recommend that you use a broadband internet connection with a download speed of at least 4 Mbps (megabits per second), an upload speed of at least 2 Mbps, and a ping time of 100ms or less.
You can check the speed of your broadband by visiting www.speedtest.net
Can I try TaxCalc CloudConnect?
TaxCalc CloudConnect is now available to purchase. Please call us on 0345 5190 882 or email sales@taxcalc.com.
Is TaxCalc CloudConnect an annual contract?
Yes. In the same way you would buy an annual licence of your TaxCalc software, you commit to the TaxCalc CloudConnect service on an annual basis.
If you would like to rearrange your current TaxCalc licences so that they all co-terminate, please call us on 0345 5190 882 or at sales@taxcalc.com.
How do I pay for TaxCalc CloudConnect?
You can pay for TaxCalc CloudConnect in full as you would your TaxCalc software or take up our monthly payment option. This will charge your debit or credit card for one twelfth of the annual cost (e.g. £26 + VAT per batch of five concurrent users) on a monthly basis.
Our website will guide you through this process (it's very simple). Alternatively, please contact us on 0345 5190 882 or at sales@taxcalc.com to discuss your requirements.
How do you keep my debit or credit card details safe?
TaxCalc has never handled nor stored card details itself and the monthly payment scheme will be no exception. We have always used a third party provider for online payments called Secure Trading, which is a fully certified PCI DSS Level 1 payment service provider.
PCI stands for the Payment Card Industry and DSS stands for Data Security Standard. You can find out more about this by visiting Secure Trading's website.
Do I need to buy TaxCalc CloudConnect to take advantage of monthly payments?
You do not necessarily need to buy TaxCalc CloudConnect to take advantage of monthly payments. If the value of products that you wish to buy from us exceeds £800 before VAT, contact us on 0345 5190 882 or at sales@taxcalc.com.
Do I have to pay per user?
TaxCalc CloudConnect is sold in batches of five users at £26 per batch per month.
Will TaxCalc CloudConnect automatically renew after twelve months?
As with all of our products, we won't assume that you will automatically renew, so you'll be invited to renew your licence 30 days before it expires. If you forget, you can simply buy the product again to resume the service.
I'm an existing TaxCalc customer. How easy is it for me to move my data to the cloud?
It's very easy to adopt TaxCalc CloudConnect. We'll manage the migration of data from your existing setup to the Cloud, charging £50 per database migrated.
We can migrate a complete server installation or a single standalone database. If you have deployed TaxCalc using multiple standalone databases, please contact us on 0345 5190 882 or at sales@taxcalc.com to discuss your options.
Do you offer out of hours support?
Our support channels will remain the same. However, we know how important it will be to ensure continuity of service, which is why we've built the system with multiple levels of redundancy and monitoring that will alert us immediately if issues arise.
Is TaxCalc CloudConnect accessed through my browser?
No. TaxCalc CloudConnect works through the existing desktop software. This provides you with all of the power and features of the desktop software but, since it's only small packets of data moving through the Internet and not entire webpages, a high level of performance is achievable.
Is TaxCalc CloudConnect the same as a hosted desktop?
No. We are not hosting the software, let alone an entire desktop computer. Instead, we are hosting your data, which your TaxCalc software can connect to from anywhere with an Internet connection.