TaxCalc Individual
For Windows, Mac and Linux
Buy Now
You can buy, download and use TaxCalc 2017 today for just £30.00 incl. UK VAT
Make light work of your tax return
With a heritage dating back nearly 30 years, TaxCalc has been trusted by hundreds of thousands of taxpayers to help them with their tax return. Whether you know your way around the returns or need a helping hand, TaxCalc provides you with both HMRC Forms and SimpleStep® questionnaire methods of entry.
And when it comes to calculating the figures that go into the boxes, TaxCalc's numerous wizards and worksheets will help you make the correct choices and pay the right amount of tax.
Experts you can trust
TaxCalc Individual is based upon the same core technology as our award winning software for Practices, which are used by thousands of firms of accountants up and down the country.
TaxCalc's support team is staffed by tax professionals who are on hand to help you fill out your forms.We are so confident in our software that there is no additional charge for support. Our lines are open from 9:30am to 5:00pm Monday to Thursday and 9:00am to 5:00pm Friday, with extended hours until 8:00pm in January.
Perfect for non-residents
TaxCalc includes all the supplementary pages you need to prepare and submit
your return including the 'SA109
non-residence' schedule. Learn more...
Ready for 2016/17
Fully updated for the 2016-17 tax year, including new personal savings and dividend income allowances.
Previous years available
If you need to complete a tax return for an earlier year, you can buy and download a version suitable for tax years dating back as far as 2011. For tax returns before 2011 please contact us.
Do I need to complete a tax return?
Find out
Find out now with our Tax Return Checker Tool
Returns by paper

If you wish to file your return by paper, make sure your return reaches HMRC by the deadline of 31st October or face a £100 penalty
Paying tax through
your tax code
If you owe up to £3,000 of tax to HMRC and are a PAYE employee, it is important to file on or before 30th December 2017 to avoid having to pay any tax you owe in one lump sum. Your tax code will be adjusted and any money you owe will be deducted from your salary each month over the following 12 months
When do I need to file my return?
The deadline to file your self assessment tax return online to HMRC is 31st January 2018. Try not to leave it to the last minute though!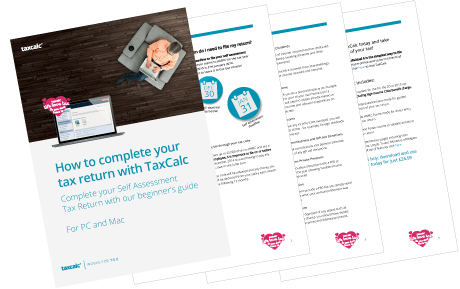 How do I complete my tax return
with TaxCalc?
We have prepared a downloadable guide packed with
useful tips and frequently asked questions to help you
complete and file your tax return online to HMRC.
Tax is going Digital
Digital record keeping for the self-employed, landlords, partnerships and trusts with a trade.
We've designed TaxCalc MTD CashBook, a beautifully-simple record-keeping solution.
Whether it's full bookkeeping or a box of records TaxCalc MTD has the solution.
Find out more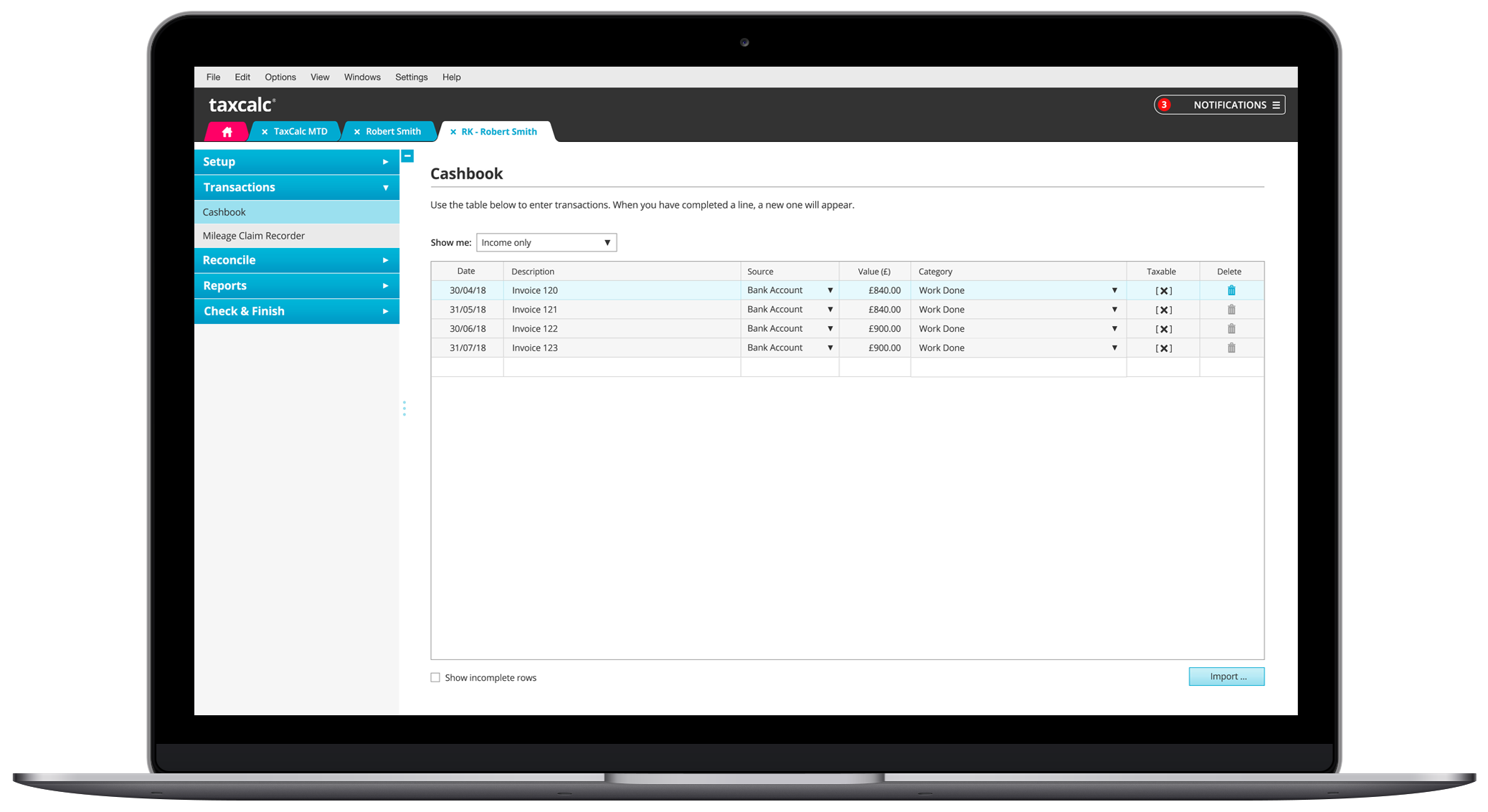 Fully comprehensive, yet easy to use software
TaxCalc Individual is the simplest and most complete way to file your tax return online.
Returns for all the family
TaxCalc Individual comes with six tax returns for you and your family and caters for the 2016/17 tax year. Earlier years' tax returns are available separately. Please see Versions and Prices
Easy to complete
Fill out your return directly using HMRC Forms mode or let TaxCalc help you with our unique SimpleStep questionnaire mode.
Check before you file
Use Check & Finish to validate your entries and address any potential problems before you file your return.
A form for everyone
Unlike HMRC's online service, TaxCalc
features all of the supplementary pages.
No matter what your tax affairs, TaxCalc
can file it.
Other useful forms
TaxCalc Individual includes some other
handy forms such as the R40 Repayment
form and the SA303 Reduction of
Payments on Account.
Expandable and upgradeable
TaxCalc Individual can be upgraded with
Partnership, Corporation Tax and Trust
forms.
Features in detail
TaxCalc Individual provides you with all the features and functions
to make light work of your tax return.
At a glance
Includes new allowances for personal savings and dividend income

SimpleStep questionnaire mode for guided completion of your tax return
Facsimile HMRC Forms mode for direct entry of your tax return
Check & Finish routine to validate entries in your tax return

Download employment data from your Digital Tax Account using HMRC's new APIs*

Use new HMRC APIs to check for elections of National Insurance and Marriage Transfer Allowance*

All supplementary pages including Non-Residence, Lloyd's, Trusts and Ministers of Religion
Import data from earlier years
Detailed calculations and repayment summaries
Export reports to PDF, Microsoft Word and Microsoft Excel
On-the-fly tax liability calculation
Password protection your returns
Automatic selection of long or short versions of forms
Share data between spouses
Auto-save function
Context-sensitive help
Full HMRC forms and tax guidance help manual
Unlimited email and telephone support
Anonymous "send return to TaxCalc" function to get help from our Support team
Implementation of HMRC's application programming Interface (API) strategy to populate data from HMRC systems into your tax return. Please note that though the API has been fully integrated into the software, it will not be available until HMRC activate this functionality
Wizards to help you with:
Company car, fuel benefit and mileage claims
Employment expense deductions
Capital allowances
Basis periods
Class 2 national insurance
Capital gains calculations (with preparation of calculations schedules)
Foreign tax credit relief calculations
Lump sum receipts
Property wear and tear allowances
Interest and dividend analysis worksheets
* Please note that the Application Programmable Interfaces (APIs) that enable TaxCalc to do this will not be available until HMRC activate this functionality
Accessorise your TaxCalc
TaxCalc sports a number of helpful add-ons. You can choose one or more add-on modules
and review pricing when you come to buy your software.
Single SA900 Trust tax return
If you have a Trust and need to file a single SA900 Trust tax return, this add-on provides you with the form for easy, on-screen completion and online filing. Income received from the Trust can be imported directly into the SA100 Individual tax return.
£40.00
Two SA900 Trust tax returns
If you have two Trusts and need file returns for them, this add-on provides you with a form for each, with easy,
on-screen completion and online filing. Income received from either or both Trusts can be imported directly into the SA100 Individual tax returns.
£71.99
TaxCalc Dividend Database (2016-17 year)
Make the entry of dividend data a snap with this database of FTSE350 and AIM listed dividend data for the 2016-17 tax year. Bring forward your shareholdings from your 2015-16 tax return and TaxCalc Dividend Database will do the rest.
The database is released in June each year to include dividends paid up to the end of the previous tax year.
£5.99
TaxCalc What If? Planner
Use your 2016-17 tax return data to project your tax liability for the 2017-18 tax year. You can also create scenarios, adjusting your levels of income or to see the effects of decisions being made now on next year's tax bill.
The add-on is released in June each year to include changes announced for the next tax year.
£10.99
Backup CD and Delivery
For customers with slower internet connections, or just to keep a copy for peace of mind, receive your copy of TaxCalc 2017 on CD.
Price includes worldwide delivery.
Note: an internet connection is still required to license your software.
£9.99
TaxCalc in action
We pride ourselves on delivering high quality and easy to use software. Please click on a screenshot below to
see how you use TaxCalc and see how easy it is to complete your tax return.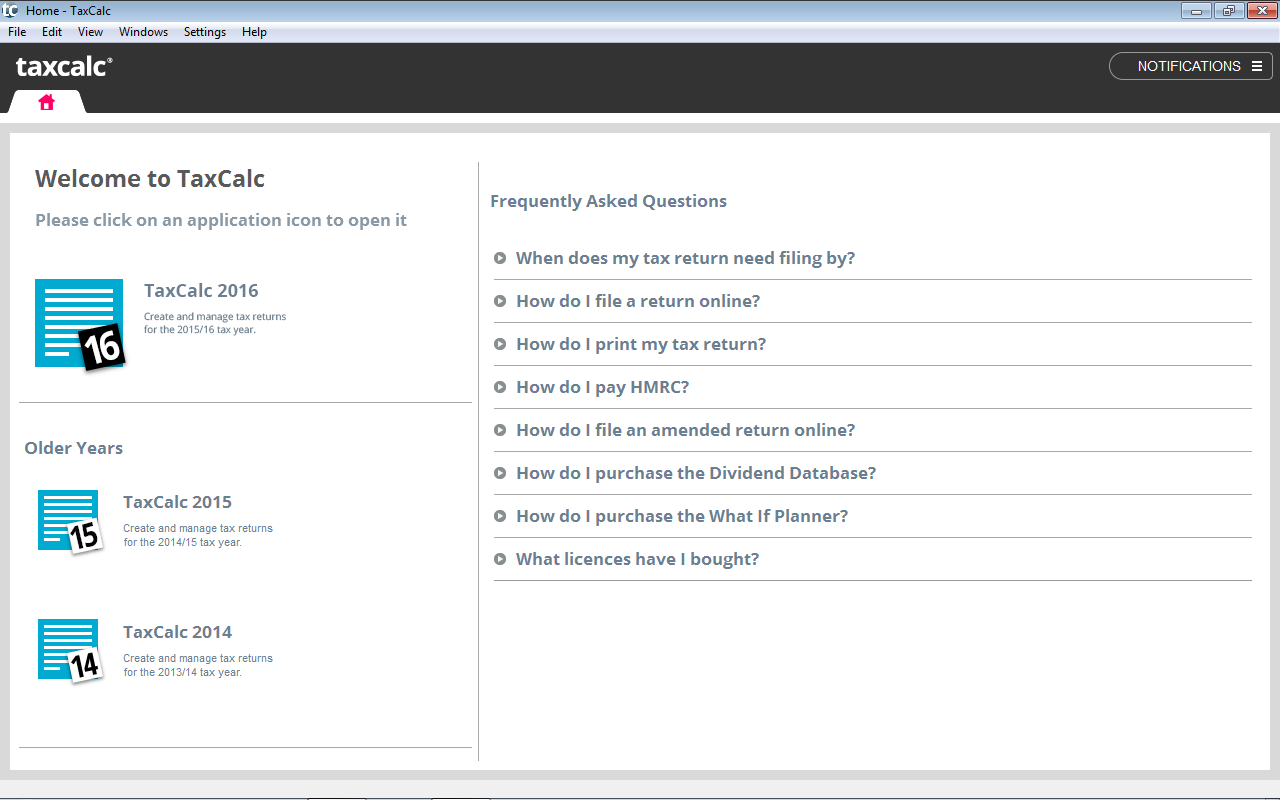 TaxCalc organises and provides access to tax returns for the 2016-17, 2015-16, 2014-15, 2013-14 and 2012-13 tax years*.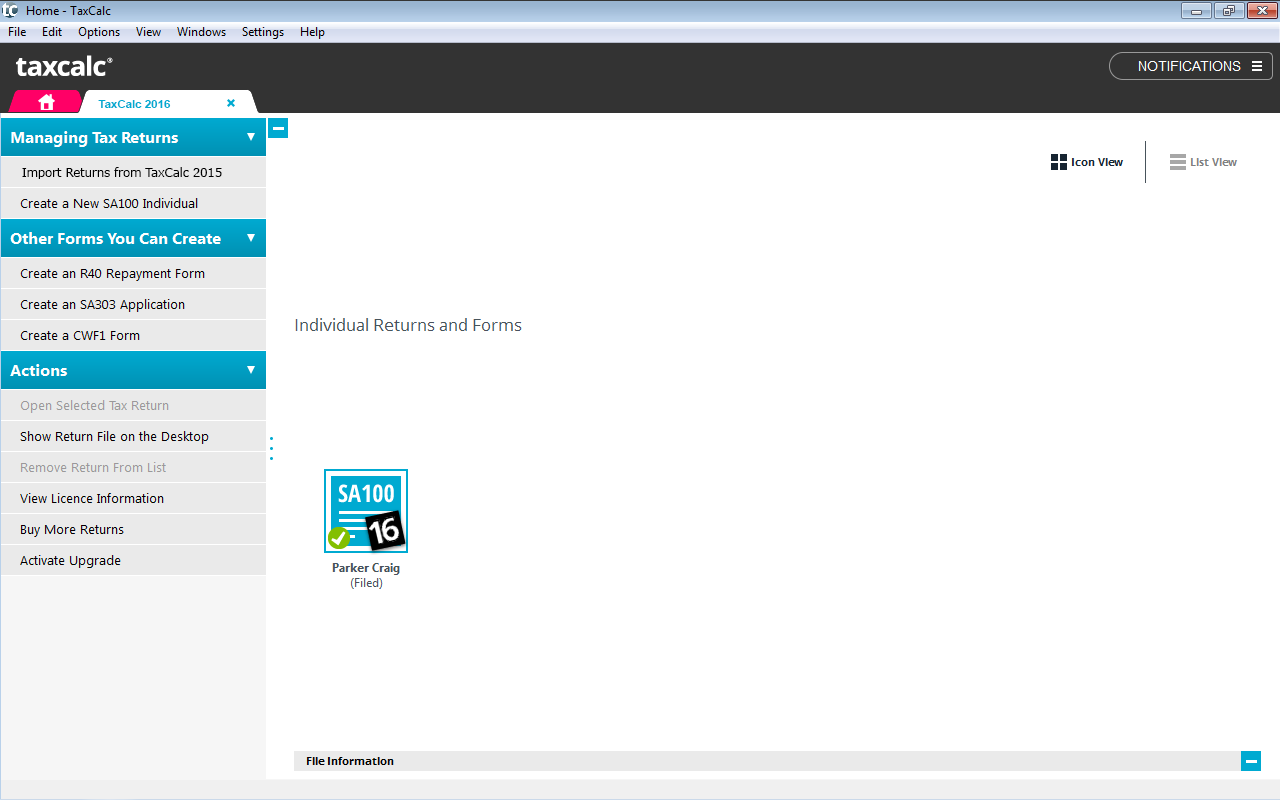 TaxCalc manages the production and progress of your tax returns, together with additional supporting forms.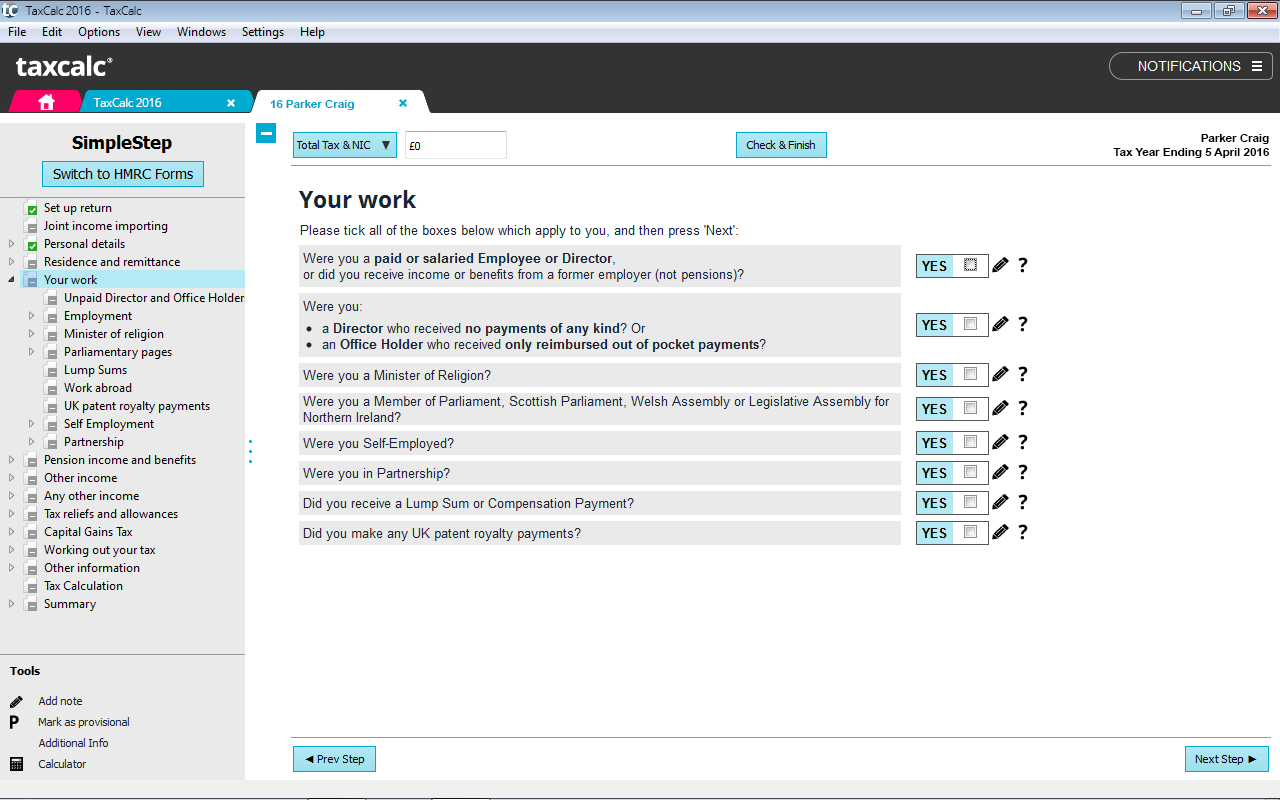 TaxCalc contains two modes of entry. SimpleStep is our unique questionnaire mode, which guides you through the return, asking questions based upon answers given and data entered.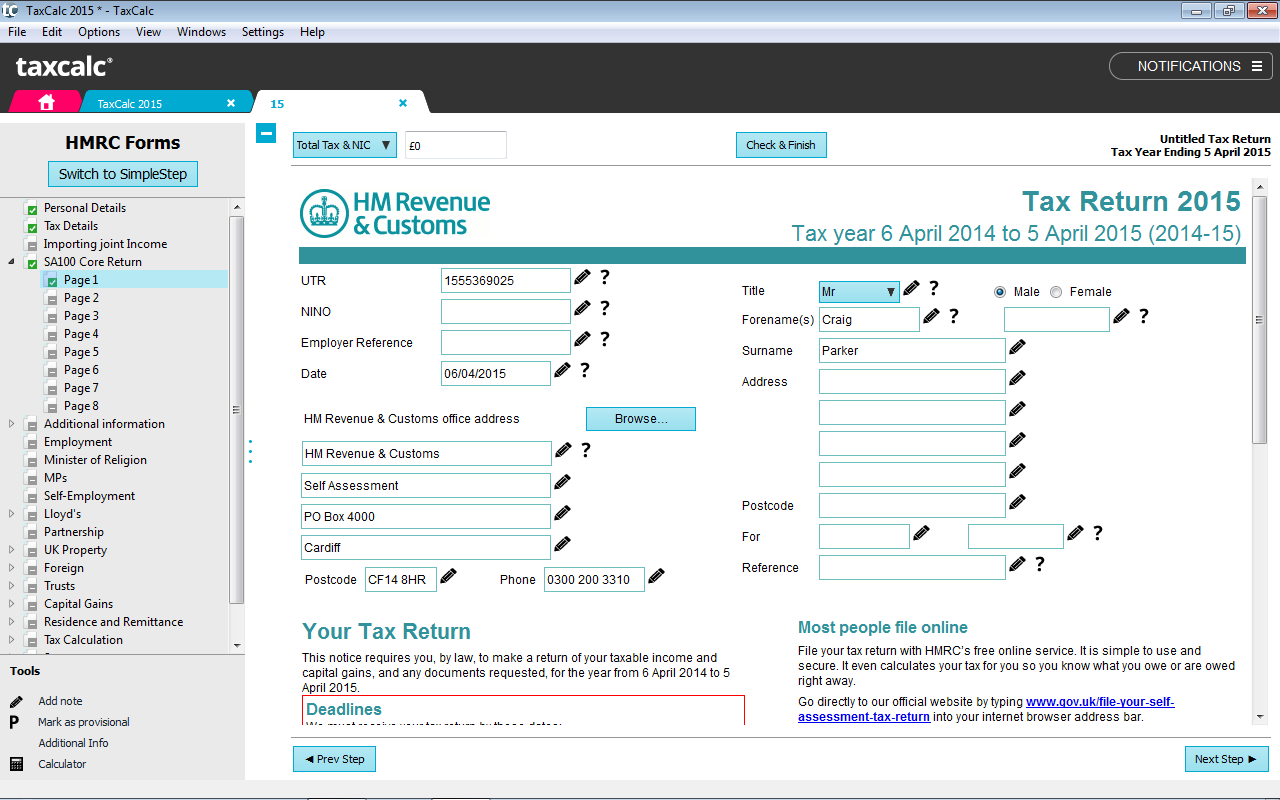 HMRC Forms mode displays a facsimile form for fast direct entry.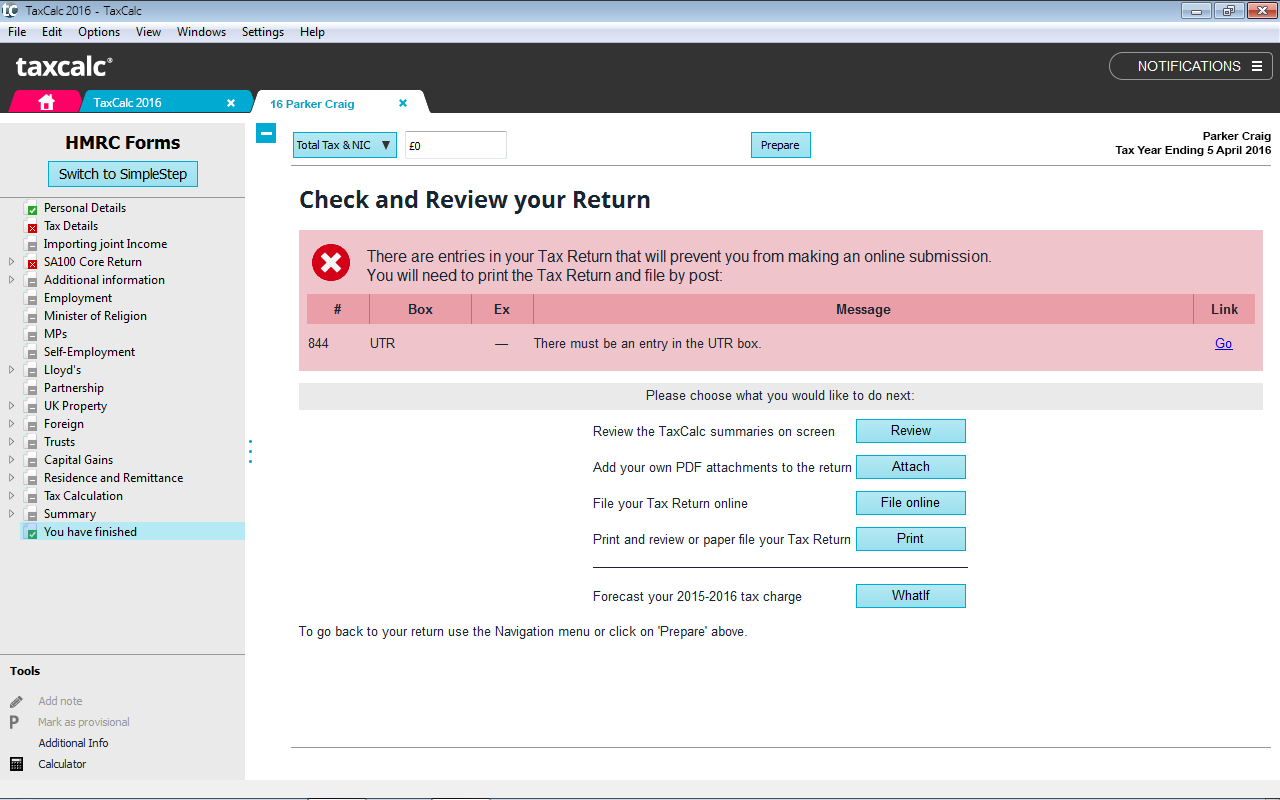 When you get to the end of your return, Check and Finish validates the entries you've made and highlights any potential issues before you file.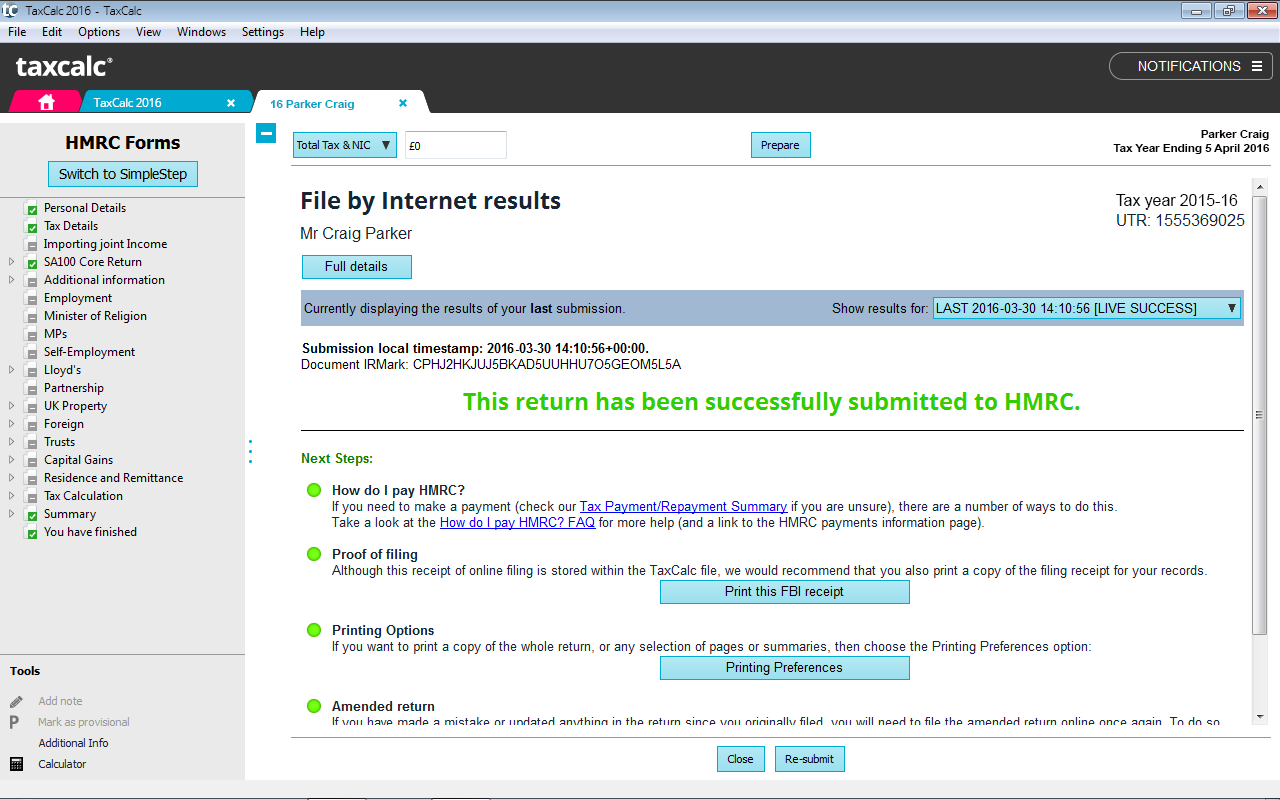 TaxCalc files online and tells you when your return has been successfully received by HMRC.
*TaxCalc is sold according to tax years, each of which is bought separately. Please see our Versions and Prices for more info.
Frequently asked questions
The questions below provide immediate answers to many aspects of TaxCalc Individual.
If you have any further questions, please call 0345 5190 882 or email sales@taxcalc.com
Does TaxCalc work on
Windows 10?
Yes. TaxCalc's software has been fully tested with Microsoft's latest operating system and we can confirm that it does indeed work with Microsoft Windows 10. For a full compatibility list please see the System Requirements for TaxCalc.
Does TaxCalc work on Apple Macs?
Yes. TaxCalc will run on any 64-bit Macintosh running Mac OS 10.8 or higher.
Does TaxCalc work on Linux
Yes. TaxCalc will run on any 64 bit kernal 3.2(or higher), Debian (e.g. Ubuntu) or Redhat based distributions.
Do I have to buy the software every year?
TaxCalc is an annual purchase because we have to redevelop it each year to new rates and tax rules. Your licence is perpetual and will continue to provide future access to unused returns for purchased tax years.
Since TaxCalc is an all-in-one application, when you buy next year's licence, all you need to do is open TaxCalc and it will update itself to add in the 2017-18 forms.
Can I share licences with friends or family if I purchase a personal product?
It is not possible to share/transfer licences to friends or family as this is solely for the use of the licence holder to complete all six returns. Any shared licences would be a breach of contract under our End User Licence Agreement (EULA) and could result in termination of contract.
Can I upgrade or add additional returns?
Yes. TaxCalc operates a full self-service website and you can easily upgrade your licence of TaxCalc Individual to another product that provides for additional tax returns.
To add an SA800 Partnership tax return, please visit our TaxCalc Partnership pages.
To add a CT600 Corporation Tax return, please visit our TaxCalc Limited Company pages.
If you cannot find the product you are looking for, please call us on 0345 5190 883 or email sales@taxcalc.com.
Can I buy previous years' returns?
Yes. We supply tax software dating back to the 2007-08 tax year. You can find this on the Versions and Prices page.
How many computers can
I install TaxCalc Individual onto?
For your convenience, TaxCalc Individual may be installed on up to two computers.