eSign Centre
Speedy. Simple. Secure.
From as little as 90p per envelope.
Buy Now
Digital document signing from TaxCalc
The digital age of document signing is here!
TaxCalc eSign Centre dramatically reduces the time spent obtaining client approval for tax returns, VAT returns and other sets of documents. Simply send over an electronic copy of the document, ask the client to check and sign – you'll be notified immediately and you can submit the document straightaway.
Using our tried and trusted SimpleStep® workflow, preparing documents for electronic sign-off couldn't be easier. Clients can sign on any device - smartphone, tablet, laptop and desktop – from anywhere at any time.
Prepare. Send.
Monitor. Complete.
Using SimpleStep®, quickly create and customise an eSign envelope
Upload externally-saved PDFs and TaxCalc generated documents
Select signatories from your client database
Drag and drop where you would like recipients to sign
Get electronic approval in minutes
Instantly see your document status and receive notifications to track progress
Send reminders and check signing status at any time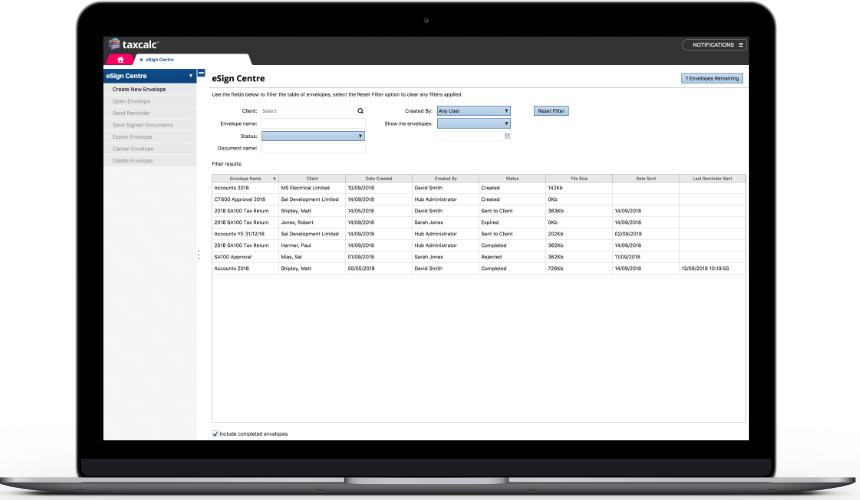 Like what you see?
To talk to us about your practice software needs. Call our Sales Team today on:
0345 5190 883
Lines are open Monday to Thursday 9.30am - 5.00pm and 9am - 5pm Friday, excluding UK Bank holidays.
Help is always on hand
We aim to make our software as easy to use as possible but for those times when you need us, you can be sure we're there. Our support is unlimited and provided at no extra charge.
And in January, when our customers need us the most, we extend our support capacity and hours more than anyone else. Our established team have both academic and practical accountancy experience, so you know that whatever your problem, we can find a solution.
There are many time and cost-saving features thoughtfully built into eSign Centre. Here are just some:
TaxCalc and external
documents
You can upload externally-saved PDFs to an envelope as well as TaxCalc generated documents, which now includes Companies House Forms (and Incorporation).
Multiple signers. Multiple documents.
One envelope.
Often you need more than one signature on a document. The process is straightforward in eSign Centre. Set who signs in a chain order and watch the document go from one signer to the next. Or if you need signatures for sets of Accounts, Tax Returns or VAT Returns, you can simply send them in the same envelope and reduce your costs!
Be part of the signing process
As an accountant you can now add yourself as a recipient on eSign documents, thereby creating a streamlined electronic signing process for you and your clients.
Seamless data exchange
eSign Centre will create a recipient list based on client data held in Practice Manager, with the ability to add other relationships as recipients as required. You can also add a set of Accounts, Tax Return, VAT Return or Companies House Form to a new or existing envelope directly from these modules, helping to make sure the correct documents are sent to the right client.
Control Centre
eSign's Control Centre does exactly what it says and keeps you in control, providing an overview of all your eSigning activities and their status. You can see all envelopes you've sent – and to whom. You can set automatic reminders for your clients (if you need to nudge them for their signature!).
SimpleStep® and
Check & Finish®
eSign Centre workflows are the same as the ones you know and love so well in TaxCalc. SimpleStep® acts as your personal assistant, making sure you follow the correct process to have all the information in your envelope. Our intelligent validation tool Check & Finish® highlights any errors. Making the whole process efficient and providing peace of mind.
Password protection
With enhanced our password security, you can now password protect your eSign envelopes using the same password as that set for PDF encryption.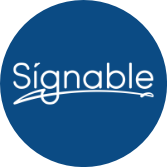 Powered by Signable
We've teamed up with leading electronic document signing provider Signable to bring you the TaxCalc eSign Centre. Signable uses cutting-edge technology to provide a secure online, digital process for signing documents. This allows us to capture electronic signatures on a TaxCalc generated document, quickly, efficiently and with peace of mind.
System requirements:

An internet connection is needed in order to license your product and to file online to HMRC.

Minimum screen resolution: 1024 × 768
Server installation:
One of the following versions of Windows:

Microsoft Windows Server 2016
Microsoft Windows Server 2012
Microsoft Windows Server 2008
Microsoft Windows 10
Microsoft Windows 8.1
Microsoft Windows 8
Microsoft Windows 7
Appropriate hardware to run the above operating system
Adobe Reader version 9.0 or higher
Microsoft Office 2010 (for export to Word and Excel)
If you wish to operate TaxCalc in a hosted desktop environment (such as Remote Desktop, Citrix or Terminal Services) please refer to our Specifications Knowledge Base article for advice
Standalone/client installation:
Windows
One of the following versions of Windows:

Microsoft Windows 10
Microsoft Windows 8.1
Microsoft Windows 8
Microsoft Windows 7

Appropriate hardware to run the above operating system
Adobe Reader version 9.0 or higher
Microsoft Office 2010 (for export to Word and Excel)
Macintosh
Intel Macintosh running Mac OS 10.12 (Sierra) or higher
Microsoft Office 2010 (for export to Word and Excel)
Linux
64 bit kernel 3.10 (or higher), Debian (e.g. Ubuntu) or Redhat distributions
GUI
Office productivity software (for Word and Excel exports)
eSign Centre in action
eSign Centre allows you to easily send documents from TaxCalc to your clients for approval.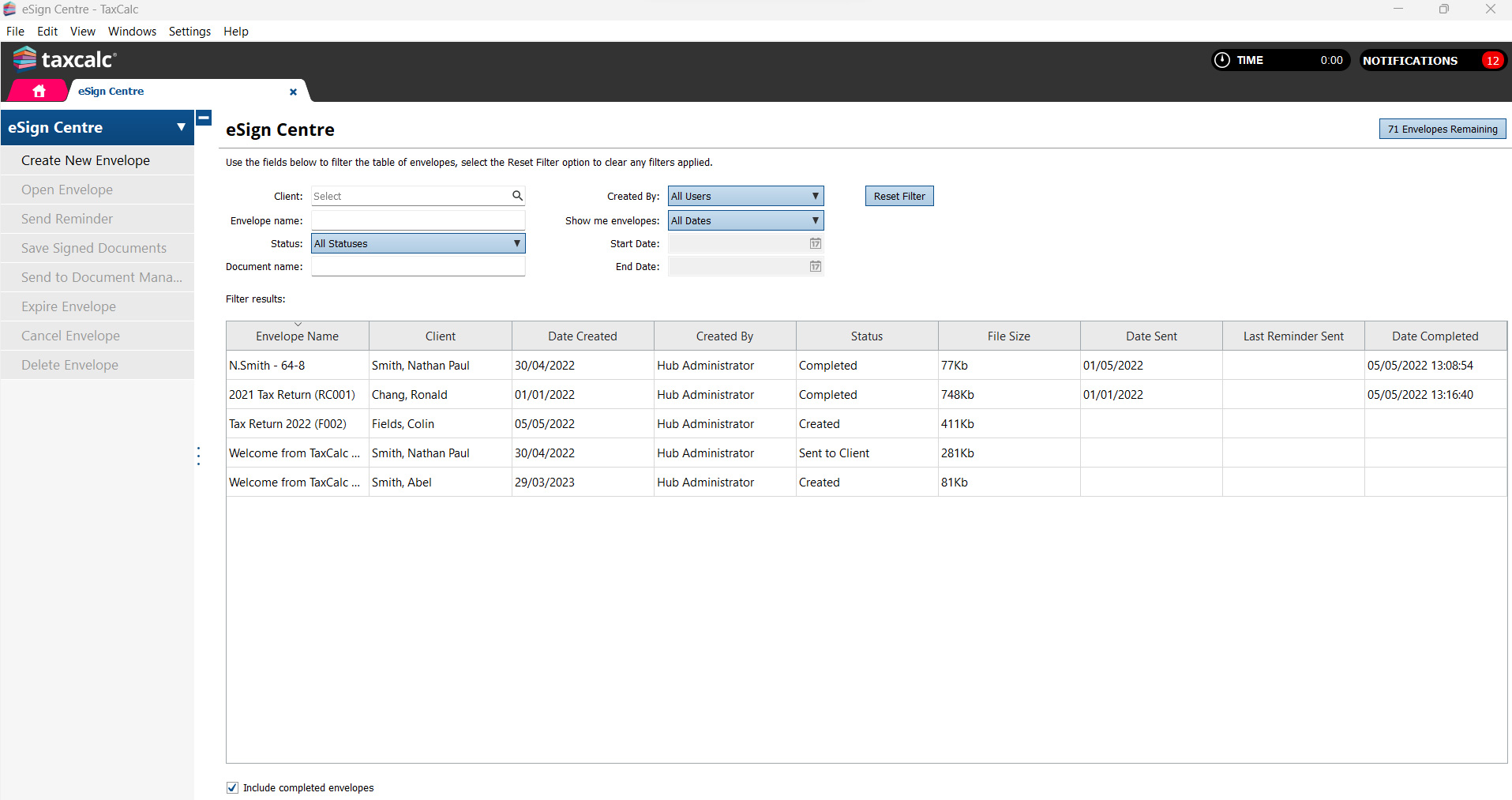 Manage documents that need signing and keep track of progress.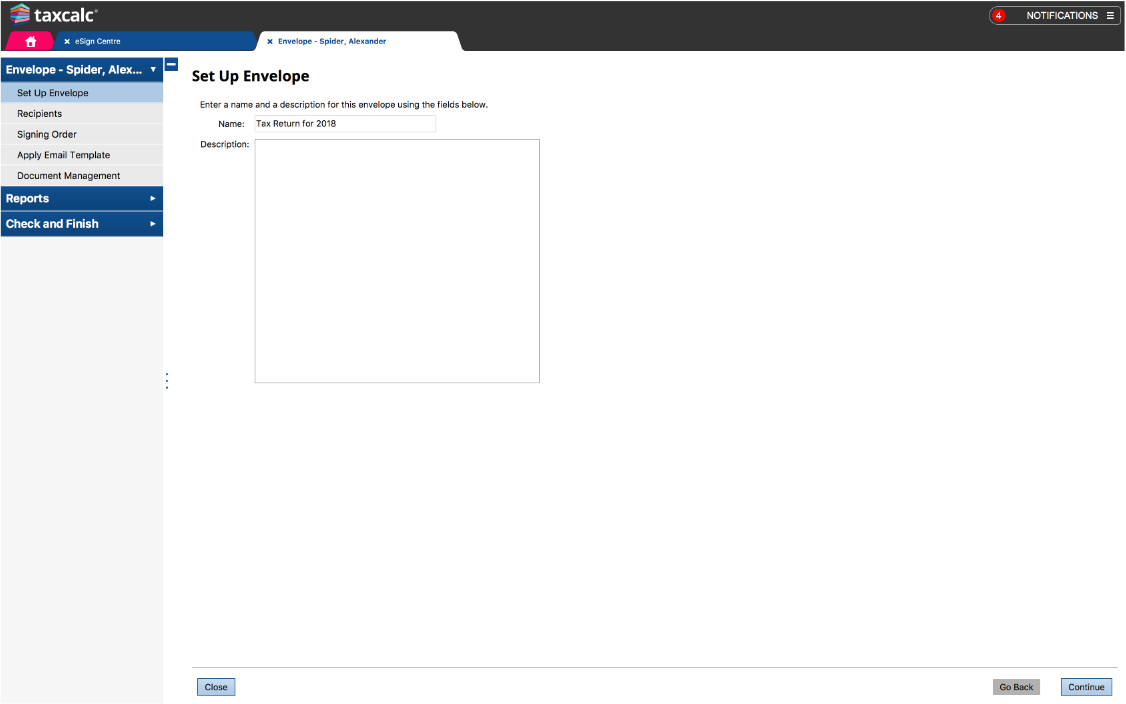 Easily create envelopes, add recipients and choose a signing order.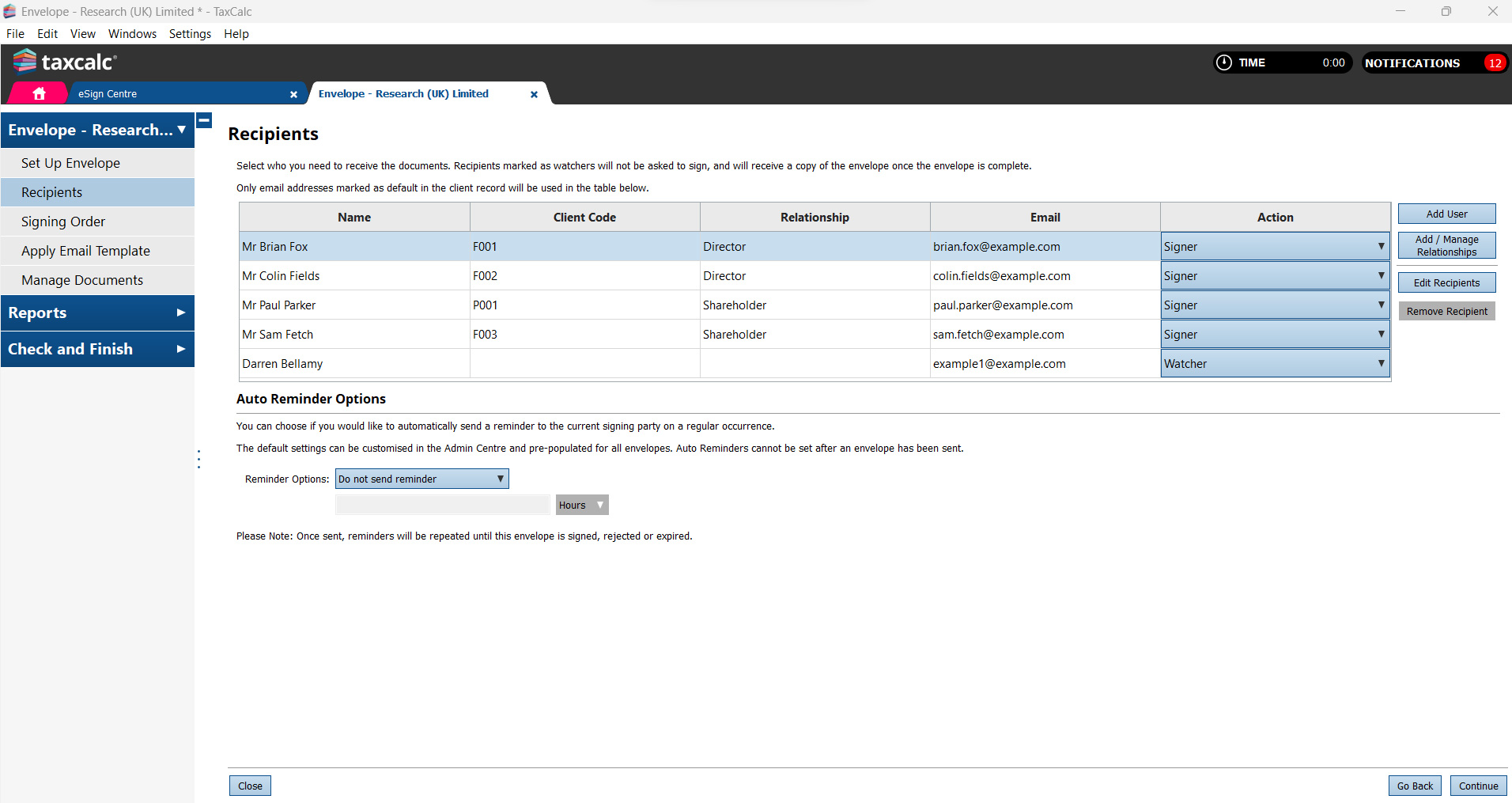 Add recipients directly from your Practice Manager and manage how they are notified or if they are required to sign the document.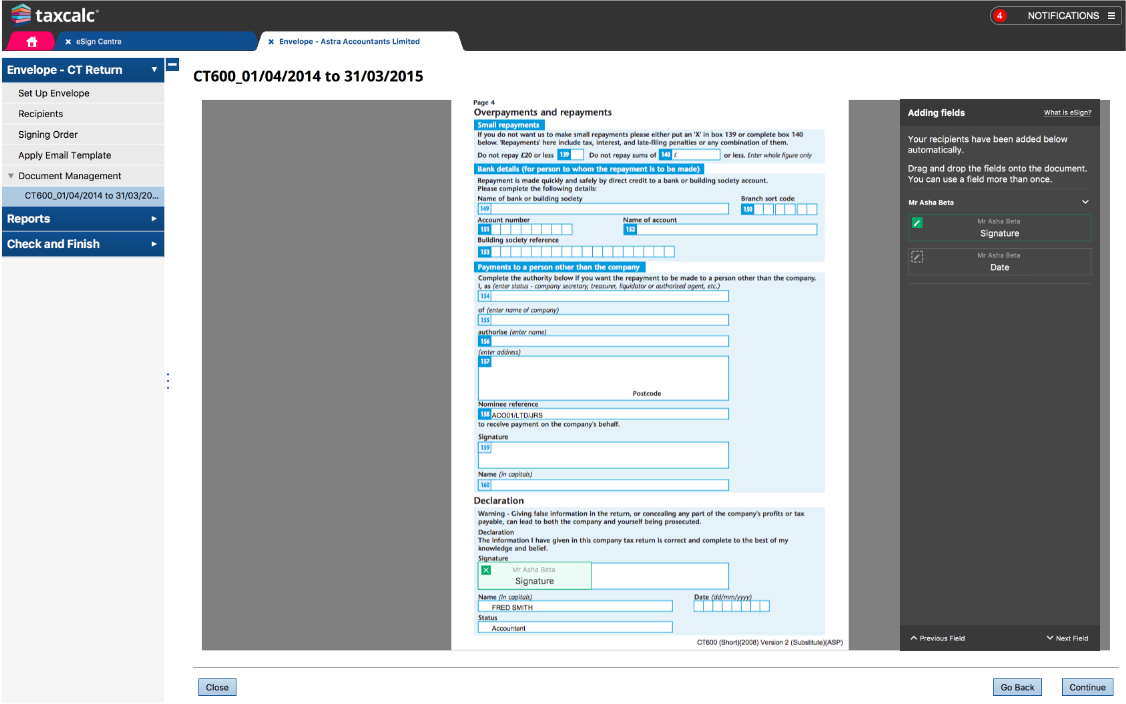 Select where clients need to provide a signature, in multiple locations if needed.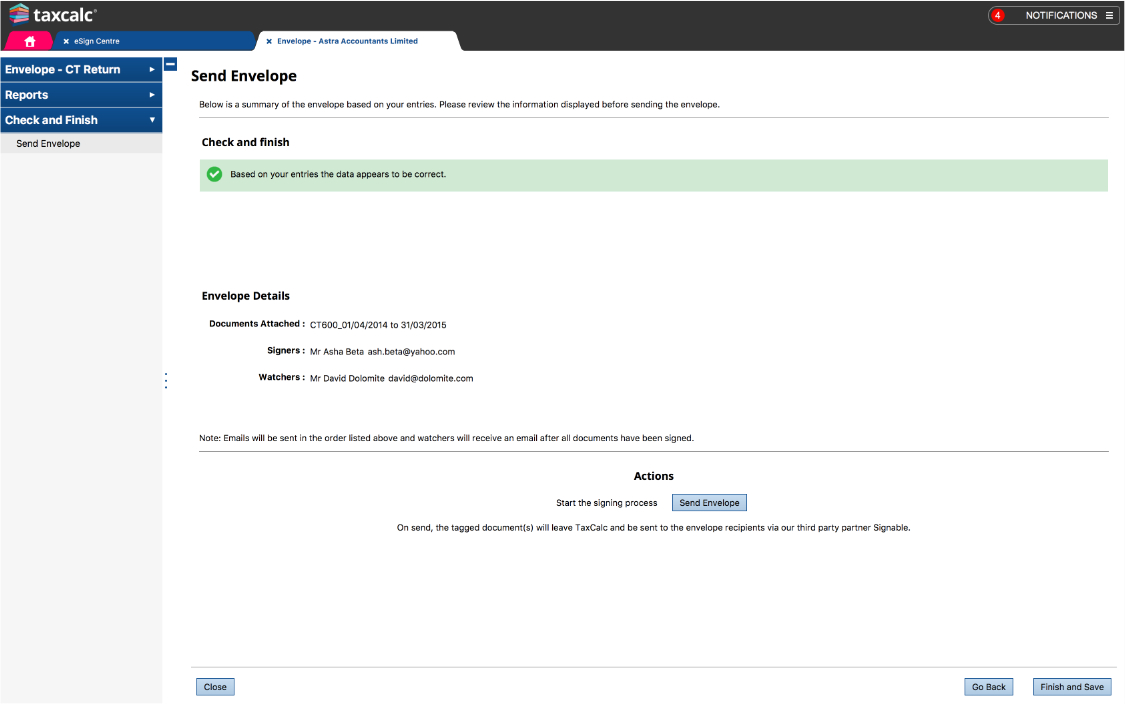 TaxCalc's Check and Finish will check your envelopes for errors before you send them to your clients.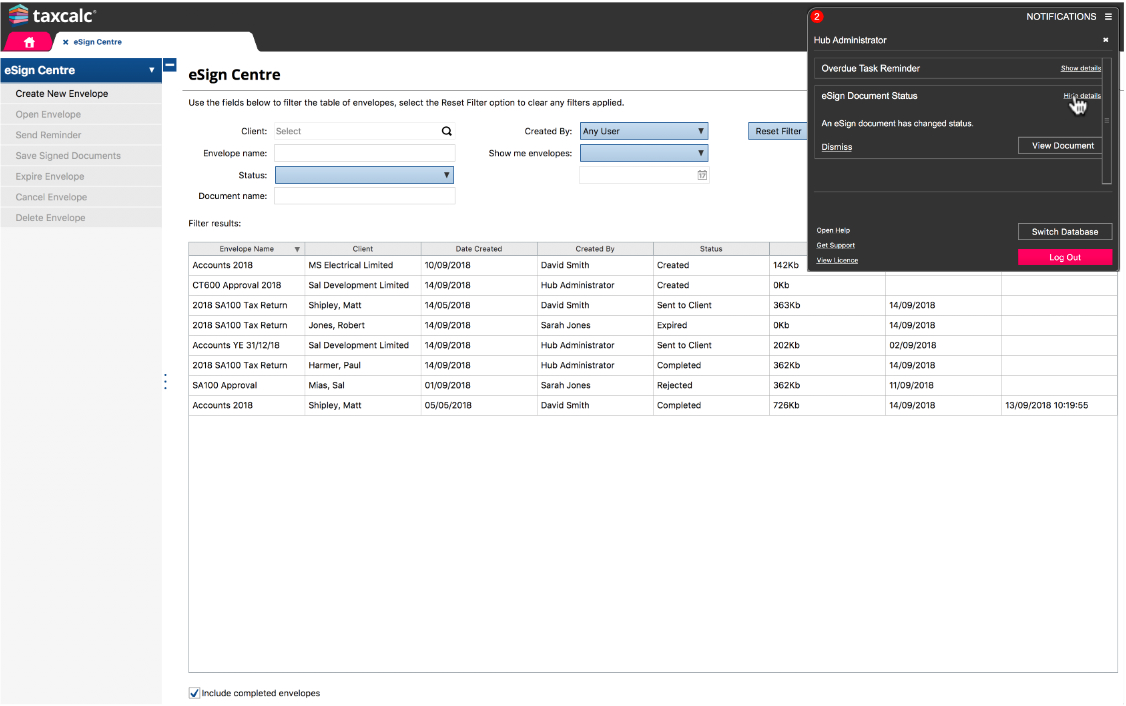 When a client responds, or signs a document you'll know right away via TaxCalc's notification centre.
Frequently asked questions
If you have any further questions about eSign Centre, please call 0345 5190 882 or email sales@taxcalc.com
Getting started with eSign Centre
Electronic approval for your client documents.
Can I take a Trial of eSign Centre?
Yes. We provide one eSign envelope to try out for FREE, if you're an existing customer or taking a trial. Once this has been used, envelopes can still be created but you will need to buy additional envelopes to send them to your clients.
How long do eSign envelopes last?
Once you have purchased your eSign envelopes they will remain on your account until they are used.
Can I buy more envelopes before I've used up my existing envelopes?
Yes. eSign envelopes are pay as you go, so if you are running low, you can choose from one of our envelope bundles to top up at any time.
Can I change the email settings to be able to send the documents from my own email account?
No. Unfortunately it is not possible at the moment to customise the email configuration. The email sent to your client will be generated by our partner Signable.
Can I send more than one document within an eSign envelope?
Yes. An eSign envelope created for a client will allow multiple documents to be included at the same time.