AML Centre
Demonstrate compliance. Know your clients.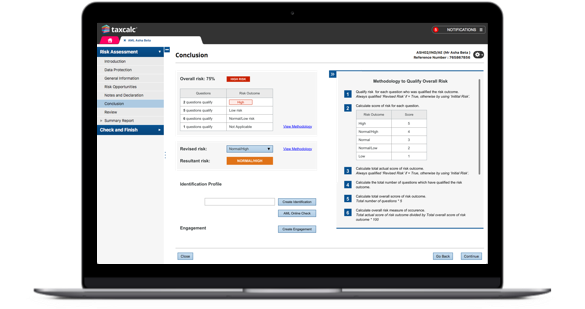 Meet your Anti-Money Laundering obligations the smart way.
Anti-Money Laundering Centre helps accountants, bookkeepers and other finance professionals meet their obligations under the Money Laundering Regulations, which apply to their clients and their Firm.
Using our trusted SimpleStep® workflow, AML Centre guides you through what you need to do to perform client due diligence and demonstrate your firm's compliance to AML regulations.
Gives you a comprehensive understanding of the actions you need to take
Keeps all your AML data in one place
Syncs with all TaxCalc products
Integrates with client data in Practice Manager (Client Hub)
Works in tandem with TaxCalc's AML Identity Checking service
Protect your Firm.
From £80 for 24 clients
AML Centre *
With HMRC and other regulatory bodies increasing scrutiny on AML checking procedures and due diligence, now's the time to cover all your bases.
Firm-Wide Compliance
Ensure Firm-wide compliance
Set up details of your Money Laundering Reporting Officer (MLRO)/Money Laundering Compliance Principal (MLCP)
Design and complete your Firm-Wide Risk Assessment
Record risk mitigation factors and resultant risks
Identify non-compliant clients and bring their due diligence up to date
Link to your Firm's money laundering policies and procedures
Track MLRO/MLCP and staff training
Client Due Diligence
Identify and verify your client and document Know Your Client (KYC) information
Build a record of your client relationships and corporate structures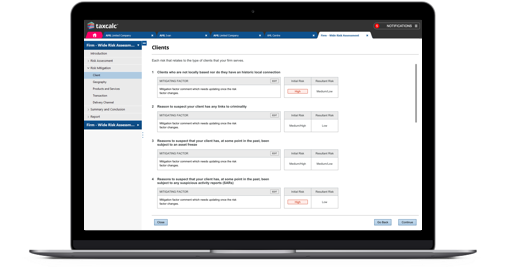 Design and complete your client Risk Assessments on a periodic basis
Report any suspicious activity to the MLRO/MLCP by creating an internal SAR for reporting to the NCA
AML Checking Service
Money Laundering Regulations state you need to be sure of your clients' identities before you act for them.
* Scheduled for release June 2019
Register your interest.
Stay connected by registering your details and we'll keep you informed of our new AML Centre.
We'll only use this information to keep you informed about AML centre.